These 30 Pumpkin Themed Recipes will be great fun for a Halloween party or any pumpkin themed party! Sweet and Savory options!
These 30 Pumpkin Themed Recipes include sweet and savory options enough to make a whole day of meals out of pumpkins! What fun!
Now—these recipes are pumpkin LOOKING recipes. If you are after pumpkin TASTING recipes—ones that taste like pumpkins and are made out of pumpkins, head over to Over 100 Pumpkin Recipes. Those are great too.
This post is all about the look of those pretty and cute pumpkins. They may or may not actually contain pumpkin here.
We have savory recipes like stuffed peppers, veggie tray, bagels, rolls, breakfast pizza sandwich, quesadillas, cheeseballs and a Bento lunch.
We also have lots of sweet options like cookies, cupcakes, chocolate covered strawberries, chocolates, rice krispie treats, chocolate pretzels, meringues, pancakes, cake pops, cake balls and cake.
Some are even gluten free, dairy free, Vegan and Sugar Free!
I have included recipes from my friends all around the web and boy, do I have some great ideas here! I am so excited to share them with you!
Which one will you make first? Leave a comment below and let us know!
If you would enjoy a fun free Pumpkin I Spy Printables to do while you eat your pumpkin recipes, there is one on my other site for you!
When is National Pumpkin Day?
Any day is a good day for pumpkin but National Pumpkin Day is on October 26th so be sure you get something pumpkin on that day!
Other fun Halloween Games and Treats
Be Sure to Pin for Later!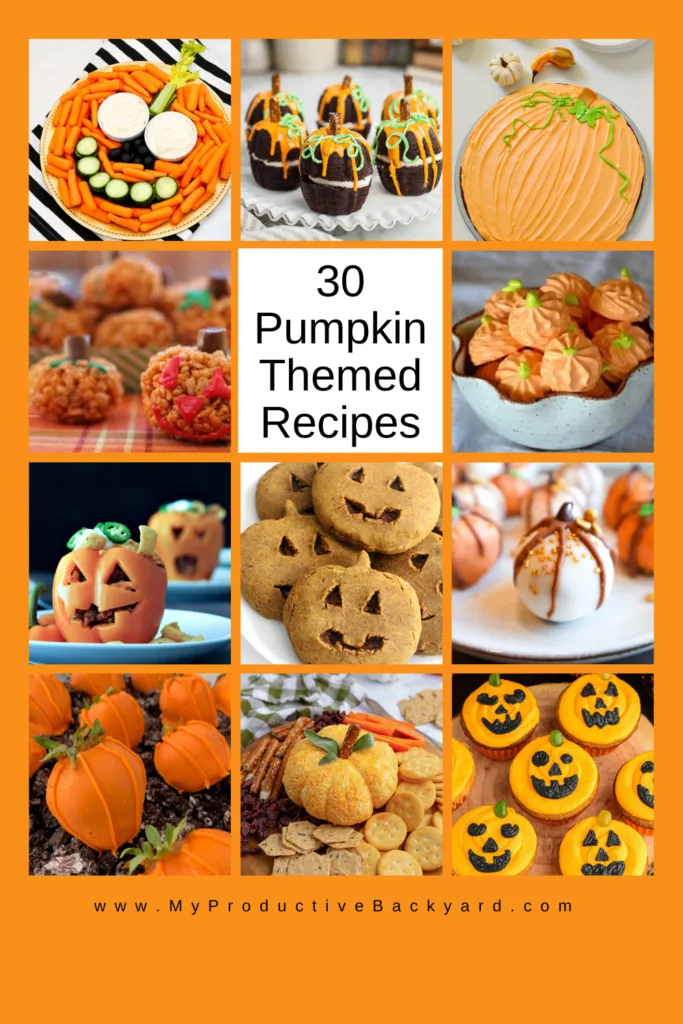 Are you following me on Pinterest? I have been working very hard making new boards I think you will love and am adding dozens of new pins daily from all of the popular websites!
You can also follow me on my Facebook groups; my Low Carb and Keto group; Low Carb & Keto Recipes & Helpful Tips Group, my recipes for everyone group; Best Recipes You will Want to Make and my Homeschool group; Loving Homeschool. I am adding daily pictures, links and much more than I would on the blogs and it is a place for you to find support from others on the same journey as you are. Come and share with others, ask questions and learn!
30 Pumpkin Themed Recipes
These 30 Pumpkin Themed Recipes will be great fun for a Halloween party or any pumpkin themed party! Both Sweet and Savory options!