These 47 Bacon Wrapped Recipes are for Bacon lovers! Wrap 25 different fruits, vegetables, meat and other morsels with these delicious recipes!
With these 47 Bacon Wrapped Recipes, you can wrap almost anything in bacon!
There are recipes wrapping things in bacon that I have never thought of! They are on the top of my list to try though! These ALL look so good!
These recipes are prepared in the oven, air fryer, smoker and on the grill!
There are choices for almost any diet.
We have recipes for bacon wrapped dates, pineapples, water chestnuts and apples!
There are recipes for bacon wrapped asparagus, Brussels sprouts, green beans, sweet potatoes and even corn on the cob, an onion bomb and hostas! Yum!
How about bacon wrapped pickles, olives, crackers and stuffing?
And if bacon is wonderful enough on its own, let's wrap chicken, beef, kielbasa, scallops, meatloaf, turkey breast, sausage balls, shrimp, pork and chili dogs in it!
Some recipes may look like they are duplicates but they are different enough that I wanted to include them. For example; not everyone has an air fryer so I included recipes for bacon wrapped asparagus and scallops cooked in the air fryer and in the oven.
There are also a few different recipes for meatloaf and several for chicken. They are quite different and all delicious so you can choose.
I have included recipes from my friends all around the web and boy, do I have some great ideas here! I am so excited to share them with you!
Which one will you make first? Leave a comment below and let us know!
When is International and National Bacon Day?
Did you know that there are days just to celebrate bacon?? Well, yes! Now some things are questionable as to whether or not they are worth celebrating. Not going to mention any names but yeah. But bacon? No problem!
Bacon is celebrated both nationally AND internationally!
National Bacon Day is December 30th.
International Bacon Day is the first Saturday in September. In 2022 it is September 3rd, in 2023 it is September 2nd and in 2024 it will be September 7th.
What kinds of diets are included in this collection?
We didn't forget to include gluten free, dairy free, Paleo, Low carb, Keto and Whole 30 options!
Lots more recipes! If you enjoy these posts with lots of recipes to choose from, also check out
Be Sure to Pin for Later!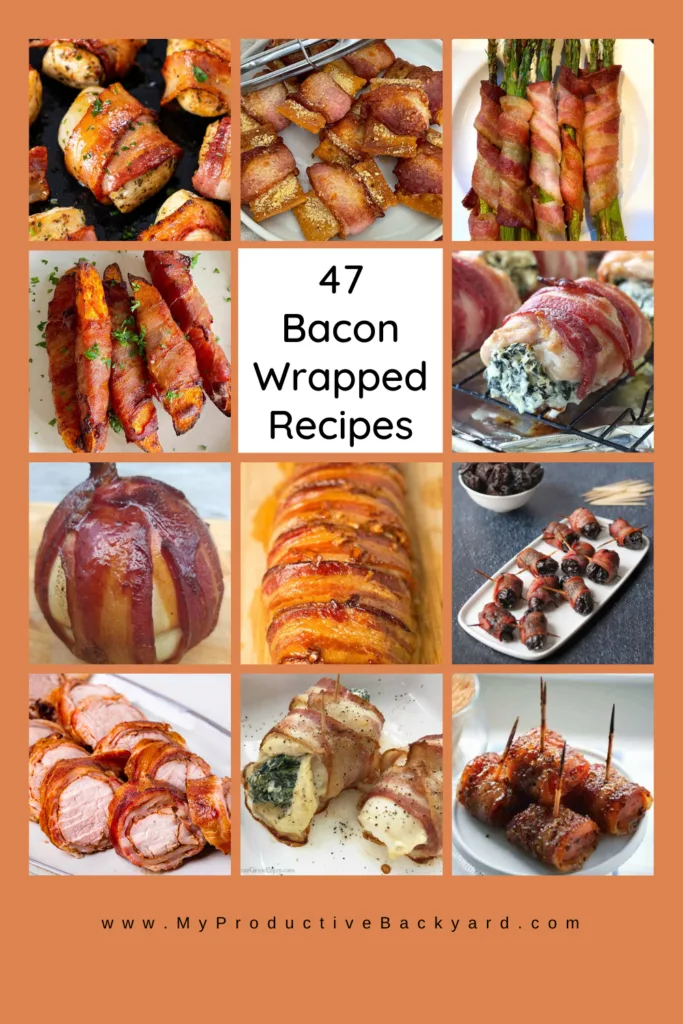 Are you following me on Pinterest? I have been working very hard making new boards I think you will love and am adding dozens of new pins daily from all of the popular websites!
You can also follow me on my Facebook groups; my Low Carb and Keto group; Low Carb & Keto Recipes & Helpful Tips Group, my recipes for everyone group; Best Recipes You will Want to Make and my Homeschool group; Loving Homeschool. I am adding daily pictures, links and much more than I would on the blogs and it is a place for you to find support from others on the same journey as you are. Come and share with others, ask questions and learn!
47 Bacon Wrapped Recipes
These 47 Bacon Wrapped Recipes are for Bacon lovers! Wrap 25 different fruits, vegetables, meat and other morsels with these delicious recipes!