These 70 Pancake Recipes will be a treat any time! Try pancakes from 8 cultures, 12 fruits, 5 vegetables, many grains and more! Sweet and savory!
Wow, do I have an amazing and fun variety for you with these 70 Pancake Recipes! There are so many ways to make pancakes!
Fruits make delicious additions to pancakes! There are recipes that include banana, orange, apple, lemon, plantain, peach, strawberry, blueberry, cranberry, raspberry, cherry and even persimmon. Some have a combination of more than one of these! Yum!
Vegetables are easy to hide—or enjoy–in pancakes. Add carrots, pumpkin, sweet potato, zucchini or potatoes in traditional Irish potato pancakes.
There are even some that have herbs like lavender and red clover. Wow!
If you are on a special diet, you will find what you need here too. 😊
There are lots of ways to make a pancake; on a griddle in the most common of course. We also have recipes for a charcuterie board, in a mug, pancake muffins, on a sheet pan and pancake bites in the IP.
We have pancakes that are Irish, Dutch, German, Danish, Indian, Polish, Korean and Taiwanese! What a treat!
You have heard of buttermilk pancakes, I know. How about making them with kefir, ricotta, yogurt or cottage cheese? All of those make wonderful pancakes too!
And if all of that isn't enough, there are still recipes for peanut butter, eggnog, butterbeer, rainbow, kimchi, chocolate, protein, matcha, chai, and ham and cheese pancakes. So much yum!
Follow my Pancake and Waffle Recipes Pinterest Board for dozens of ideas from all around the web! I am constantly finding new things to add so there will be new things all the time!
When is National Pancake Day?
There is not just one National Pancake Day but TWO!
September 26th is National Pancake Day every year.
Also, each spring, IHOP restaurants celebrates another National Pancake Day to support charities. It is a different day each year.
In 2023 it will be Tuesday, February 21st.
It will be Tuesday, February 13th in 2024.
In 2025 it will be Tuesday March 4th.
Some Fun Facts about Pancakes
If you would enjoy a fun free Pancake I Spy Printable to do while you eat your pancakes, there is one on my other site for you!
93% of Americans like pancakes. 59% love them!
Buttermilk is the most popular type of pancake, followed by blueberry and then chocolate chip.
Syrup is the most popular topping, followed by plain butter. Others like fresh fruit, a warm fruit sauce or peanut butter.
Pancakes are the third favorite breakfast food in America after bacon and eggs.
An average of 700,000 pancakes are eaten every year.
The world's biggest pancake weighed 6,614 pounds and was 49 feet in diameter!
These facts were taken from National Today article National Pancake Day. They have a lot more information there if you would like to stop by.
What kinds of diets are included in this collection?
We didn't forget to include egg free, gluten free, dairy free, Paleo, Keto and vegan options!
I wanted to give you gluten free choices or vegan choices, etc. You will find more than one pumpkin or oatmeal recipe for example, but they are different.
Many are the regular old-fashioned recipes with gluten, sugar, milk, etc. and many are made with special diets.
Lots more recipes! If you enjoy these posts with lots of recipes to choose from, also check out
100 lunchbox ideas and recipes
I have included recipes from my friends all around the web and boy, do I have some great ideas here! I am so excited to share them with you!
Which one will you make first? Leave a comment below and let us know!
Be Sure to Pin for Later!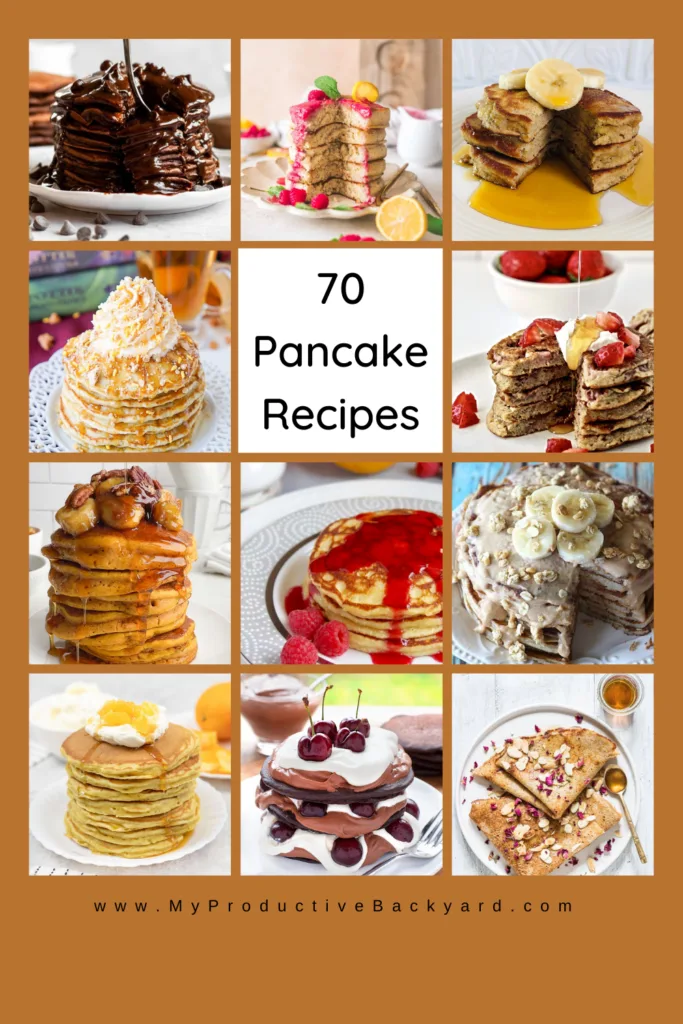 Are you following me on Pinterest? I have been working very hard making new boards I think you will love and am adding dozens of new pins daily from all of the popular websites!
You can also follow me on my Facebook groups; my Low Carb and Keto group; Low Carb & Keto Recipes & Helpful Tips Group, my recipes for everyone group; Best Recipes You will Want to Make and my Homeschool group; Loving Homeschool. I am adding daily pictures, links and much more than I would on the blogs and it is a place for you to find support from others on the same journey as you are. Come and share with others, ask questions and learn!
70 Pancake Recipes
These 70 Pancake Recipes will be a treat any time! Try pancakes from 8 cultures, 12 fruits, 5 vegetables, many grains and more! Sweet and savory!