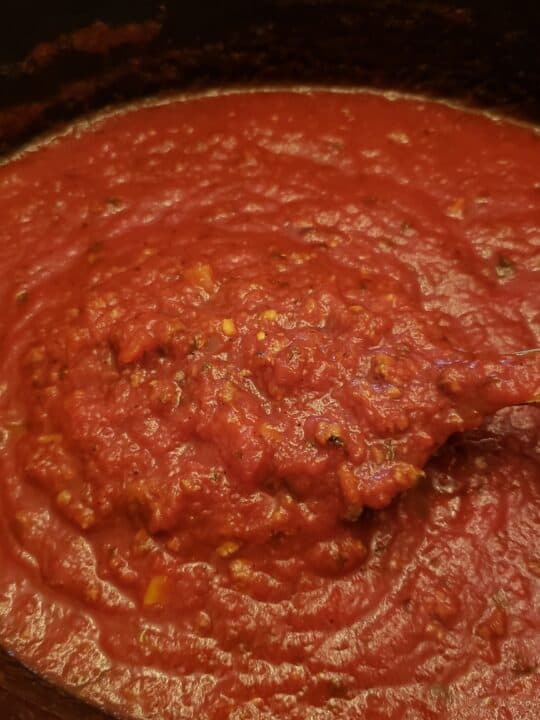 Crock Pot Spaghetti or Pizza Sauce is simple to dump into the crock pot and smells wonderful as it cooks!
I posted a similar recipe that makes a big batch of sauce called Freezer Spaghetti or Pizza Sauce. If you want a smaller batch or want to do it in the crock pot, Crock Pot Spaghetti or Pizza Sauce is for you.
I use this recipe for spaghetti sauce or pizza sauce. It is great for either!
It is easy to dump in the crock pot to come home to several hours later. Oh, I just love recipes like that!
What to use Crock Pot Spaghetti or Pizza Sauce on:
Pour it over traditional noodles or a low carb and gluten free option of zoodles or even french cut string beans.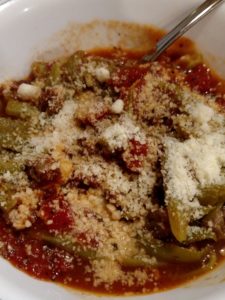 Other low carb options I have tried are Palmini Linguine (found in Walmart in the gluten free section) and Shirataki Spaghetti (found in Walmart in the fresh vegetable section). Both were good. I liked the Palmini better. Both needed a good rinse and good boil to make them softer. The shirataki did tend to be rubbery (in my opinion; many like them). I will buy the Palmini again and keep them on hand. Here the sauce is pictured over Palmini and Palmini is also showin in the video.
As an Amazon Associate, I earn from qualifying purchases at no extra cost to you.
Quinoa is a nutritious, gluten free (but not low carb) option.
We have done all of those at our house.
It freezes perfectly and is so nice to pull out for a quick, easy, delicious family meal later. Pop half cup or one cup servings–or whatever amount needed–into a container to easily add to recipes below.
We also use this as a pizza sauce for Low Carb Crustless Pizza or spaghetti sauce for Low Carb Parmesan Meatballs or Low Carb Stuffed Peppers.
Follow my Keto Crock Pot (Slow Cooker) Recipes Pinterest Board for dozens of ideas from all around the web! I am constantly finding new things to add so there will be new things all the time!
A Shortcut:
This is an optional step but if you plan to make this often, it saves time when you make it again. As I measure out the seasonings for my pot, I also add the same to a small container. The next time I already have over half of the ingredients measured and ready to dump in the pot!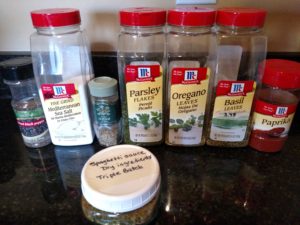 Note: I revised this recipe on 5/4/19 and changed the petite diced tomatoes to crushed tomatoes. I have used them the last few times and it makes a thicker sauce that way; just better.
Ingredients: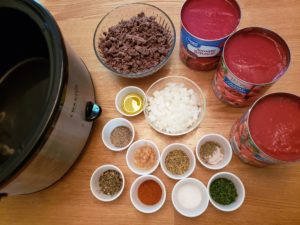 ground beef, cooked
onion, finely chopped
tomato sauce
crushed tomatoes
olive oil
minced garlic
black pepper
salt
thyme
parsley
oregano
basil leaves
paprika
Directions:
Spray crock pot for easy cleanup.
Add all ingredients to crock pot.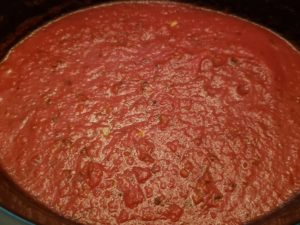 Cook on high for 4 hours or low for 6-8 hours.
Serve.
If you make this Crock Pot Spaghetti or Pizza Sauce recipe, let me know! Rate it and leave a comment below. I love hearing from you!
Are you following me on Pinterest? I have been working very hard making new boards I think you will love and am adding dozens of new pins daily from all of the popular low carb and Keto websites! Check them out HERE!
You can also follow me on my Facebook groups; my Low Carb and Keto group; Low Carb & Keto Recipes & Helpful Tips Group, my recipes for everyone group; Best Recipes You will Want to Make and my Homeschool group; Loving Homeschool. I am adding daily pictures, links and much more than I would on the blogs and it is a place for you to find support from others on the same journey as you are. Come and share with others, ask questions and learn!
Yield: 10 cups
Crock Pot Spaghetti or Pizza Sauce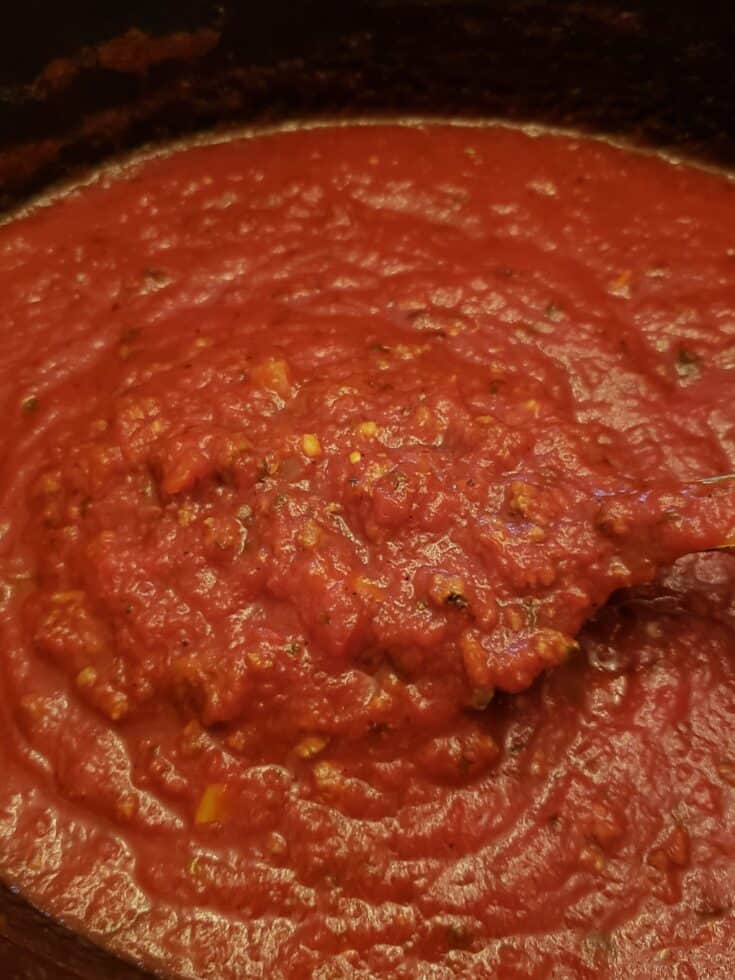 Crock Pot Spaghetti or Pizza Sauce is simple to dump into the crock pot and smells wonderful as it cooks! It is Keto, Low Carb, Paleo, Whole 30, Gluten Free and Dairy Free!
Total Time
4 hours
15 minutes
Ingredients
1 pound ground beef, cooked
1/2 large onion, finely chopped
1 28 oz can tomato sauce
2 28 oz cans crushed tomatoes
1 Tbsp olive oil
2 tsp minced garlic
1 tsp black pepper
1 tsp salt
1/2 tsp thyme
1 Tbsp parsley
1 Tbsp oregano
1 Tbsp basil leaves
1 tsp paprika
Instructions
Spray your crock pot with nonstick spray for easy cleanup.
Add all ingredients to crock pot.
Cook on high for 4 hours or low for 6-8 hours.
Serve.
Notes
Leftovers can be frozen in an airtight container.
It can also be pressure canned; process pints 1 hour and quarts 1 hour, 15 minutes at 10 pounds pressure.
Nutrition Information
Yield
20
Serving Size
1/2 cup
Amount Per Serving
Calories

107
Total Fat

5g
Saturated Fat

2g
Trans Fat

0g
Unsaturated Fat

3g
Cholesterol

20mg
Sodium

488mg
Carbohydrates

9g
Fiber

2g
Sugar

5g
Protein

8g
This data was provided and calculated by Nutritionix using unknown brands unless named in the recipe. If nutrition is important to you, I highly encourage you to verify any data you see here with your favorite nutrition calculator. Also, you can put in exactly what you used so it is the most accurate. This is just to give you an idea, as any nutrition calculation is not exactly accurate unless every single product brand used is entered. Please note also that I am not a certified nutritionist or health professional of any kind. Please consult a doctor or trained professional for medical advice.