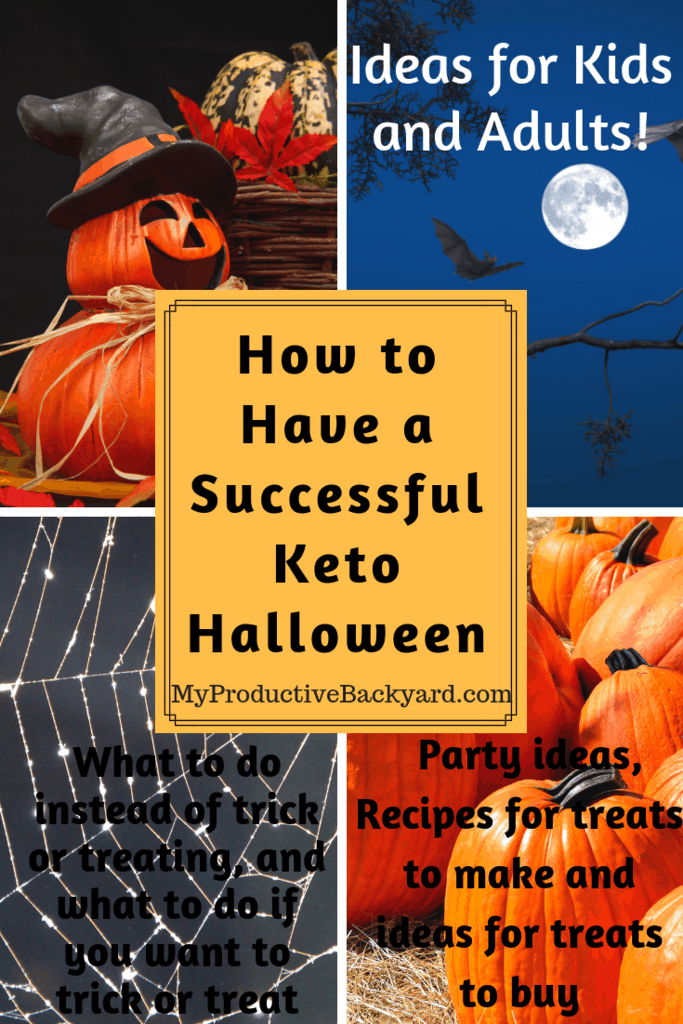 How to Have a Successful Keto Halloween: Dozens of Ideas and Recipes for a Fun and Sweet Holiday
Do you dread holidays that are centered around food and sweets now that you are eating healthy? Here are lots of ideas and recipes so you can know how to have a successful Keto Halloween. No one wants to give up any of the fun or traditions they are used to having. With some tweaks, you will be ready to enjoy Halloween and still stay Keto!
Ideas
Make it a family night instead. If you can get away with it, pull your shades, keep your house dark and have a family game or movie night with Keto treats at home. Our neighborhood "code" has always been "if lights are on, trick or treat, if no lights, no trick or treat". Or if your neighborhood is a trick or treat hot spot, escape to an amusement park, zoo, bowling alley, mini golf, or even a local hotel with a great pool.
Switch Witch has become very popular! It is fun to read the book through the weeks or days before Halloween and then the child puts out the candy to be switched out for a toy or money. You can buy it on Amazon; it comes with book and stuffed witch. Get it here.
The Teal Pumpkin Project is a great way to go! It is all about having options for those living with food allergies and geared toward non food treats. HERE is a great list of ideas of non food items to give out at Halloween. Enjoy dressing up, eating Keto treats and handing out non food Teal Pumpkin items to trick or treaters.
Have your own party with homemade and/or Keto bought goodies. Dress up, play the usual Halloween games, watch the usual movies and carve pumpkins. Don't forget to roast and enjoy the seeds!
Some recipe collections that may be helpful to plan your party!
51 Low Carb & Keto Pumpkin Spice Fall Recipes
91 Low Carb & Keto Appetizer Recipes
76 Low Carb & Keto Crunchy Snacks
11 Spooky Keto Halloween Treats by Oh Clary Some great dinner ideas here too!
26 Keto Low Carb Halloween Party Recipes: Sweet and Savory Recipes to have a Delicious Keto and Low Carb Halloween Party! We have sweet desserts; cookies, cupcakes, bark and gummies. We have savory dishes too like deviled eggs, pizza, dips, jalapeno poppers and other appetizers. You will be able to make a well-rounded party table with these ideas!
More single recipes for candy and goodies below!
More Ideas
Go to friends and family who know you and will give your child Keto items they have purchased or you have dropped off ahead of time.
Many dentists will buy back candy and send it to our troops overseas. Children will usually love to have money to go and buy something they have been wanting; toys, art supplies, clothes, shoes, an outing, depending on age.
Tell your child you will buy back their candy (set your price at .10 a piece or $1/lb; whatever works for you) and then donate it to our troops (HERE is a link to show you how), a homeless shelter or food pantry: let them help decide where it goes.
There is the option of sugar free candy although it is recommended to not overdo that. Severe gastric distress is a very good possibility if you eat too much. Malitol is especially offensive if you are not used to it. Seriously; be careful with that stuff!
Some brands like Lilly's, Zolli Pops, Zaffi Taffi, Dr. John's candies and Choc Zero are good ones and many make out just fine with any sugar free type. The good ones are below.
Recipes
Click the link under the photo from the blog to get the recipe.
Candy Corn Cookies by All Day I Dream About Food at Swerve Sweet (1 net carb)
The Best Peanut Butter Fat Bombs (.33 net carb)

Keto Halloween Shortbread Cookies by Keto Connect (.75 net carb)
Keto Mummy Dogs by Diet Doctor (7 net carbs/2)
Chocolate Peanut Butter Cups by All Day I Dream About Food (4.7 net carbs)
Easy Pumpkin Fudge by Low Carb Yum (2 net carbs)
Sugar Free Marshmallows by Maria Mind Body Health (0 net carbs)
Swedish Fish by Maria Mind Body Health (0 net carbs)
Sour Patch Candy by Maria Mind Body Health (0 net carbs)
Chocolate Dipped Candied Bacon by Keto Diet App (1.1 net carb)
4 Ingredient Paleo Vegan Chocolate Coconut Crack Bars Keto No Bake by The Big Man's World (1 net carb)
No Bake Almond Joy Cheesecake Truffles by Mouthwatering Motivation (2.5 net carbs)
Keto Turtles by Lyndsay Mullaney (1 net carb)
Almond Joy Candies by Joy Filled Eats (2 net carbs)
Toasted Coconut Toffee Pecan Turtles by Joy Filled Eats (2 net carbs)
Low Carb Homemade Pistachio Chocolates by All Day I Dream About Food (.85 net carbs)
Keto Pork Rind Puppy Chow by Keto Size Me (2 net carbs)
Witches Brew Color Changing Halloween Drink by Low Carb So Simple
This post contains affiliate links. My Productive Backyard is a participant in the Amazon Services LLC Associates Program, an affiliate advertising program designed to provide a means for sites to earn advertising fees by advertising and linking to amazon.com. That means if you click on the link and make a purchase, I'll get a very small percentage in commission. There's never any extra cost to you. I greatly appreciate your support.
Check out my collections!
43 Low Carb & Keto Zucchini Recipes
76 Low Carb & Keto Crunchy Snacks
33 Low Carb & Keto Cabbage Recipes
Low Carb & Keto Products to Buy on Amazon
50 Low Carb & Keto Ground Beef Recipes
2 Quick Easy Ways to Save Even More at Walmart
Dollar Tree Low Carb & Keto Items
24 Low Carb & Keto Condiments, Sauces, Mixes and Dressings
79 Low Carb & Keto Vegetable Side Dish Recipes
82 Freezer Meal Prep Low Carb & Keto Tips and Recipes
Hundreds of Low Carb & Keto Lunch Recipes and Ideas
25 Low Carb & Keto Salad Recipes
11 Low Carb & Keto Pizza Recipes
72 Low Carb & Keto Skillet Recipes
Walmart Grab and Go Low Carb & Keto Items
91 Low Carb & Keto Appetizer Recipes
10 Best Low Carb & Keto Bark Recipes
33 Low Carb & Keto Cookie Recipes
Hundreds of Keto & Low Carb Stocking Stuffer Ideas
69 Low Carb & Keto Breakfast Recipes
47 Low Carb Keto Soups and Chilis
Over 200 Low Carb & Keto Meal Ideas
78 Dairy Free Low Carb & Keto Recipes
43 Low Carb Keto Holiday Meal Ideas
25 Great Low Carb Ideas for Labor Day–or any picnic or potluck