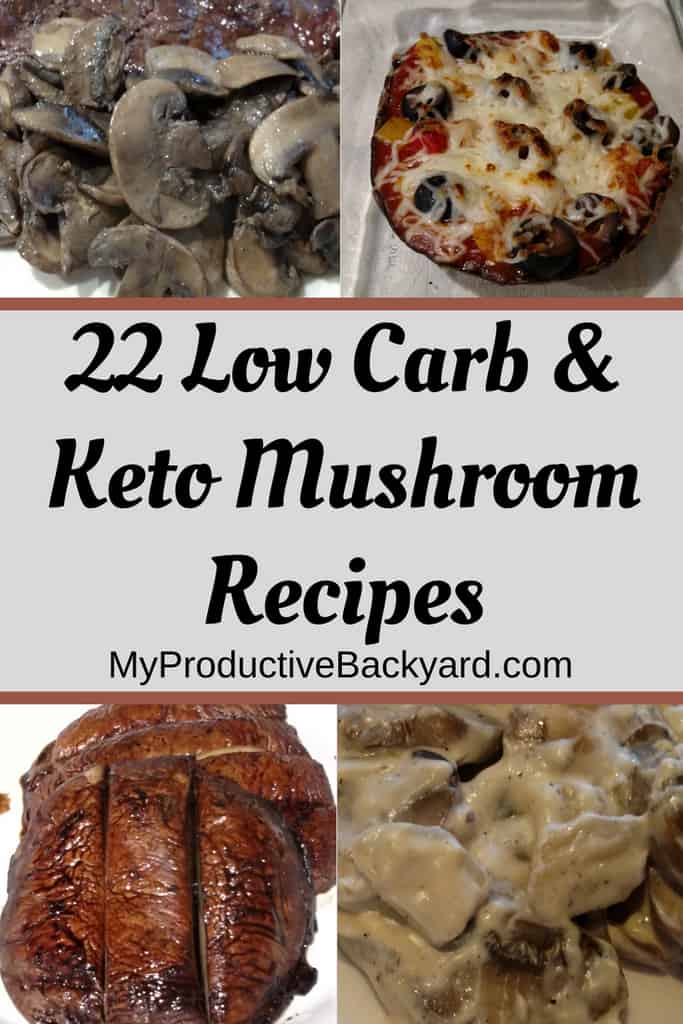 22 Low Carb Keto Mushroom Recipes; As a Main Dish or Side, Mushrooms are a Great Addition to a Healthy Diet!
Mushrooms are a great addition to a healthy diet. Not only are they nutritious but they are filling, hearty and very versatile. They are low calorie, low carb and full of vitamins and minerals. They are delicious too! Here are 22 Low Carb Keto Mushroom Recipes to try!
According to nutritiondata.self.com, mushrooms contain a good source of Dietary Fiber, Protein, Vitamin C, Folate, Iron, Zinc and Manganese, and a very good source of Vitamin D, Thiamin, Riboflavin, Niacin, Vitamin B6, Pantothenic Acid, Phosphorus, Potassium, Copper and Selenium.
The Mushroom Council has a great webpage all about mushrooms if you want to check that out too.
A 3 oz portion of White Button mushrooms, about 5 medium mushrooms, contains 19 calories, 0 grams of fat, 2.8 carbs and 2.6 grams of protein. According to the Mushroom Council, 90% of the mushrooms consumed in the US are white buttons.
One 3 oz Portobello mushroom contains 19 calories, 0 grams of fat, 3 carbs and 2 grams of protein.
Check out my collections!
79 Low Carb & Keto Vegetable Side Dish Recipes
82 Freezer Meal Prep Low Carb & Keto Tips and Recipes
Hundreds of Low Carb & Keto Lunch Recipes and Ideas
72 Low Carb & Keto Skillet Recipes
Walmart Grab and Go Low Carb & Keto Items
91 Low Carb & Keto Appetizer Recipes
10 Best Low Carb & Keto Bark Recipes
33 Low Carb & Keto Cookie Recipes
Hundreds of Keto & Low Carb Stocking Stuffer Ideas
69 Low Carb & Keto Breakfast Recipes
47 Low Carb Keto Soups and Chilis
Over 200 Low Carb & Keto Meal Ideas
78 Dairy Free Low Carb & Keto Recipes
43 Low Carb Keto Holiday Meal Ideas
Over 30 Keto Low Carb Disaster Prep Ideas
White Button Mushrooms
Low Carb Cauliflower Mushroom Risotto by All Day I Dream About Food
Clean Eating Oven Roasted Mushrooms by Skinny MS
Bacon Parmesan Stuffed Mushrooms by My Table of Three
Tuscan Stuffed Mushrooms by Joy Filled Eats
Keto Mushroom Bake by Low Carb Support
Roasted Buttery Mushrooms by My PCOS Kitchen
Pizza Chicken Stuffed Mushrooms by Joy Filled Eats
Garlic and Balsamic Roasted Mushrooms by The Chunky Chef
Mushroom Spinach Roulade by Divalicious
Ham and Cheese Stuffed Mushrooms by Joy Filled Eats
Two Cheese Stuffed Mushrooms by Joy Filled Eats
Portobellos
Baked Portobello Mushrooms by Feasting not Fasting
10 Minute Portobello Pizzas by Café Delites (I would precook the mushrooms a bit the next time.)
Spinach Artichoke Stuffed Portobello Mushrooms by Low Carb Yum
Eggs Baked in Portobello Mushrooms by Healthy Recipes Blog
Bacon and Cheese Stuffed Portobello Mushrooms by Genius Kitchen
Portobello Mushroom Bruschetta by Contentedness Cooking
Crab Stuffed Portobello Mushrooms by Garden and Table
Caprese Stuffed Garlic Butter Portobellos by Café Delites (don't use or sub sugar replacement for the optional brown sugar)
Grilled Portobello Mushrooms by Kalyn's Kitchen
Cheese Spinach Stuffed Portobellos by Eating Well
This post contains affiliate links. My Productive Backyard is a participant in the Amazon Services LLC Associates Program, an affiliate advertising program designed to provide a means for sites to earn advertising fees by advertising and linking to amazon.com. That means if you click on the link and make a purchase, I'll get a very small percentage in commission. There's never any extra cost to you. I greatly appreciate your support.