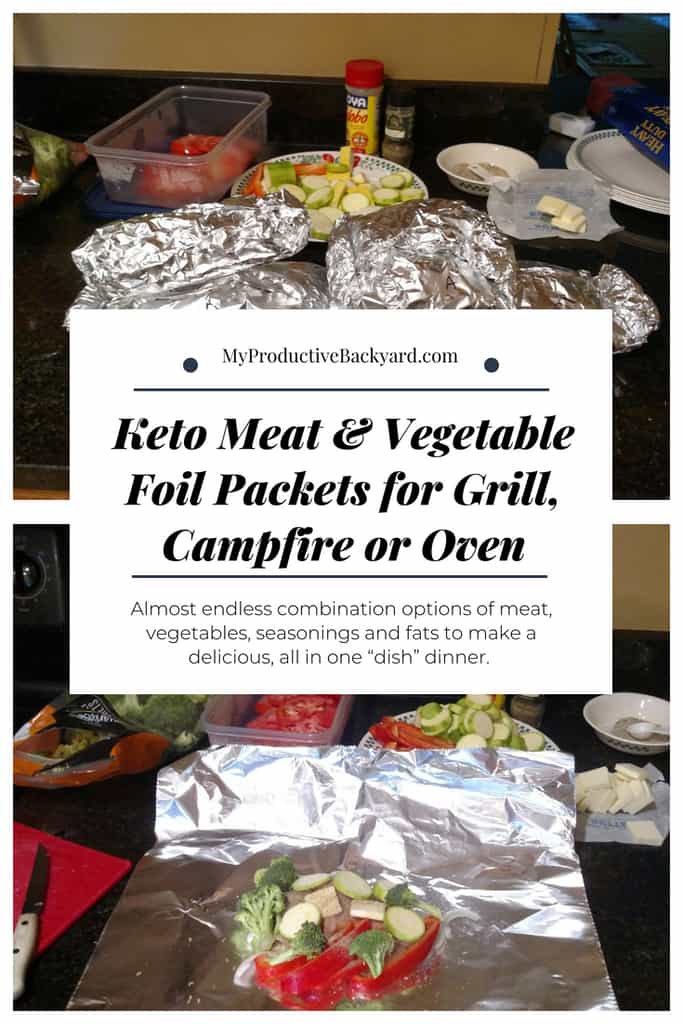 Keto Meat and Vegetable Foil Packets for Grill, Campfire or Oven; Almost endless combination options of meat, vegetables, seasonings and fats to make a delicious, all in one "dish" dinner. Perfect for a make your own meal.
When serving a group of people with varying food preferences, a make your own buffet is a great way to go. Keto Meat and Vegetable Foil Packets for Grill, Campfire or Oven perfectly fit the bill here!
We set out all of the ingredients and then all make our own foil packet just the way we want it, wrap it up and put our initial on it.
Even kids can build their own packet and they love that!
These Keto Meat and Vegetable Foil Packets for Grill, Campfire or Oven are a WIN!
If you are heading out to camp for the weekend, make them up ahead of time and put them in the cooler so they are ready to put on the grill or fire when you get there.
Or chop the vegetables and meat ahead and assemble them there.
A few hints when making Keto Meat and Vegetable Foil Packets :
Heavy duty aluminum foil is a must. You just do not want the foil to rip open and spill your dinner in the fire.
Be so careful when opening the packets. The steam will burn!
Slice meat for quicker cooking, especially chicken or pork. Small pieces cook faster than large pieces.
One serving packets definitely cook quicker than ones that are very full.
This is a do-it-your-way recipe so there are no measurements. It would be impossible to give them or calculate macros.
To print the instructions for Keto Meat and Vegetable Foil Packets for Grill, Campfire or Oven, click HERE.
Add a meat:
Sliced or cubed chicken, beef or pork
Fish
Shrimp
Add vegetables:
Zucchini
Onion
Bell pepper
Green Beans
Broccoli
Cauliflower
Asparagus
Radishes
Mushrooms
Spinach
Tomato
Add a fat:
Butter
Olive Oil
Coconut Oil
Add seasoning:
Adobo
Salt, black pepper, garlic powder mixture
Italian seasoning
Fresh herbs like basil, parsley, rosemary, thyme, mint
Other ideas to add to your Keto Meat and Vegetable Foil Packets:
Lemon or lime slices
Wrap very well in heavy duty aluminum foil.
If you are doing a build your own setup, have a permanent marker available to write initials on the foil.
It is no fun opening every single one to find the one you made.
Cooking the Keto Meat and Vegetable Foil Packets
If baking in the oven, put foil packets into an oven safe dish to catch any possible drippings. Usually it stays clean but if there are drips, it is much easier to clean the dish than the oven.
Bake in preheated oven at 400* for 1 hour for chicken or pork, 20 minutes for salmon, 10 minutes for shrimp or thin fish, and 10-20 for beef depending on how you like it.
These times may vary with how much meat and how large of pieces are in there.
If grilling, place on bottom rack of grill and cover. Grill for about 10-20 minutes, flipping once or twice.
Different meats of varying thicknesses will require different cooking times. Chicken or pork will take the longest, salmon a medium time and steak, thin fish or shrimp the least amount of time.
They can also be cooked over an open fire on a grate. They will not be covered so a longer cooking time will be needed.
Caution!
Be VERY CAREFUL opening the foil packet when done cooking. The escaping steam can burn!
If you like Keto Meat and Vegetable Foil Packets for Grill, Campfire or Oven Check out some of my collections!
57 Low Carb & Keto Grill Recipes
76 Low Carb & Keto Crunchy Snacks
Low Carb & Keto Products to Buy on Amazon
50 Low Carb & Keto Ground Beef Recipes
2 Quick Easy Ways to Save Even More at Walmart
Dollar Tree Low Carb & Keto Items
79 Low Carb & Keto Vegetable Side Dish Recipes
82 Freezer Meal Prep Low Carb & Keto Tips and Recipes
Hundreds of Low Carb & Keto Lunch Recipes and Ideas
This post contains affiliate links. That means if you click on the link and make a purchase, I'll get a very small percentage in commission. There's never any extra cost to you. I greatly appreciate your support.