Dirty Keto Low Carb Trail Mix; No cooking! Easy to Make! Sweet and Salty! Crunchy and Chewy! Only 2.3 net carbs per serving!
Trail Mix is an old faithful snack for many but most include lots of sugar and carbs in chocolate and dried fruits. That is a no-no if you are eating a low carb or Keto diet.
This Dirty Keto Low Carb Trail Mix has all you are looking for in flavor and satisfaction of eating.
This trail mix is sweet and salty.
It is crunchy and chewy.
And at 2.3 net carbs, 11.3 grams of protein and 25.6 grams of fat per serving, it is a perfect Keto and low carb snack!
Depending on what protein bar you use, if you use one, and what meat sticks you use if you use them, it may or may not be dirty Keto. You could very well make a clean version.
These are the ingredients that will vary the most in how you make it. You certainly may not find or want exactly what I used.
I used a Power Bar Clean Whey Protein bar because that is what I had on hand. It has a net carb count of 4 per bar or 2 for half a bar, which is what I used in this recipe. Any other that you use—Quest or Elevation brands—will vary.
I have an Elevation bar that is 2 net carbs for the whole bar (High Protein Bar; Chocolate Chip Cookie Dough). They are only found at Aldi so may or may not be available to you.
The recipe for Dirty Keto Low Carb Trail Mix is changeable.
Add pork rinds, different nuts (watch carb counts; cashews and pistachios are higher carbs than almonds, pecans, walnuts or macadamia nuts), pumpkin seeds or Lily's chips for variety.
This will change the macros for the recipe but it is not difficult to figure it out.
Add the recipe into a tracker app like My Fitness Pal or simply add all of the carbs in what you added and divide it by how many servings you will get out of it.
This recipe makes about 2 ½ cups, so 5 half cup servings.
You don't even need to measure how much it makes. Just divide it into however servings you want and then do the same with the numbers you added up.
You will also love:
76 Low Carb & Keto Crunchy Snacks
Low Carb Buffalo Cauliflower Bites
Low Carb Baked Jalapeno Poppers
The Best Peanut Butter Fat Bombs
Are you following me on Pinterest? I have been working very hard making new boards I think you will love and am adding dozens of new pins daily from all of the popular websites!
You can also follow me on my Facebook groups; my Low Carb and Keto group; Low Carb & Keto Recipes & Helpful Tips Group, my recipes for everyone group; Best Recipes You will Want to Make and my Homeschool group; Loving Homeschool. I am adding daily pictures, links and much more than I would on the blogs and it is a place for you to find support from others on the same journey as you are. Come and share with others, ask questions and learn!
To Print the recipe for Dirty Keto Low Carb Trail Mix, click HERE.
Macros for ½ cup of this recipe just as written; the first ingredient listed, not what is in ( ): (295 Calories) (25.6 g Fat) (8.5 g Total Carbs) (5.4 g Fiber) (.8 Sugar Alcohols) (2.3 g Net Carbs) (1.4 g Sugars) (11.3 g Protein)
Yield; 2 ½ cups or 5 half cup servings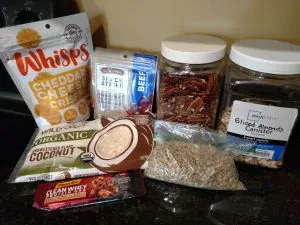 Ingredients:
1 bag=1 cup Whisps (or Moon cheese)
½ cup pecan halves
¼ cup sliced almonds (whole is also fine, I just like the smaller pieces)
2 sticks Old Wisconsin beef sausage snack sticks, cut into small pieces (or whatever meat sticks or jerky you like)
½ Power Bar Clean Whey Protein Bar chocolate chip cookie dough, cut into small pieces (or whatever protein bar you use)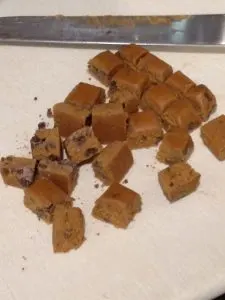 ¼ cup salted sunflower seeds
¼ cup unsweetened shredded coconut flakes
Directions: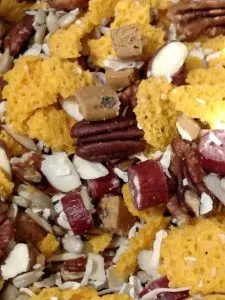 Mix all together.
Note; the Whisps will not stay crunchy for more than a day or so. Keep them separate until ready to eat if desired.
Store in an airtight container.
Omit anything you don't like.
Lily's chocolate chips can be used instead of or with the protein bar for the sweet flavor.
Add pumpkin seeds, pork rinds or other nuts if desired.
Find all you need to make this trail mix below. What else would you add?
Don't forget to pin for later! 🙂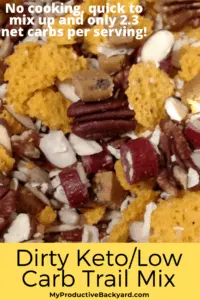 As an Amazon Associate, I earn from qualifying purchases at no extra cost to you.
Check out my collections!
Low Carb & Keto Products to Buy on Amazon
50 Low Carb & Keto Ground Beef Recipes
Dollar Tree Low Carb & Keto Items
24 Low Carb & Keto Condiments, Sauces, Mixes and Dressings
79 Low Carb & Keto Vegetable Side Dish Recipes
82 Freezer Meal Prep Low Carb & Keto Tips and Recipes