Lazy Deviled Eggs: The flavor of deviled eggs without all of the fuss; the quickest, simplest deviled egg recipe ever!
I call these Keto Lazy Deviled Eggs because I make them when I am feeling lazy but still want to be Keto.
Well, maybe I am not lazy but in a hurry.
Or maybe I don't need a whole batch of deviled eggs and just need enough for a quick snack.
These are perfect for any of those reasons.
Sometimes you just want a deviled egg but don't have time or energy to fool with emptying the egg whites, mashing yolks, measuring and mixing ingredients and carefully refilling the whites.
It isn't really super difficult but sometimes it just is. Keto Lazy Deviled Eggs is for those times and for when you just need a quick snack for one.
All of the ingredients here are to taste. We are being lazy and not measuring, remember? Just put on what looks good.
More Deviled Egg Recipes: (The kind you actually have to measure, mash, mix and fill.) 😊
21 Best Low Carb Keto Deviled Eggs Recipes
See Also:
10 Low Carb & Keto Hard Boiled Egg Recipes
How to Make Easy to Peel Hard Boiled Eggs
Because all ingredients are "to taste" and there are no real measurements, there is no recipe card or nutrition facts with this recipe.
Ingredients: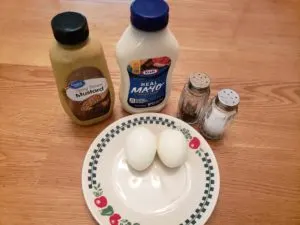 2 hard boiled eggs
Mayonnaise
Mustard
Salt and pepper
Directions:
First slice the hard boiled eggs in half lengthwise.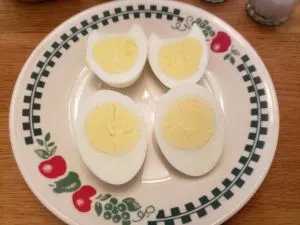 Add a dollop of mayonnaise.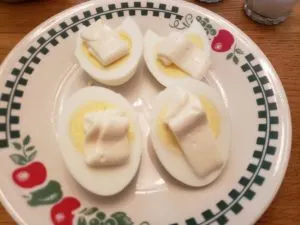 Add a dollop of mustard.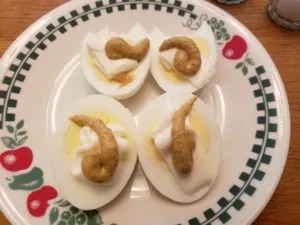 And a sprinkle of salt and pepper to taste.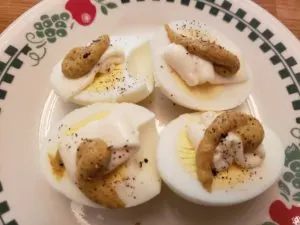 Done–Enjoy.
These are very good with Low Carb Gluten Free Sausage Balls. Make a super easy meal with them warmed up or cold.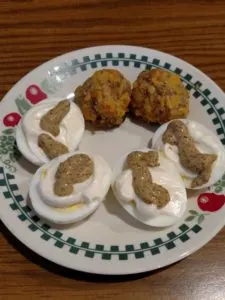 Are you following me on Pinterest? I have been working very hard making new boards I think you will love and am adding dozens of new pins daily from all of the popular low carb and Keto websites! Check them out HERE!
You can also follow me on my Facebook groups; my Low Carb and Keto group; Low Carb & Keto Recipes & Helpful Tips Group, my recipes for everyone group; Best Recipes You will Want to Make and my Homeschool group; Loving Homeschool. I am adding daily pictures, links and much more than I would on the blogs and it is a place for you to find support from others on the same journey as you are. Come and share with others, ask questions and learn!
As an Amazon associate, I earn from qualifying purchases at no extra cost to you. I appreciate your support.