Low Carb Parmesan Meatballs; Gluten Free, Low Carb, only 3 ingredients, quick and easy!This is perfect for meal prep and makes a delicious lunch!
With only 3 ingredients, these Low Carb Parmesan Meatballs make a quick and easy supper. Add a salad or cooked vegetable side and you have a delicious meal.
The Meatballs:
I made the meatballs a few days ago and served them with Creamy Spinach Cheese Bake and then used extras for these Low Carb Parmesan Meatballs. They can also be frozen and used later.
Find the 3 ingredient keto crock pot meatball recipe.
We love meatballs plain. We love them with Easy Homemade Alfredo Sauce.
The Sauce:
The sauce was in the freezer so I easily pulled that out to use in this recipe. I use this sauce for spaghetti (usually over zoodles), pizza or something like this. Find the sauce recipe.
This is one of my favorite "what are we having for dinner tonight" recipes. If I have meatballs and sauce in the freezer, and I often do, it is so simple to pull those out and put this together.
Here I served Low Carb Parmesan Meatballs with Palmini Linguine.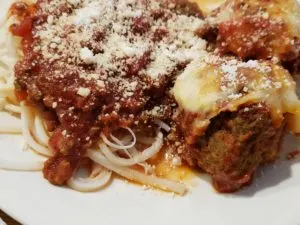 This is also one of my favorite meal prep recipes. Again, it is so stinking easy! Other than that, a single serving will happily sit in a container in the refrigerator or freezer until lunch or dinner to be pulled out and reheated when you need it. See 82 Freezer Meal Prep Low Carb & Keto Tips and Recipes here.
Be ready for envious looks from coworkers though because it will smell wonderful! 🙂
You can certainly use any meatballs and any sauce and cheese so I did not even try to calculate nutrition value here.
To print the recipe for Low Carb Parmesan Meatballs click HERE.
Ingredients: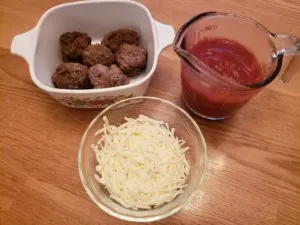 6 Meatballs (See 3 Ingredient Crock Pot Meatball recipe)
¾ cup spaghetti sauce (See Spaghetti Sauce recipe)
½ cup shredded mozzarella cheese
Directions:
Add meatballs to sprayed casserole dish.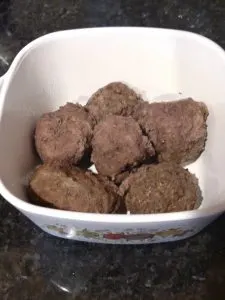 Spread sauce on top of meatballs.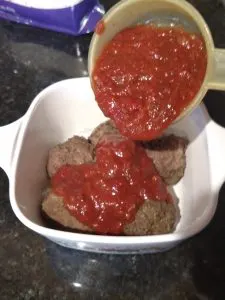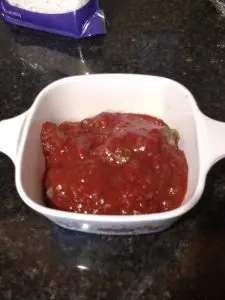 Sprinkle cheese over top.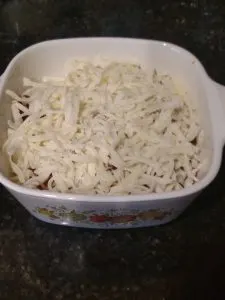 Bake in preheated 400* oven for about 20 minutes or until heated through and cheese is melted.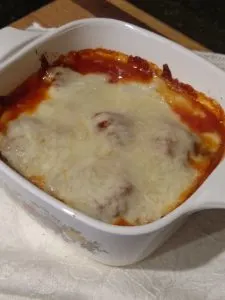 Yield; 1 large serving or 2 small servings
If you try this recipe, or any other recipe on My Productive Backyard, please take a moment to rate the recipe and/or leave a comment. I love hearing from you, but it also helps the other readers who are thinking of making the recipe.
Be Sure to Pin for Later!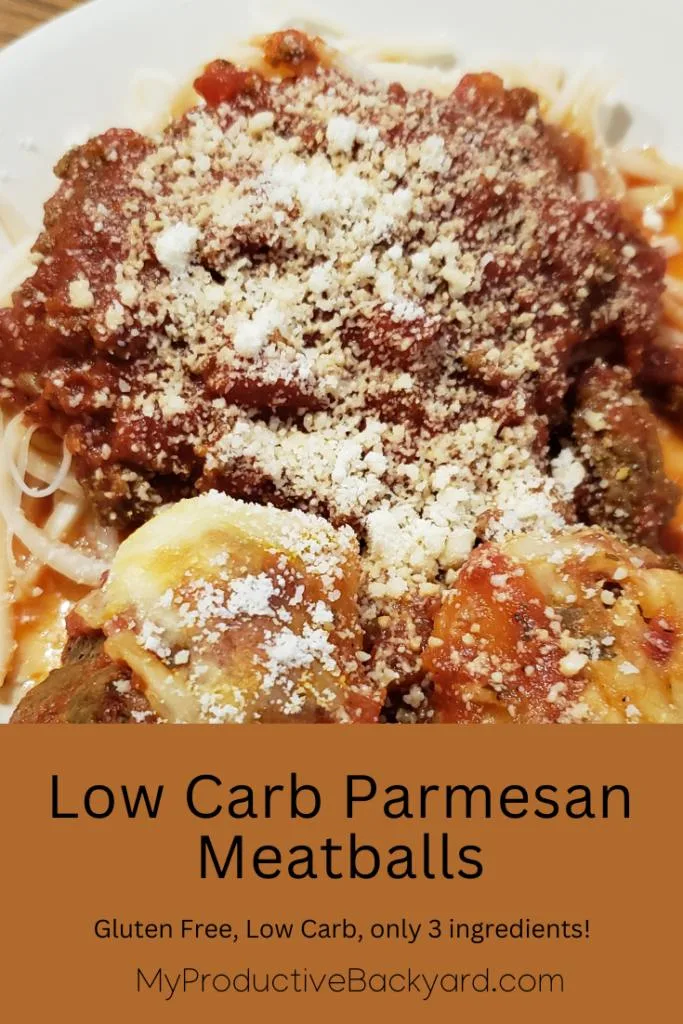 Are you following me on Pinterest? I have been working very hard making new boards I think you will love and am adding dozens of new pins daily from all of the popular websites!
You can also follow me on my Facebook groups; my Low Carb and Keto group; Low Carb & Keto Recipes & Helpful Tips Group, my recipes for everyone group; Best Recipes You will Want to Make and my Homeschool group; Loving Homeschool. I am adding daily pictures, links and much more than I would on the blogs and it is a place for you to find support from others on the same journey as you are. Come and share with others, ask questions and learn!