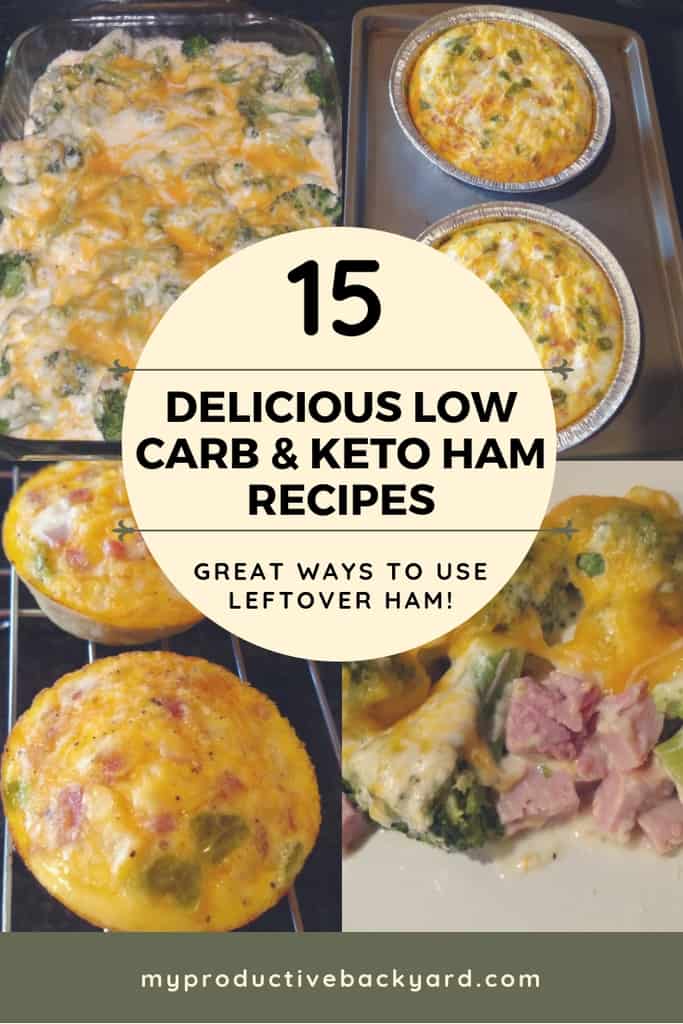 15 Delicious Low Carb Keto Ham Recipes: Great ways to use leftover ham!
It is wonderful to make a nice, big ham for a family gathering and have leftovers. Here are 15 Delicious Low Carb Keto Ham Recipes to give you great ways to use that tasty ham.
Some tips on ham:
The most excellent option for a clean, Keto ham is uncured with no nitrates and no sugars added. If you can find a local farmer where you can buy a ham raised there, that is the absolute best. That is not always possible so here are some other options:
My in-laws live near an Amish market in PA that has whole hams with no nitrates or sugars that are wonderful. I get one or two for my freezer when I can from there.
Pederson's Farms hams are dairy free, gluten free, MSG free, Paleo Friendly, soy free, sugar free and Whole 30 approved. Here is a link to their site. They are quite expensive if ordered online but they do also have a store locator so maybe you can find one in a store near you.
Sometimes you are at the mercy of what is in your grocery store. If the label says "cured with" and "less than 2% of" salts, other ingredients, sugars and nitrates, that really isn't TOO bad in the grand scheme of things.
I am not telling you it is or is not OK for you—that is up to you. I often use Kentucky Legend Smoked Ham and it is labeled like I said above.
You definitely don't want a ham labeled as honey or maple glazed. They are usually 5-6 carbs per serving. At least the ones above are usually 1 or less than 1 per serving. Just read the ingredients and nutrition label on each ham.
You don't have to use only leftover ham!
If you are like me, you will also buy a canned ham just to have some on hand to make these recipes all year long. Just read the labels on those as stated above.
A one pound can of ham is about 3 cups of chopped ham.
If that is more than you need in a recipe, freeze the rest for another recipe or throw in with some scrambled eggs to make a hearty breakfast later in the week. I love to have small servings of chopped ham in the freezer ready to add flavor like that.
Ham is a great meat for breakfast, lunch or dinner!
For a delicious ham dinner, try Simple Keto Ham with Fancy Dipping Sauces. That often gives us leftovers to use for the recipes below.
Breakfast
Green Eggs and Ham by Kalyn's Kitchen
Low Carb Ham and Cheese Waffles by Bound by Food
Cheesy Ham Hash Egg Cups by I Breathe I'm Hungry
Crustless Ham and Cheese Quiche by Easy Low Carb
Main Dish
Keto Cheesy Broccoli Ham Casserole
Cheesy Cauliflower Ham Casserole by Low Carb Yum
Ham Casserole by That Low Carb Life
Lunch
Easy Deviled Ham Salad by I Breathe I'm Hungry
Ham Cheese Stuffed Mushrooms by Joy Filled Eats
Soup
Cheesy Ham Chowder by Kasey Trenum
Crock Pot Ham Cauliflower "Potato" Stew by Low Carb Yum
Chicken Cordon Bleu Soup by Peace Love and Low Carb
This post contains affiliate links. That means if you click on the link and make a purchase, I'll get a very small percentage in commission. There's never any extra cost to you. I greatly appreciate your support.
Check out my collections!
The Biggest Best Low Carb & Keto Shopping List for ALDI
Hundreds of Low Carb & Keto Comfort Food Recipes
51 Low Carb & Keto Pumpkin Spice Fall Recipes
46 Low Carb & Keto Fathead Dough Recipes
Hundreds of Low Carb & Keto Camping Recipes and Ideas
57 Low Carb & Keto Grill Recipes
22 Low Carb & Keto Mushroom Recipes
43 Low Carb & Keto Zucchini Recipes
76 Low Carb & Keto Crunchy Snacks
50 Low Carb & Keto Ground Beef Recipes
Dollar Tree Low Carb & Keto Items
24 Low Carb & Keto Condiments, Sauces, Mixes and Dressings
79 Low Carb & Keto Vegetable Side Dish Recipes
82 Freezer Meal Prep Low Carb & Keto Tips and Recipes
Hundreds of Low Carb & Keto Lunch Recipes and Ideas
25 Low Carb & Keto Salad Recipes
11 Low Carb & Keto Pizza Recipes
72 Low Carb & Keto Skillet Recipes
Walmart Grab and Go Low Carb & Keto Items
91 Low Carb & Keto Appetizer Recipes
10 Best Low Carb & Keto Bark Recipes
33 Low Carb & Keto Cookie Recipes
Hundreds of Keto & Low Carb Stocking Stuffer Ideas
69 Low Carb & Keto Breakfast Recipes
47 Low Carb Keto Soups and Chilis
Over 200 Low Carb & Keto Meal Ideas
78 Dairy Free Low Carb & Keto Recipes
43 Low Carb Keto Holiday Meal Ideas
25 Great Low Carb Ideas for Labor Day–or any picnic or potluck
Over 30 Keto Low Carb Disaster Prep Ideas