Deluxe Keto Chicken Salad; a creamy and nutritious blend of chicken, cheese, pecans,capers and seasonings combined for perfect Keto macros and flavor!
Sometimes a simple easy chicken salad recipe is perfect and other times you want a Deluxe Keto Chicken Salad recipe! This one has it all!
Deluxe Keto Chicken Salad is perfect for a brunch, picnic, to pack for camping or for an every day lunch.
I have made this several times now and I think we like it more each time I make it. It is delicious with a fork out of a bowl, in a lettuce "bowl" as pictured (my favorite!) or any other way you would eat chicken salad.
Some of the ingredients:
Chicken:
Chicken is a great, easy protein source for any salad and the star here. Canned chicken is totally fine and that is what is used in this recipe. I love how simple it is to open a can of chicken and the meat is ready to go.
Use leftover rotisserie or grilled chicken or any you have on hand. If you enjoy dark meat, that is totally fine too. Use thighs or leg meat.
I like to have some cooked chicken in the freezer and that is perfect for this recipe. See my post about How to Make Chicken Broth and Have Cooked Chicken for the Freezer. It is a great kitchen hack for meal prep!
Pecans: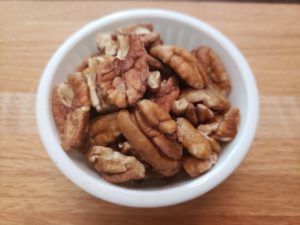 Pecans are a healthy source of fat, fiber and manganese, a mineral that helps your metabolism to function properly. They also provide thiamin, vitamin E, vitamin B6, iron, magnesium, phosphorus, zinc and copper. One ounce (about 20 halves) has only 1 net carb! (4 carbs – 3 fiber = 1 net carb) I got this information and more at Very Well Fit.
Capers:
Capers contain Vitamin K, calcium, and magnesium, antioxidants and are anti-inflammatory. They can also promote a healthy digestive system and blood vessels and protect from allergies and anemia. Who would have thought all of that was in such little unripened flower buds? I found that information from dovemed.com HERE.
Onion:
We are keeping the amount down in this recipe to keep the carbs as low as possible but it gives such good flavor and health benefits too so I do include just a little bit.
Onions have good amounts of vitamins C and B6, Folate and Potassium. They are full of antioxidants and strong anti-inflammatory properties. I got these details and more HERE.
Onions are not low carb if you eat a lot but putting a half cup or a cup in an entire recipe or a little in a salad is fine. This article from Body Ketosis is super helpful explaining the different types of onions because they vary so much by kind.
Try these other delicious Low Carb and Keto salads;
Keto Power Salad with Greens, Protein and Healthy Fats
24 Low Carb Keto Condiments, Sauces, Mixes and Dressings
25 Low Carb Keto Salad and Salad Dressing Recipes; Green Salads, Protein Salads, Broccoli, "Potato", and "Macaroni" Salad, Coleslaw and Even Dressings!
Hundreds of Low Carb Keto Lunch Recipes and Ideas
Ingredients for Deluxe Keto Chicken Salad: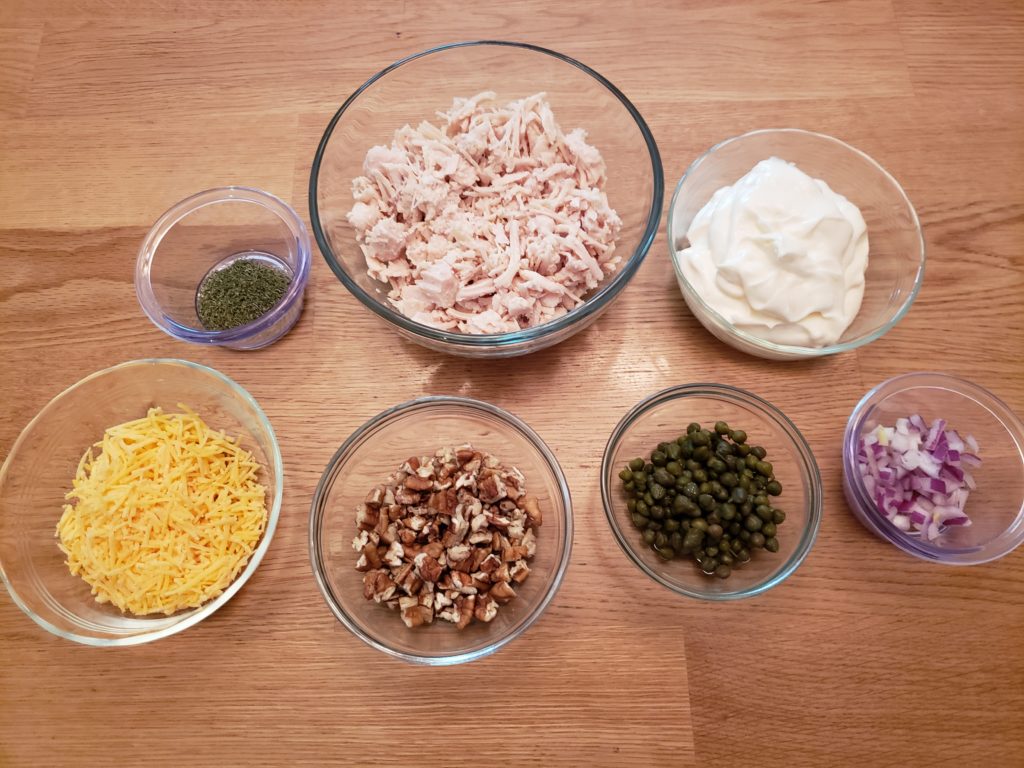 cooked chicken
mayonnaise
finely chopped onion
chopped pecans
capers
shredded cheddar cheese
dried dill
Directions:
Mix all together.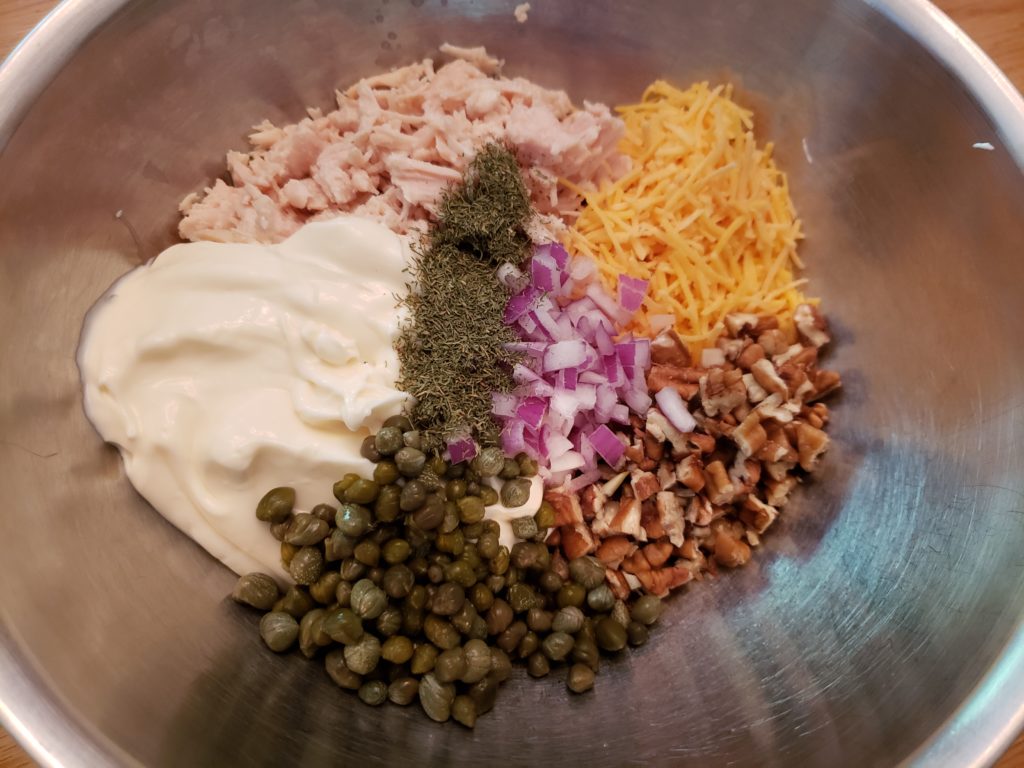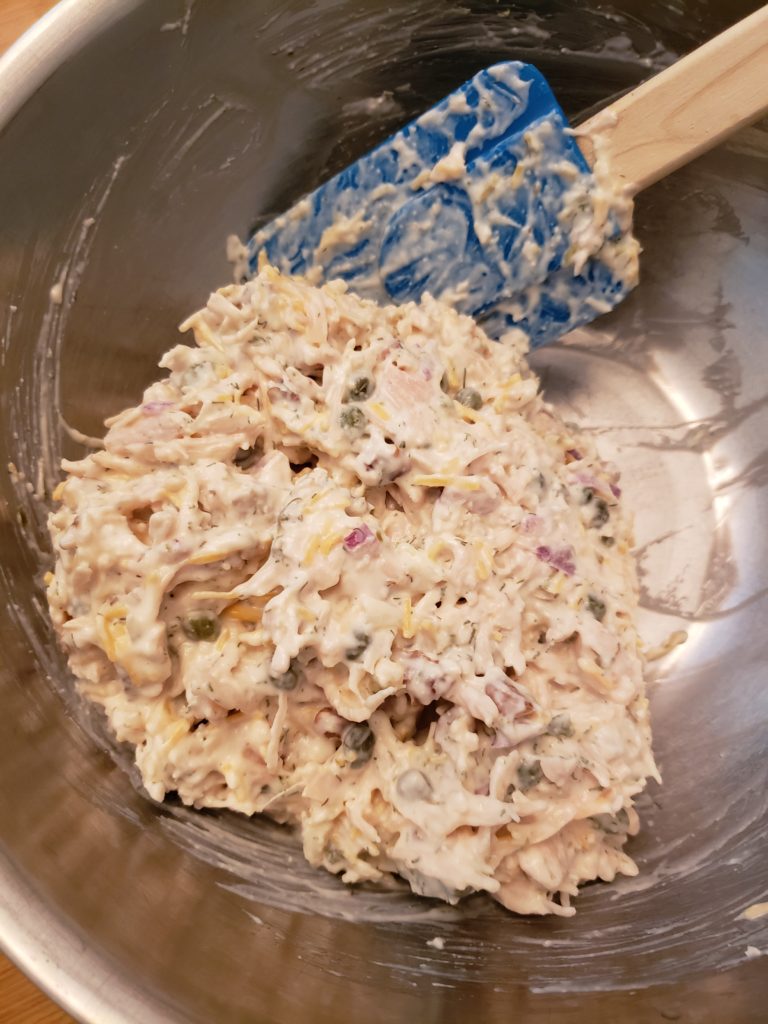 Chill.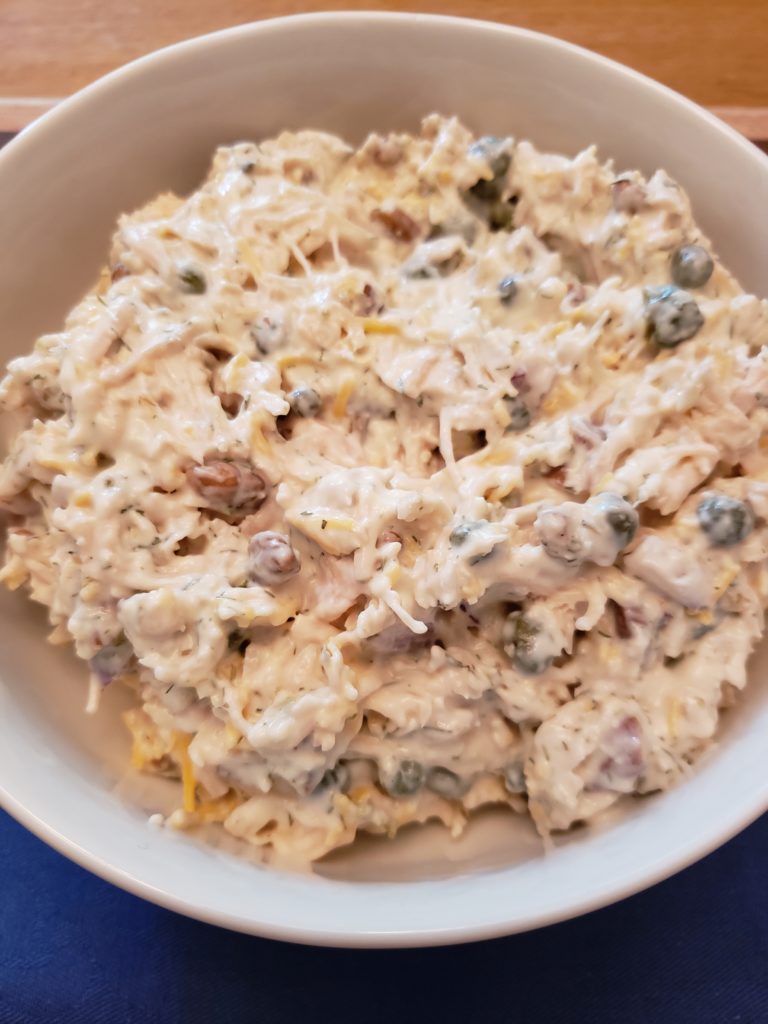 Yield: 2 cups or 4 half cup servings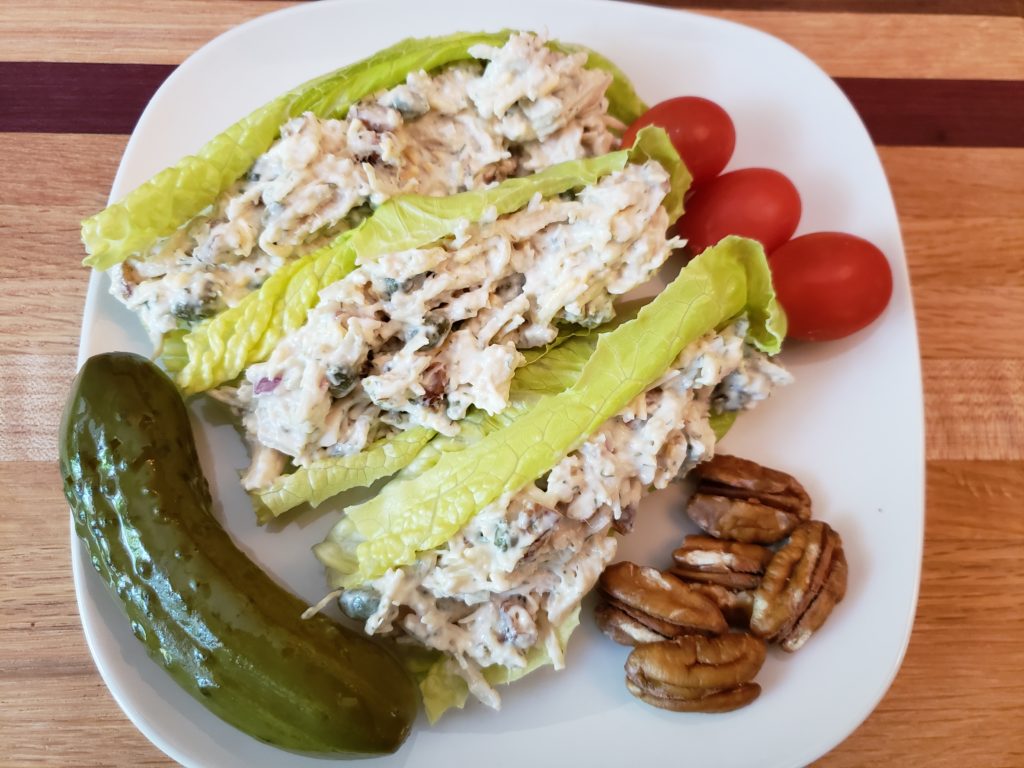 Are you following me on Pinterest? I have been working very hard making new boards I think you will love and am adding dozens of new pins daily from all of the popular low carb and Keto websites! Check them out HERE!
You can also follow me on my Facebook groups; my Low Carb and Keto group; Low Carb & Keto Recipes & Helpful Tips Group, my recipes for everyone group; Best Recipes You will Want to Make and my Homeschool group; Loving Homeschool. I am adding daily pictures, links and much more than I would on the blogs and it is a place for you to find support from others on the same journey as you are. Come and share with others, ask questions and learn!
Yield: 4 servings
Deluxe Keto Chicken Salad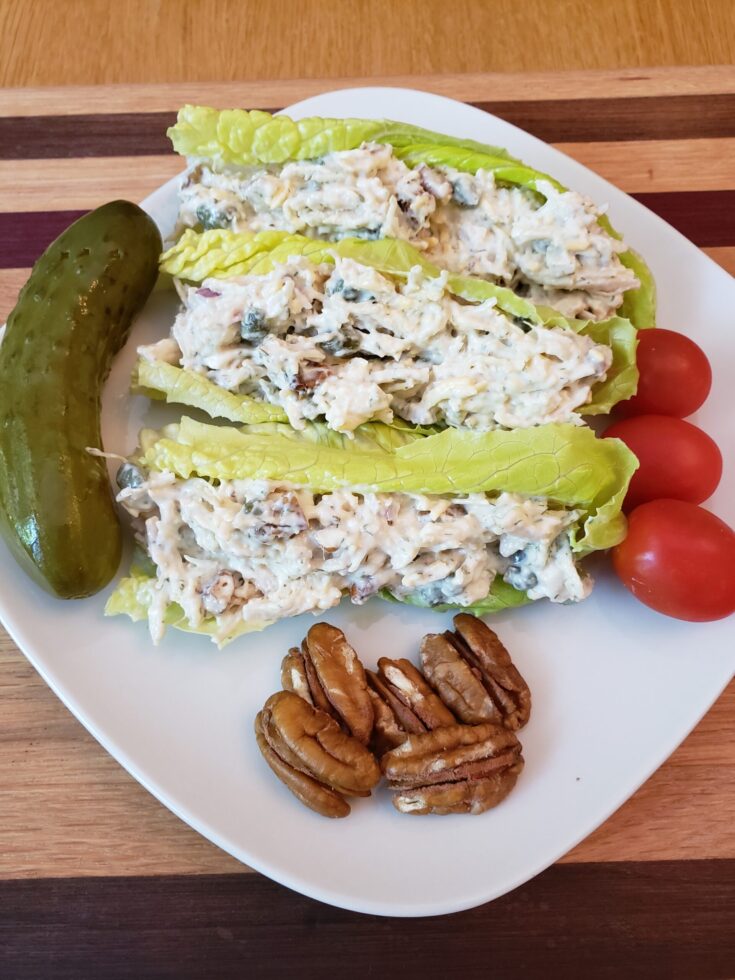 Deluxe Keto Chicken Salad is a creamy and nutritious blend of chicken, cheese, pecans, capers and seasonings combined for perfect Keto macros and flavor!
Ingredients
1 ½ cups cooked chicken (12.5oz can, drained)
¾ cup mayonnaise
1 ½ Tbsp finely chopped onion
¼ cup chopped pecans
3 Tbsp capers
1/3 cup shredded cheddar cheese
1 tsp dried dill
Instructions
Mix all together.
Chill.
Yield: 2 cups or 4 half cup servings
Nutrition Information
Yield
4
Serving Size
1/2 cup
Amount Per Serving
Calories

481
Total Fat

46g
Saturated Fat

9g
Trans Fat

0g
Unsaturated Fat

35g
Cholesterol

74mg
Sodium

511mg
Carbohydrates

3g
Fiber

1g
Sugar

1g
Protein

16g
This data was provided and calculated by Nutritionix using unknown brands unless named in the recipe. If nutrition is important to you, I highly encourage you to verify any data you see here with your favorite nutrition calculator. Also, you can put in exactly what you used so it is the most accurate. This is just to give you an idea, as any nutrition calculation is not exactly accurate unless every single product brand used is entered. Please note also that I am not a certified nutritionist or health professional of any kind. Please consult a doctor or trained professional for medical advice.
As an Amazon Associate, I earn from qualifying purchases at no extra cost to you.