Keto Power Salad with Greens, Protein and Healthy Fats; A nutritious salad packed with all you need for a delicious, healthy Keto meal!
A salad is an easy to put together meal for any way of eating. The Keto Power Salad with Greens, Protein and Healthy Fats is perfect for the Keto or Low Carb diet!
I have eaten this salad several times this week and it is delicious!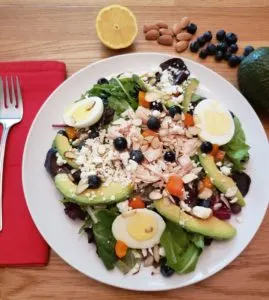 How to
Pack it for lunch:
If you would like to pack it for lunch, try using a single pack of guacamole instead of avocado. Add that at the last minute. Also keep the oil and vinegar separate until serving and you will have a very fresh, delicious salad when you are ready to eat it.
Nutrition in Keto Power Salad Ingredients:
Here are all of the ingredients in Keto Power Salad with Greens, Protein and Healthy Fats. You can see why each is part of this healthy salad.
It will also give you an idea of the carb count and nutrition of each item. If you really don't like something or don't have it on hand while making your salad, you will know what you are missing if you leave it out.
Greens: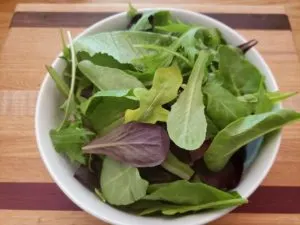 Mixed greens provide a healthy dose of vitamins A, C, K folate and potassium and also some calcium and iron. HERE is a great article about spring mix greens from Very Well Fit. A typical container of mixed spring greens has only 1 net carb for 3 cups of greens. (3 carbs – 2 fiber = 1 net carb).
Chicken:
Chicken is a great, easy protein source for a salad! Use leftover rotisserie or grilled chicken or any you have on hand. Canned chicken is even totally fine. I have always preferred white meat so that is what I use. I get my healthy fats in my dressing and avocado and olives. If you enjoy dark meat, use thighs or leg meat.
Hard Boiled Eggs: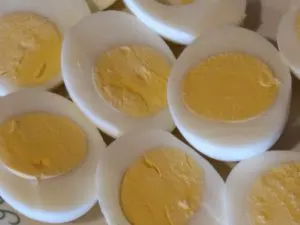 Eggs are truly a super food. They are one of the most nutritious foods, containing vitamins A, D, E, K, B vitamins, folate, Selenium, calcium and zinc. Healthline has an article with 10 health benefits of eating eggs HERE. Each large egg contains about 78 calories, 6 grams of protein, half of a carb and 5 grams of healthy fat. See How to Make Easy to Peel Hard Boiled Eggs.
Almonds: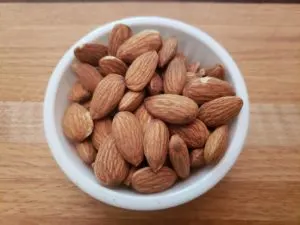 Almonds are super nutritious! They are full of healthy fats, antioxidants, fiber, protein, vitamins E and B2, magnesium, manganese, phosphorus, and copper. I found these and more HERE. A one ounce serving of almonds is 2.3 net carbs. (5.6 carbs – 3.3 fiber = 2.3 net carbs)
Avocado: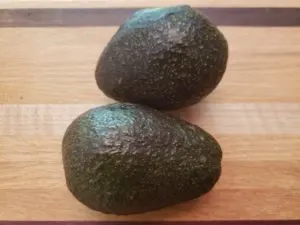 Avocados are an amazing fruit. I add them to a salad—or anything—any chance I get! They are full of potassium; more than bananas! They are also full of fiber and healthy fats. Find out more health benefits of avocados HERE. One avocado is about 4 net carbs. (17 carbs -13 fiber = 4 net carbs)
Bell Pepper:
Bell peppers are full of antioxidants and vitamins, especially vitamin C. They add pretty color and a nice crunch to a salad. A green, unripe pepper has fewer carbs than a colored pepper but is not as sweet. I usually do add bell pepper to my salad but just add a little. Find out more about bell peppers HERE. One medium green bell pepper has 4 net carbs. (6 carbs – 2 fiber = 4 net carbs)
Blueberries: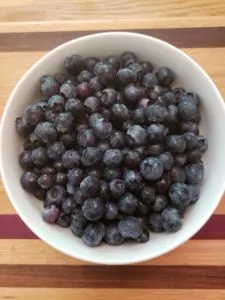 Blueberries are a good source of fiber, antioxidants and several minerals and vitamins including C, K1 and manganese. They may improve heart and brain health and even lower blood sugar levels. See more health benefits and information HERE. One cup of blueberries has 17.4 net carbs. (21 carbs – 3.6 fiber = 17.4 net carbs) They are not a low carb food if eaten by the cup but if eaten in small amounts they are fine.
All of this nutrition is great but Are Blueberries Keto? Keto Cooking Wins has a great article about blueberries with tips and recipes too.
Feta Cheese:
Feta cheese is a good source of calcium, B vitamins and phosphorus. It even contains probiotics; good bacteria for the gut! It is also anti-inflammatory and contains beneficial fatty acids. Feta cheese adds a nice tangy flavor to a salad. See more about it HERE.
Extra Virgin Olive Oil: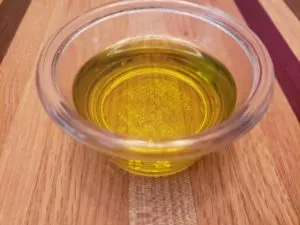 EVOO is heart healthy, anti-inflammatory, full of healthy fats and vitamins E and K. Healthline has a great article about EVOO HERE. Just be sure you are buying real olive oil and that it isn't diluted with other oils.
Lemon Juice: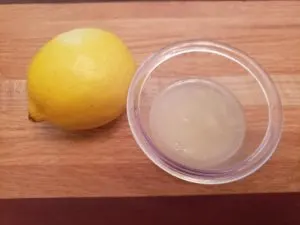 Lemons are very rich in vitamin C. They also contain potassium and vitamin B6. Lemons may have beneficial effects on cancer, cardiovascular disease, and inflammation. See Healthline's Lemon 101 article HERE. There is .7 net carb in 1 Tbsp of lemon juice. (.8 carb – .1 fiber = .7 net carb)
Other Great Recipes:
25 Low Carb & Keto Salad and Salad Dressing Recipes
Hundreds of Low Carb & Keto Lunch Recipes and Ideas
Flatiron Steak Salad from Easy Keto Dishes
Follow my Keto Salad Pinterest Board for dozens of ideas from all around the web! I am constantly finding new things to add so there will be new things all the time!
This recipe has been shared in Weekly Recipe Swap and Weekend Potluck. Head on over to these great sites for LOTS of new recipes each week!
Keto Power Salad Ingredients: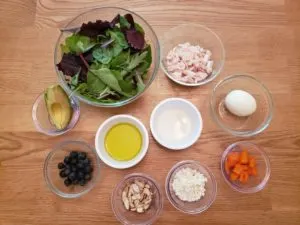 mixed salad greens
cooked chicken
hard boiled egg
avocado
bell pepper
sliced almonds
blueberries
feta cheese
extra virgin olive oil
lemon juice
Keto Power Salad Directions:
Make a nice bed of the greens.
Slice or dice your chicken, egg, avocado and bell pepper into the size you like.
I buy the almonds that are already sliced. If you don't have them you could also chop some whole almonds.
Add your other ingredients on top of the greens.
Lastly, drizzle the olive oil and lemon juice over it all.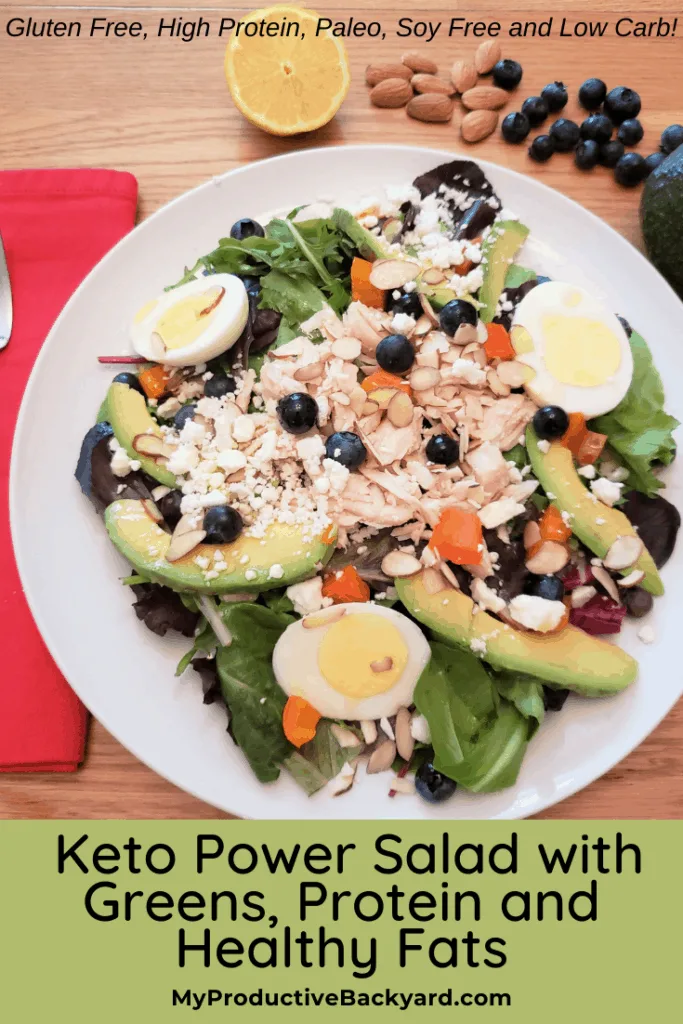 You can also follow me on my Facebook groups; my Low Carb and Keto group; Low Carb & Keto Recipes & Helpful Tips Group, my recipes for everyone group; Best Recipes You will Want to Make and my Homeschool group; Loving Homeschool. I am adding daily pictures, links and much more than I would on the blogs and it is a place for you to find support from others on the same journey as you are. Come and share with others, ask questions and learn!
Yield: 1 serving
Keto Power Salad with Greens, Protein and Healthy Fats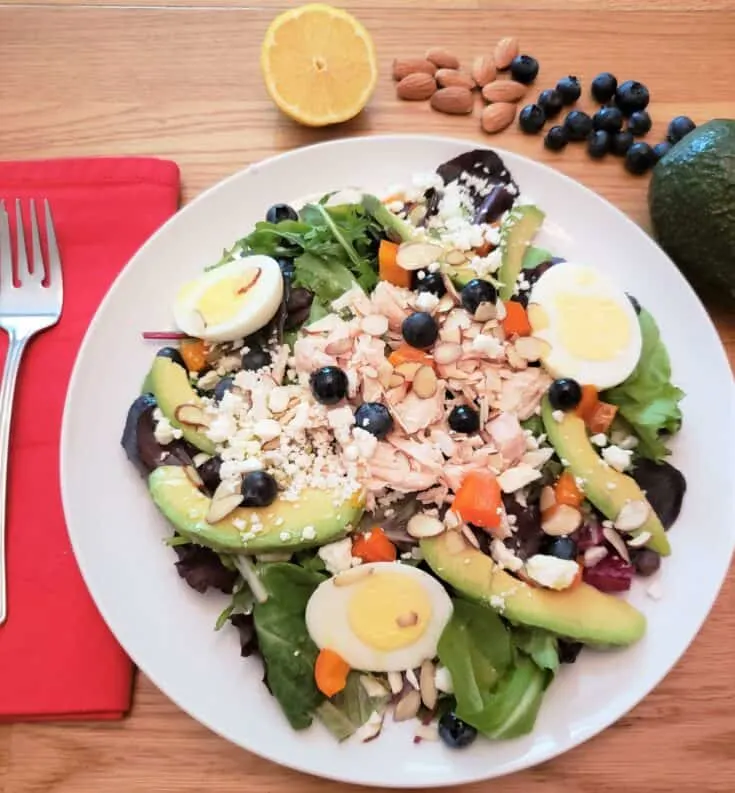 A nutritious salad packed with all you need for a delicious, healthy Keto meal!
Ingredients
2 cups mixed salad greens
½ cup cooked chicken
1 hard boiled egg
¼ avocado
1/8 cup bell pepper
1 Tbsp sliced almonds
1/8 cup blueberries
2 Tbsp feta cheese
2 Tbsp extra virgin olive oil
1 Tbsp lemon juice
Nutrition Information
Yield
1
Serving Size
1
Amount Per Serving
Calories

641
Total Fat

54g
Saturated Fat

12g
Trans Fat

0g
Unsaturated Fat

39g
Cholesterol

267mg
Sodium

310mg
Carbohydrates

13g
Fiber

5g
Sugar

5g
Protein

28g
This data was provided and calculated by Nutritionix using unknown brands unless named in the recipe. If nutrition is important to you, I highly encourage you to verify any data you see here with your favorite nutrition calculator. Also, you can put in exactly what you used so it is the most accurate. This is just to give you an idea, as any nutrition calculation is not exactly accurate unless every single product brand used is entered. Please note also that I am not a certified nutritionist or health professional of any kind. Please consult a doctor or trained professional for medical advice.
As an Amazon Associate, I earn from qualifying purchases at no extra cost to you.