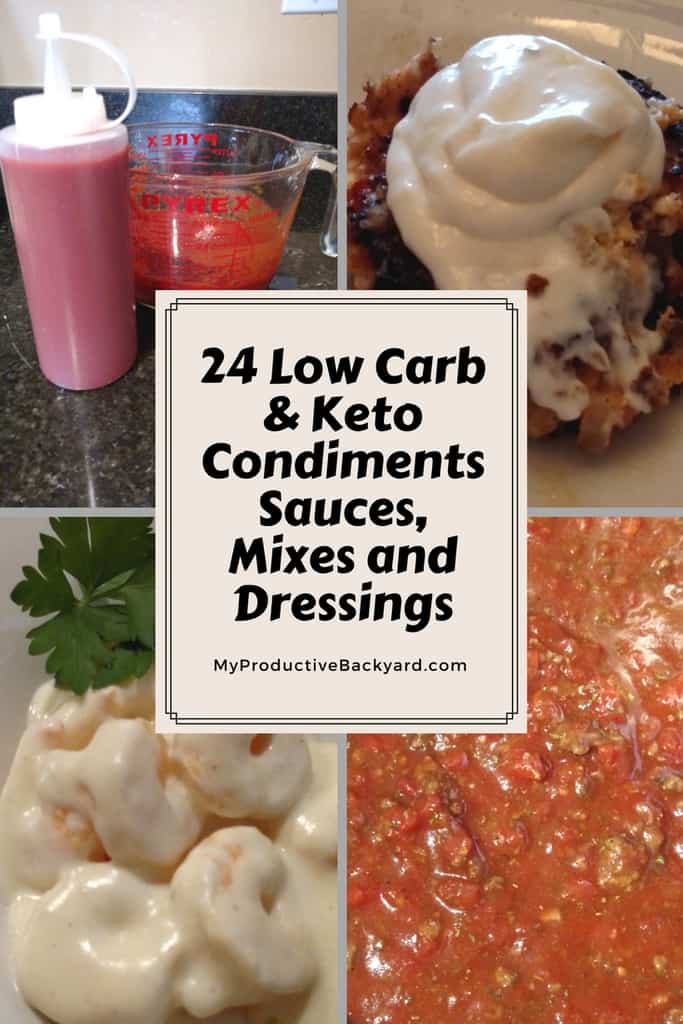 24 Low Carb Keto Condiments, Sauces, Mixes and Dressings: All you need to dress your food healthy and delicious!
This collection of 24 Low Carb Keto Condiments, Sauces, Mixes and Dressings will be helpful to easily create all of the "extras" that make the meal complete and extra tasty.
Many of these are available to be bought in a store or online but this is definitely the most healthy way to do it and much more economical.
Some are mixes that can be made ahead of time and last for months for easy use.
Others can be frozen or canned for the same benefit.
I find if I don't have to make them up every time I am much more likely to use them.
I just LOVE having spaghetti or pizza sauce in the freezer ready to go and jars of taco seasoning, ranch dressing mix, Italian dressing mix, onion soup mix, pumpkin pie spice ready to dump into what I need.
All of the above need only to be made every few months so it is not difficult at all!
Are you following me on Pinterest? I have been working very hard making new boards I think you will love and am adding dozens of new pins daily from all of the popular low carb and Keto websites! Check them out HERE!
You can also follow me on my Facebook page, Low Carb & Keto Recipes & Helpful Tips! I am adding almost daily pictures, links and much more than I would on the blog. You can hop on over there HERE.
If you like 24 Low Carb Keto Condiments, Sauces, Mixes and Dressings, Check out my recipe collections!
Low Carb & Keto Products to Buy on Amazon
50 Low Carb & Keto Ground Beef Recipes
Dollar Tree Low Carb & Keto Items
79 Low Carb & Keto Vegetable Side Dish Recipes
82 Freezer Meal Prep Low Carb & Keto Tips and Recipes
Hundreds of Low Carb & Keto Lunch Recipes and Ideas
25 Low Carb & Keto Salad Recipes
11 Low Carb & Keto Pizza Recipes
72 Low Carb & Keto Skillet Recipes
Walmart Grab and Go Low Carb & Keto Items
91 Low Carb & Keto Appetizer Recipes
10 Best Low Carb & Keto Bark Recipes
33 Low Carb & Keto Cookie Recipes
Hundreds of Keto & Low Carb Stocking Stuffer Ideas
69 Low Carb & Keto Breakfast Recipes
47 Low Carb Keto Soups and Chilis
Over 200 Low Carb & Keto Meal Ideas
78 Dairy Free Low Carb & Keto Recipes
43 Low Carb Keto Holiday Meal Ideas
25 Great Low Carb Ideas for Labor Day–or any picnic or potluck
Over 30 Keto Low Carb Disaster Prep Ideas
Condiments:
Low Carb No Sugar Homemade BBQ Sauce
Low Carb Zippy Horseradish Meat Sauce
Healthy Sugar Free Maple syrup by Keto Diet App
Healthy Sugar Free Honey Keto Diet App
Sauces and Cream Soup:
Homemade Spaghetti or Pizza Sauce
Cilantro Garlic Sauce by A Sassy Spoon
Low Carb Cream of Chicken Soup by Working at Homeschool
Mixes
Shake and Bake Chicken by Low Carb Yum
Everything Bagel Seasoning Mix by Food Network
3-2-1 Breading by Screwed on Straight
Salad Dressings
Caesar Dressing by Joy Filled Eats
Low Carb Gluten Free Bleu Cheese Dressing by Carb Smart
Clean Eating French Dressing by The Gracious Pantry
Low Carb Thousand Island Dressing by All Recipes
5 Ingredient Creamy Avocado Dressing by Jessica in the Kitchen
This post contains affiliate links. That means if you click on the link and make a purchase, I'll get a very small percentage in commission. There's never any extra cost to you. I greatly appreciate your support.