You will find all of the favorites and new ones too in these 60 Best Christmas Cookie Recipes!
With these 60 Best Christmas Cookie Recipes you will have all of your favorite Christmas Cookie Recipes at your fingertips!
I am sure you will find some new ones to add to that list too! There are some great ones here!
We have all of the faithful flavors of peppermint, chocolate, peanut butter, almond, cranberry, ginger and other warm, merry spices.
We have pretty colors of reds, greens and whites and fun Christmas trees, reindeer, grinch, gnomes, candy canes, snowmen and of course, gingerbread men!
Most of our cookie recipes are baked in the oven but there are even some baked in the air fryer and instant pot!
I have included recipes from my friends all around the web and boy, do I have some great ideas here! I am so excited to share them with you!
Which one will you make first? Leave a comment below and let us know!
Other Christmas Cookie Collections
I had so many delicious recipes given to me that I made separate posts for Low Carb/Keto, Vegan and Gluten Free! I thought they would be easier to find in their own posts.
18 Best Gluten Free Christmas Cookie Recipes
18 Best Vegan Christmas Cookie Recipes
30+ Keto Low Carb Christmas Cooke Recipes
Other Christmas Posts
I have 6 Free Christmas How Many Words Printables, Free Printable Christmas Memory Matching Game, Free Christmas Bingo Printables, 25 Free Christmas Coloring Pages, two free word scrambles in 2 age levels; Christmas Word Scramble and Christmas Nativity Word Scramble and you will also love these Christmas word searches, also in 2 age levels. There is a Christmas Nativity Word Search and a Secular Christmas Word Search.
Christmas Decoration Scavenger Hunt: A fun indoor scavenger hunt to keep the kids busy while waiting for dinner or gift opening. Really, it is just fun anytime!
Christmas Lights Scavenger Hunt: A Christmas Lights scavenger hunt is the perfect way to get into the Christmas spirit! Have fun finding all of the things on the list!
Gift Ideas that aren't Just Stuff; Want ideas for things that will last? For things that won't end up forgotten in a month? Ideas for kids and adults!
Family Christmas Traditions You will want to Start; Over 30 of the best Christmas traditions to make memories with your family that will last a lifetime.
Christmas Desserts Kids Can Make; Santa, Reindeer, Snowmen and Christmas Trees all kinds of sweet ways! Kids can get into the holiday action with these desserts!
If you are Low Carb or Keto, check out Easy Keto peppermint fudge, Keto chocolate peppermint bark, One Net Carb Soft Jello Holiday Cookies, Low Carb Holiday Fruit Punch, 40+ Keto Low Carb Christmas Desserts, 30+ Keto & Low Carb Christmas Cookie Recipes and Hundreds of Keto & Low Carb Stocking Stuffer Ideas (for children and adults).
Follow my Christmas Recipes and Fun Pinterest Board for dozens of ideas from all around the web! I am constantly finding new things to add so there will be new things all the time!
Be Sure to Pin for Later!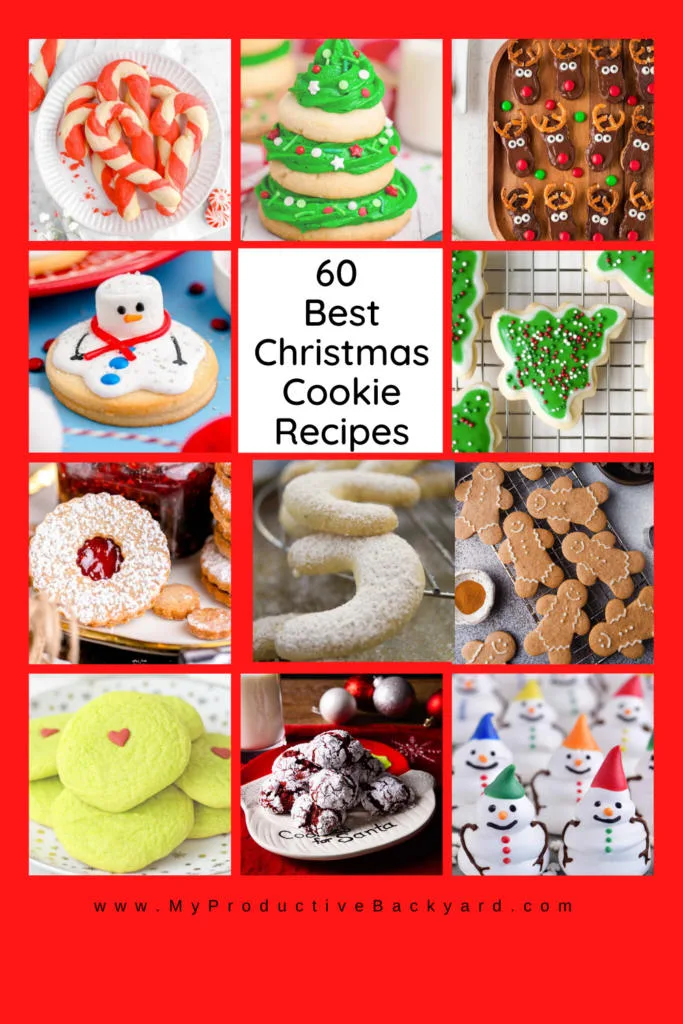 Are you following me on Pinterest? I have been working very hard making new boards I think you will love and am adding dozens of new pins daily from all of the popular websites!
You can also follow me on my Facebook groups; my Low Carb and Keto group; Low Carb & Keto Recipes & Helpful Tips Group, my recipes for everyone group; Best Recipes You will Want to Make and my Homeschool group; Loving Homeschool. I am adding daily pictures, links and much more than I would on the blogs and it is a place for you to find support from others on the same journey as you are. Come and share with others, ask questions and learn!
60 Best Christmas Cookie Recipes
You will find all of the favorites and new ones too in these 60 Best Christmas Cookie Recipes