Have you wondered whether you could freeze zoodles? Yes, you CAN freeze zoodles!
Did you know you could freeze zoodles? I didn't!
I found only negative answers to that question with an online search but why can't I freeze them? Zucchini freezes with fine results.
With all of the zucchini available when it is in season and all of the zoodles I like to eat year round, I had to try and I found out that Yes, you CAN freeze zoodles!
I simply made my zoodles, put them in a Ziploc bag and put them into the freezer. I waited a week or so and pulled them out and let them thaw.
They were more watery than when I put them in but still firm and still zoodles. It was simple to drain off any extra water.
I gently boiled them for just a few minutes like I usually do for using them under my homemade spaghetti sauce, drained them well as usual and. . . they were good!
I noticed absolutely no difference in fresh or frozen zoodles.
Oh, this is going to change things!
I love my veggetti pro for making zoodles but if I don't have to pull it out every single time and wash several pieces every single time, that makes me happy! 🙂
Some recipes I would saute them instead of boiling, like Lemon Dill Shrimp and Zucchini Noodles and Zucchini Noodles Parmesan and it also works just fine for that.
The only reason I think it would not work is if you eat them raw in a recipe. There may be a difference in texture then. I haven't tried that.
If you have any doubts that you will like them after freezing, just do a small bag to start. Try it and see. That is how I did it and I decided I like them a lot!
I plan to have my freezer full of zoodles in individual servings ready to pull out and cook up this winter! Oh, boy! 🙂
Recipes for Zucchini Noodles
Keto Parmesan Chicken over Zoodles
29 Low Carb Keto Zoodle Recipes
Keto Chicken Alfredo over Zoodles
Keto Zoodles with Meatballs and Marinara Sauce
Also see 43 Low Carb and Keto Zucchini Recipes.
Check out Inspiralized.com for lots more great recipes for zoodles.
Here is a step by step to freeze zoodles: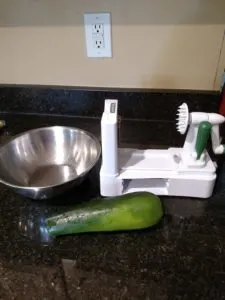 Make your zoodles.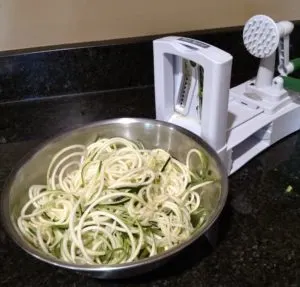 Put into a Ziploc bag, seal and label. Freeze.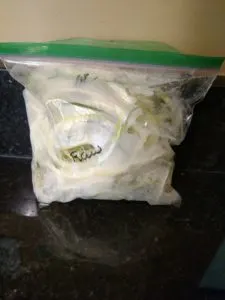 Thaw.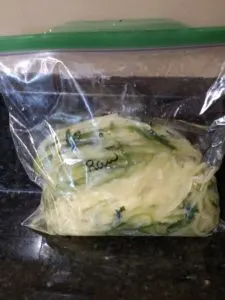 Prepare as usual. If you are going to boil, a little extra water does not matter. If you are going to sauté, simply dump off any extra water and prepare as usual.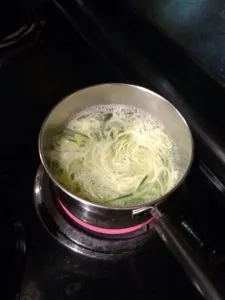 As an Amazon Associate, I earn from qualifying purchases at no extra cost to you.