15 Low Carb Keto Green Salad Recipes; Delicious salads with a base of healthy greens and a variety of flavorful toppings
We are constantly told to eat more greens and salads are the simplest way to do that. Here are 15 Low Carb Keto Green Salad Recipes that will make eating your greens easy and enjoyable.
Why eat greens?
Mixed greens provide a healthy dose of vitamins A, C, K folate and potassium and also some calcium and iron. Very Well Fit has a great article about greens.
A typical container of mixed spring greens has only 1 net carb for 3 cups of greens. (3 carbs – 2 fiber = 1 net carb).
Romaine and Iceberg lettuce and spinach contain comparable macros (protein, carbs, fiber and calories) as spring greens. Romaine contains 3 net carbs per 3 cups, Iceberg contains 3 net carbs and spinach 0 net carbs. (All taken from the above link.)
Romaine and spinach contain comparable micronutrients but Iceberg lettuce contains far fewer.
Add a healthy fat
Or two—or three
Fat is what keeps us satisfied so we are not hungry in an hour.
It is what helps us absorb the fat-soluble vitamins A, D, E, and K.
Fat keeps our cells, skin and hair cells healthy.
Fat reduces inflammation.
See more benefits and information about fat from Diet Doctor.
Ways to add healthy fat to your green salad:
Avocado or avocado oil
Extra virgin olive oil
Olives
Cheese
Nuts
Seeds
Fish
Add a protein:
The recommended daily intake (RDI) for protein is 46 grams for women and 56 grams for men.
Eggs
Cheese
Meat
Nuts
Seeds
The salad recipes below have done the work for you! They are a delightful blend of greens and other vegetables, healthy fats and proteins with a great variety of flavors. The above is the "why".
Which do you think you will try first?
See also:
25 Low Carb & Keto Salad and Salad Dressing Recipes
Hundreds of Low Carb & Keto Lunch Recipes and Ideas
Be Sure to Pin for Later!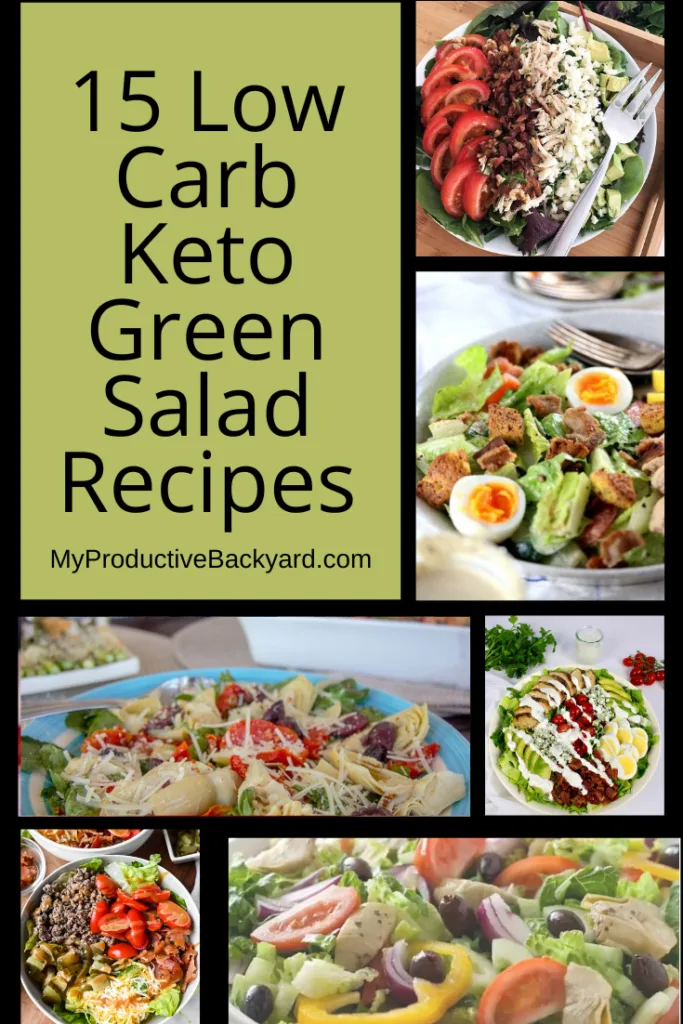 Are you following me on Pinterest? I have been working very hard making new boards I think you will love and am adding dozens of new pins daily from all of the popular websites!
You can also follow me on my Facebook groups; my Low Carb and Keto group; Low Carb & Keto Recipes & Helpful Tips Group, my recipes for everyone group; Best Recipes You will Want to Make and my Homeschool group; Loving Homeschool. I am adding daily pictures, links and much more than I would on the blogs and it is a place for you to find support from others on the same journey as you are. Come and share with others, ask questions and learn!
The 15 Low Carb Keto Green Salad Recipes
15 Low Carb Keto Green Salad Recipes
Delicious salads with a base of healthy greens and a variety of flavorful toppings