These 150+ Homemade Pizza Recipes are for pizza lovers! You will be set with these delicious recipes for any day or occasion!
With these 150+ Homemade Pizza Recipes, you can make pizza so many different ways! And with all of these ways, we can have it for breakfast, lunch, dinner, an appetizer or even dessert!
Many of these pizza recipes include recipes for the crust too and others have simple premade options. Whatever your style, there are plenty of ways to make it here!
We have pizzas made to look like Angry Birds, Pokémon, a friendly Lion, and a monster!
There are cold and hot pizzas and pizzas cooked in the regular oven, over the campfire, in a cast iron skillet, electric skillet, a pellet stove, air fryer, and on the grill!
Special pizzas for Halloween, Game Day, Easter, Thanksgiving, Christmas and Valentine's Day.
We have the tradition pizza pie with so many ways to top it.
Pizza rolls, Pizza crackers and Pizza roll-ups
Wonton pizza cups
Pizza bowls and Pizza sliders
Pizza soup and Pizza Dip
Pizza ice cream—wait, what!!!?? Yes, seriously!! 😊
Pizza Mushrooms and Pizza bombs
I have included recipes from my friends all around the web and boy, do I have some great ideas here! I am so excited to share them with you!
If you would enjoy a fun free Pizza I Spy Printable to do while you eat your pizza, there is one on my other site for you!
I was going to make just one big collection of pizza recipes but whoa, there were SO many great recipes! So, I decided to split them up into 12 Breakfast Pizza Recipes and 17 Dessert Pizza Recipes. Click on those to see them in a smaller, easier to find collection of just those recipes.
Follow my Pizza Recipes Pinterest Board for dozens of ideas from all around the web! I am constantly finding new things to add so there will be new things all the time!
Which one will you make first? Leave a comment below and let us know!
When is Pizza Party Day?
Did you know there is a day just to pizza?? Whoo-hoo, yes, there is!! May 15th is Pizza Party Day but really, there are enough recipes here that almost any day could be a day for pizza! 😊
What kinds of diets are included in this collection?
We didn't forget to include gluten free, dairy free, Paleo, Low carb, Keto and vegan options! They are not sorted by diet because many are several different kinds and that would be too complicated.
I wanted to give you gluten free choices or vegan choices, etc. You will find more than one cast iron or grilled recipe for example, but they are different.
Many are the regular old-fashioned recipes with gluten, cheese, etc. and many are made with special diets.
There are several Low Carb & Keto recipes in this collection but if you would like just those, I do have a post dedicated just to 39 Low Carb & Keto Pizza Recipes.
Lots more recipes! If you enjoy these posts with lots of recipes to choose from, also check out
100 lunchbox ideas and recipes
Over 200 Low Carb & Keto Meal Ideas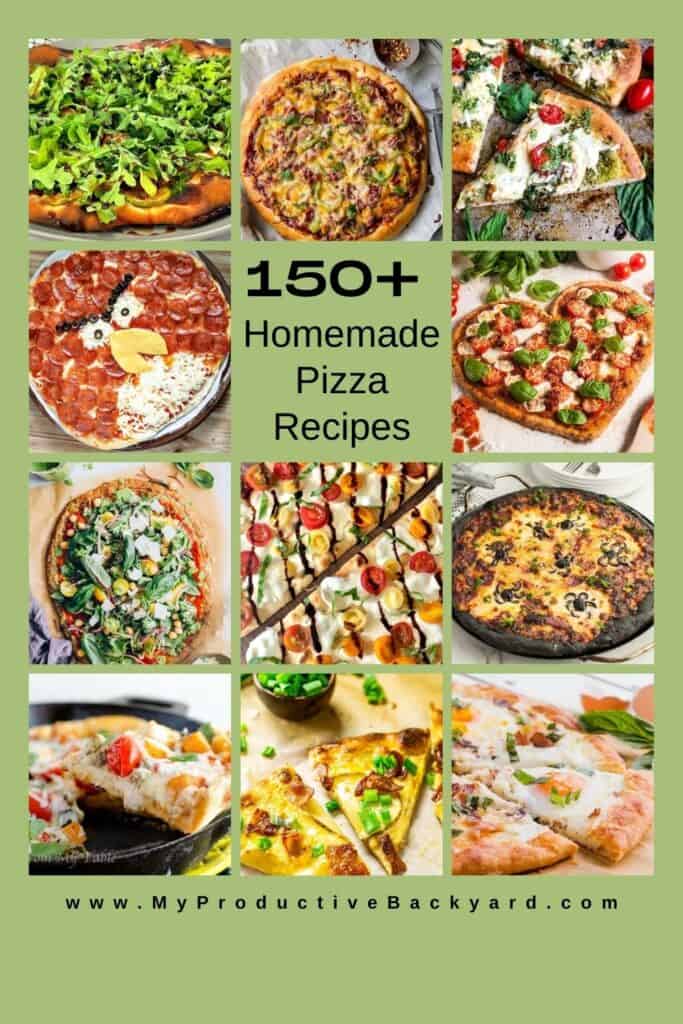 Are you following me on Pinterest? I have been working very hard making new boards I think you will love and am adding dozens of new pins daily from all of the popular websites!
You can also follow me on my Facebook groups; my Low Carb and Keto group; Low Carb & Keto Recipes & Helpful Tips Group, my recipes for everyone group; Best Recipes You will Want to Make and my Homeschool group; Loving Homeschool. I am adding daily pictures, links and much more than I would on the blogs and it is a place for you to find support from others on the same journey as you are. Come and share with others, ask questions and learn!
150+ Homemade Pizza Recipes
These 150+ Homemade Pizza Recipes are for pizza lovers! You will be set with these delicious recipes for any day or occasion!