With Over 100 Pumpkin Recipes to choose from, you will be sure to find anything pumpkin you could dream of! Sweet, savory and beverages too!
Are you craving all things pumpkin? The kids are back to school, the weather is cooling down and pumpkin anything is calling our name! With Over 100 Pumpkin Recipes here, we will be ready!
Your Pumpkin Spice dreams are about to come true!
There are savory recipes like pumpkin grilled cheese, chili, tortelli, gnocchi, soup, Indian pumpkin curry, pumpkin spice tamales, quiche, pasta sauce, baked ziti and raviolis.
Lots of sweet options like breads, cakes, pies, scones, donuts, muffins, pancakes, French toast, cookies, cheesecake, ice cream, oatmeal, cinnamon rolls, candied pumpkin, waffles, mousse, tiramisu, pumpkin butter and pumpkin pie dip.
We even have beverages like pumpkintini, pumpkin juice, latte, coquito.
The season may be too short to try all of these wonderful recipes but we can do our best! 😊
Which one will you make first? Leave a comment below and let us know!
If you would enjoy a fun free Pumpkin I Spy Printables to do while you eat your pumpkin recipes, there is one on my other site for you!
When is National Pumpkin Day?
Any day is a good day for pumpkin but National Pumpkin Day is on October 26th so be sure you get something pumpkin on that day!
What kinds of diets are included in this collection?
We didn't forget to include gluten free, dairy free, Paleo, Low carb, Keto and vegan options! They are not sorted by diet because many are several different kinds and that would be too complicated.
I wanted to give you gluten free choices or vegan choices, etc. You will find more than one pumpkin muffin or pie recipe for example, but they are different.
I didn't give you a dozen of the same type of thing but there are several things with the same label like "pumpkin pie". They will be different though.
Many are the regular old-fashioned recipes with sugar, milk, etc. and many are made with special diets.
If you are Keto or Low Carb, I also have 51 Low Carb Keto Pumpkin Spice Fall Recipes just for you!
Lots more recipes! If you enjoy these posts with lots of recipes to choose from, also check out
100 lunchbox ideas and recipes
Over 100 Red White and Blue Patriotic Recipes
Almost 100 Christmas Desserts Kids Can Make
Over 200 Low Carb & Keto Meal Ideas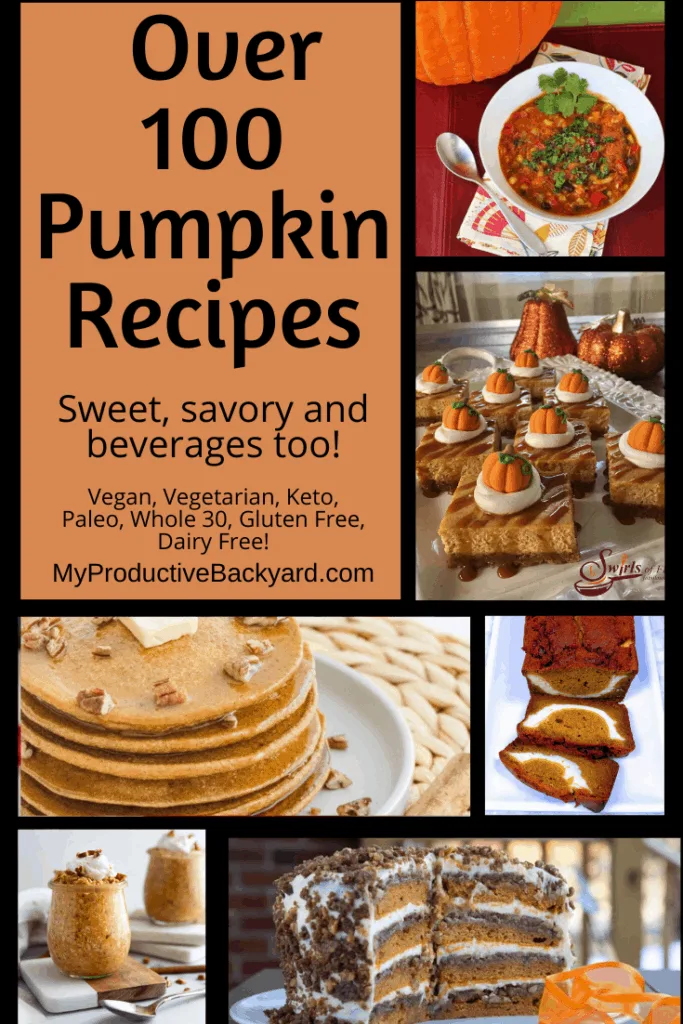 Are you following me on Pinterest? I have been working very hard making new boards I think you will love and am adding dozens of new pins daily from all of the popular websites!
You can also follow me on my Facebook groups; my Low Carb and Keto group; Low Carb & Keto Recipes & Helpful Tips Group, my recipes for everyone group; Best Recipes You will Want to Make and my Homeschool group; Loving Homeschool. I am adding daily pictures, links and much more than I would on the blogs and it is a place for you to find support from others on the same journey as you are. Come and share with others, ask questions and learn!
Over 100 Pumpkin Recipes
With Over 100 Pumpkin Recipes to choose from, you will be sure to find anything pumpkin you could dream of! Sweet, savory and beverages too!