10 Low Carb Keto Recipes for Hard Boiled Eggs: Great Ideas to Use Hard Boiled Eggs after Easter
You can only eat so many plain hard boiled eggs! Here are 10 Low Carb Keto Recipes for Hard Boiled Eggs that will help take care of them!
Easter is almost here and many folks have lots of hard boiled eggs colored and ready to go. What in the world do you do with all of those eggs after they are hunted and their pretty colors enjoyed though?
Our family enjoyed coloring eggs each year well into my kids' teen years. Well, our oldest was into his twenties and my husband and I still enjoyed it too. I guess there is no age limit to enjoying it.
The point is we colored eggs for many years and we colored a lot of eggs! Recipes for hard boiled eggs were very helpful in using them!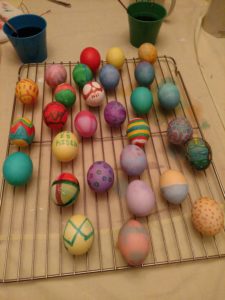 We didn't actually hunt the real eggs; only the plastic, candy or money filled eggs. The great grandmas were good for the money filled eggs! The real eggs stayed safely in the refrigerator so they were still good for eating.
Ahh, I am pulling up some sweet memories here. I am in the remembering stage at the moment; children are grown but no grandchildren yet. If you are in the making memories stage; enjoy! I will be back with you soon!
Now wait, I am talking like I am in the middle of nothingness. That is not true. I am totally enjoying my grown children and we ARE making wonderful memories; just more relaxed ones. Please pardon my rambling!
So! What to do with all of these eggs!
In case you haven't boiled those eggs yet, check out How to Make Easy to Peel Hard Boiled Eggs!
Two Simple Ideas:
Add to a salad:
Do you normally add hard boiled eggs to your salad? If you don't, you are missing out! You can always use one or two on your salad for a great protein boost. They are the perfect food, after all!
Lazy Deviled Eggs:
Have you tried lazy deviled eggs? I love deviled eggs but I don't always get around to mashing up the yolks, combining the other ingredients and putting that yummy yolk mixture back into the whites. It isn't really that difficult but sometimes it just is.
Those times that it is just too difficult, I just cut the egg in half and add a squirt of mayo and one of mustard and there you have it; lazy deviled eggs.
They are a wonderful, quick snack or even meal!
(Lazy Deviled Eggs are pictured here with Low Carb Gluten Free Sausage Balls; It was a great lunch!)
Are you following me on Pinterest? I have been working very hard making new boards I think you will love and am adding dozens of new pins daily from all of the popular low carb and Keto websites! Check them out HERE!
You can also follow me on my Facebook page, Low Carb & Keto Recipes & Helpful Tips! I am adding almost daily pictures, links and much more than I would on the blog. You can hop on over there HERE.
8 More Delicious Recipes so you have

10 Low Carb Keto Recipes for Hard Boiled Eggs

:
10 Low Carb Keto Recipes for Hard Boiled Eggs
10 Low Carb Keto Recipes for Hard Boiled Eggs
This post contains affiliate links. That means if you click on the link and make a purchase, I'll get a very small percentage in commission. There's never any extra cost to you. I greatly appreciate your support.