Hundreds of Low Carb Keto Lunch Recipes and Ideas; Ideas for eating out of a cooler, a lunch bag or refrigerator; some to be warmed and some to eat cold.
Lunch time can be challenging. Here are Hundreds of Low Carb Keto Lunch Recipes and Ideas to help make it successful.
To buy or pack?
Buying gets expensive and it is tricky to know just what you are getting when you order out but packing can be so boring. It does not have to be boring though! 🙂
Whether you eat out of a lunch bag, a cooler or a refrigerator with the option of warming your lunch, these ideas will help!
Follow my Keto Lunch Recipes Pinterest Board for dozens of ideas from all around the web! I am constantly finding new things to add so there will be new things all the time!
As an Amazon Associate, I earn from qualifying purchases at no extra cost to you.
To Eat Cold
Lettuce wraps; mayo, mustard, lunchmeat, cheese or a BLT
Or sometimes it is simpler to wrap the lettuce into the lunchmeat!
This picture has what I call lazy deviled eggs; just cut hard boiled eggs in half and add a squirt of mayo and mustard; quick and easy!
Celery, peppers, cucumbers, radishes, pork rinds to dip into Guacamole.
Nibble platters; Often, it is easy to make what I call a nibble platter. It is quick to assemble, easy to pack and simple to eat if you need to keep moving. Here are some examples of nibble platters or nibble containers if they are to go.
Lunchmeat, leftover meat, pepperoni; roll the meat around cheese slices or string cheese
Egg Salad, Tuna Salad or Chicken Salad
Lettuce, peppers, celery, cherry tomato, cucumbers for dipping into Ranch Dressing
Pickles, olives,
String cheese, Babybel, Laughing Cow cheese
Mixed nuts (not too many), avocado,
Hard Boiled Eggs, Deviled Eggs, Red Beet Eggs or Pickled Green Beans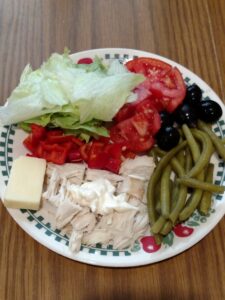 Lunchmeat and cheese roll ups, mixed nuts and red beet egg.
The "sandwich is just cheddar cheese slices with mayo, mustard and lunchmeat inside. And lazy deviled eggs again. I often eat these!
More lazy deviled eggs and bacon with cream cheese. (If you haven't tried that, put it on your must try list!)
Black olives, pecans, provolone cheese, pickle, hard boiled eggs, broccoli and ranch
Hard boiled egg, lettuce and bell pepper with olive oil and white wine vinegar on the side, cheese, pickle and tuna with mayonnaise
Pepperoni, hard boiled egg, lunchmeat chicken, cheese and mustard rolled up, pickle and macadamia nuts
Pepperoni, cheese, pickle, hard boiled eggs and macadamia nuts
3 Ingredient Keto Crock Pot Meatballs, pickle, hard boiled egg, cheese, avocado with salt and pepper
Bed of romaine lettuce, bell pepper, tuna with mayonnaise, shredded cheddar cheese, 2 hard boiled eggs quartered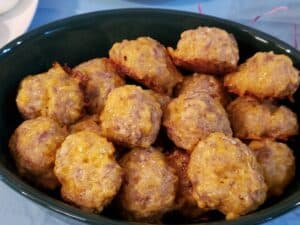 The combinations are endless!
Salads
See 25 Low Carb & Keto Salad and Salad Dressing Recipes for Green Salads, Protein Salads, Broccoli, "Potato", and "Macaroni" Salad, Coleslaw and Even Dressings!
Eating out of a lunch bag is a bit more challenging but not impossible.
Nuts, pickles, olives, and even hard boiled eggs come in individual packages easy to drop into a lunch bag or make your own with Ziploc bags.
Jerky
Tuna/salmon packs
Canned meat
Mayo packs
Celery with almond butter
Cherry tomatoes, celery, radishes
Pork rinds
Quest bars
Sunflower seeds, pumpkin seeds
(All of the above can be found at most grocery stores or on Amazon.)
Thermos with soup or chili
Even if you forgot your lunch or are just on the go, check out Walmart Grab & Go Low Carb & Keto Items
When you can warm it up, leftovers are GREAT!
Hundreds of Low Carb & Keto Comfort Food Recipes
47 Low Carb & Keto Soup and Chili Recipes
61 Low Carb & Keto Casserole Recipes
72 Low Carb & Keto Skillet Recipes
44 Low Carb & Keto Crock Pot Recipes
39 Low Carb & Keto Pizza Recipes
Are you following me on Pinterest? I have been working very hard making new boards I think you will love and am adding dozens of new pins daily from all of the popular low carb and Keto websites! Check them out HERE!
You can also follow me on my Facebook group, Low Carb & Keto Recipes & Helpful Tips Group! I am adding daily pictures, links and much more than I would on the blog and it is a place for you to find support from others on the same journey as you are. Come and share with others, ask questions and learn! You can hop on over there HERE.