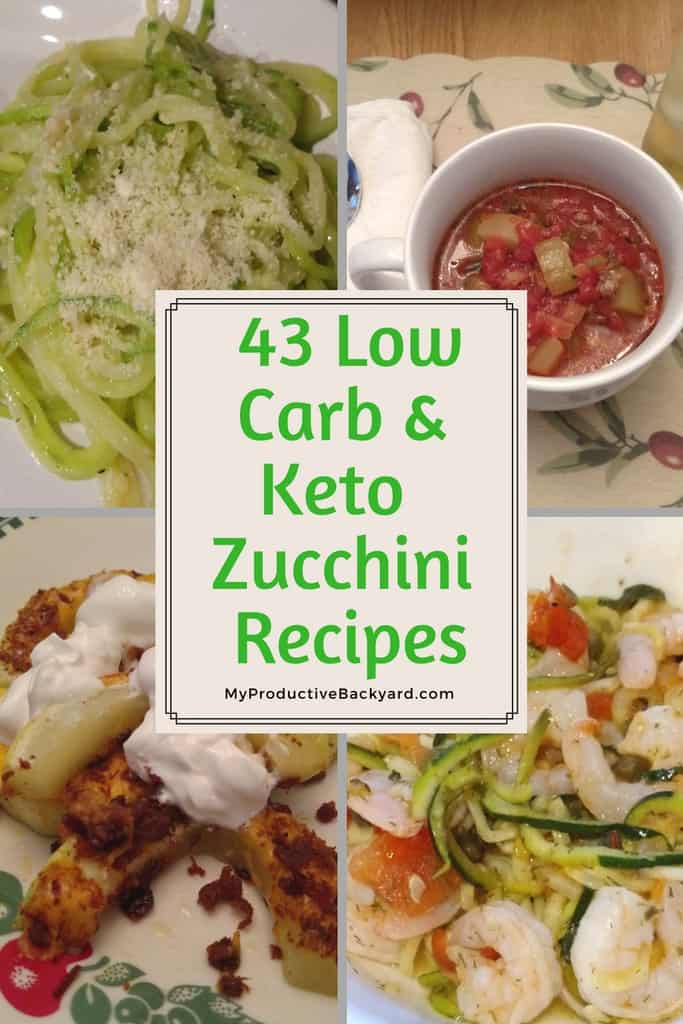 43 Low Carb Keto Zucchini Recipes: Only 3 Net Carbs per serving, Full of Vitamins and Minerals and Many Health Benefits! Main Dishes, Side Dishes, Zoodles and even Baking!
Zucchini is one of our summertime favorites! 43 Low Carb Keto Zucchini Recipes will help know how to use them!
Actually, it is one of our any time favorites! And for good reason!
It is so versatile and delicious and 1 ½ cups of raw slices has only 33 calories, 0 grams of fat, 5 grams of carbs, 2 grams of fiber for 3 net carbs and 2 grams of protein.
It is great for a low carb, Keto or any healthy diet!
There is so much you can do with zucchini!
And it is a good thing because if you have a garden, or your neighbor has a garden, or your parents have a garden. . . you get the idea. It is wonderfully prolific stuff!
Here are 43 Low Carb Keto Zucchini Recipes to give you plenty of ways to use it all year round.
Zucchini are so nutritious!
According to Draxe.com, (click here for the full, very informative article) zucchini is a High Source of Antioxidants and Vitamin C, Has Anti-Inflammatory Properties that Can Improve Heart Health, is a High Source of Potassium, Helps Improve Digestion, is Low in Calories and Carbs, Helps Maintain Eye Health, is a Good Source of Energizing B Vitamins, Can Help Control Diabetes, and Might Help Balance Thyroid and Adrenal Function.
Can you freeze Zoodles?
Many of these recipes include zoodles or zucchini noodles; same thing.
Last year when there was plenty in the summer, I made extra when I had it and froze them.
Some will say they are mushy but I poured any water off before warming them and did not overcook them and they were totally fine.
I loved how quick and easy it was and can't wait to restock my freezer.
If you are unsure about liking it, just do one serving to try it.
Here is my post about freezing them. http://myproductivebackyard.com/2017/08/02/yes-you-can-freeze-zoodles/
Are you following me on Pinterest? I have been working very hard making new boards I think you will love and am adding dozens of new pins daily from all of the popular low carb and Keto websites! Check them out HERE!
You can also follow me on my Facebook page, Low Carb & Keto Recipes & Helpful Tips! I am adding almost daily pictures, links and much more than I would on the blog. You can hop on over there HERE.
Check out my collections!
76 Low Carb & Keto Crunchy Snacks
33 Low Carb & Keto Cabbage Recipes
Low Carb & Keto Products to Buy on Amazon
50 Low Carb & Keto Ground Beef Recipes
Dollar Tree Low Carb & Keto Items
24 Low Carb & Keto Condiments, Sauces, Mixes and Dressings
79 Low Carb & Keto Vegetable Side Dish Recipes
82 Freezer Meal Prep Low Carb & Keto Tips and Recipes
Hundreds of Low Carb & Keto Lunch Recipes and Ideas
25 Low Carb & Keto Salad Recipes
11 Low Carb & Keto Pizza Recipes
72 Low Carb & Keto Skillet Recipes
Walmart Grab and Go Low Carb & Keto Items
91 Low Carb & Keto Appetizer Recipes
69 Low Carb & Keto Breakfast Recipes
47 Low Carb Keto Soups and Chilis
Over 200 Low Carb & Keto Meal Ideas
78 Dairy Free Low Carb & Keto Recipes
Main Dishes
Lemon Dill Shrimp and Zucchini Noodles
Instant Pot Slow Cooker Spicy Beef Broccoli Zoodle Soup by Wholesomelicious
Chicken Zucchini Noodle Caprese by Skinny Taste
Lemon Garlic Chicken Zoodles by Their on You
Creamy Sun Dried Tomato Parmesan Chicken Zoodles by Café Delites
Beef Stuffed Zucchini Boats by Gimme Delicious
Mexican Zucchini and Beef by Low Carb Yum
Baked Chicken and Zucchini Casserole by Low Carb Yum
Zucchini and Ground Beef Casserole by Genius Kitchen
Low Carb Lasagna by Well Plated
Bolognese Zoodle Bake by Ruled Me
Broccoli Chicken Zucchini Boats by Ruled Me
Low Carb Chicken Zucchini Enchiladas by Jodeze Home and Garden
Bacon Cheeseburger Stuffed Zucchini Boats by Sugar Free Mom
Garlic Butter Steak and Zucchini Noodles by Eat Well 101
Side Dishes
Creamy Four Cheese Pesto Zoodles by I Breathe I'm Hungry
Creamy Roasted Red Pepper Zucchini Noodles by Get Inspired Every Day
Crispy Zucchini Fries by Butter Is Not A Carb
Zucchini & Yellow Squash Au Gratin by Small Town Woman
Low Carb Yellow Squash Casserole by All Recipes
Crock Pot Zucchini and Yellow Squash by Low Carb Yum
Cheesy Garlic Zucchini Casserole by Table and Chair
Easy Cheesy Zucchini Gratin by I Breathe I'm Hungry
Zucchini Feta Roulade by Divalicious Recipes
Greek Zoodle Salad by All Recipes
Lemon Parmesan Zucchini Pasta with Roasted Artichokes by Inspiralized
Garlic Parmesan Zucchini Noodles Tomato by Divalicious Recipes
Spiralized Zucchini Casserole by Low Carb Yum
Baking
Mock Apple Crisp from Zucchini by Low Carb Yum
Keto Zucchini Bread with Walnuts by Ruled Me (almond flour)
Zucchini Bread by Low Carb Yum (almond and coconut flour)
Zucchini Bread No Sugar Low Carb by Spark People (coconut flour)
Chocolate Zucchini Muffins with Coconut Flour by Low Carb Maven
Low Carb Cheddar Cheese Zucchini Muffins by My Keto Kitchen
Coconut Flour Zucchini Muffins by Low Carb Yum
Zucchini Bagels by Wholesome Yum
This post contains affiliate links. That means if you click on the link and make a purchase, I'll get a very small percentage in commission. There's never any extra cost to you. I greatly appreciate your support.