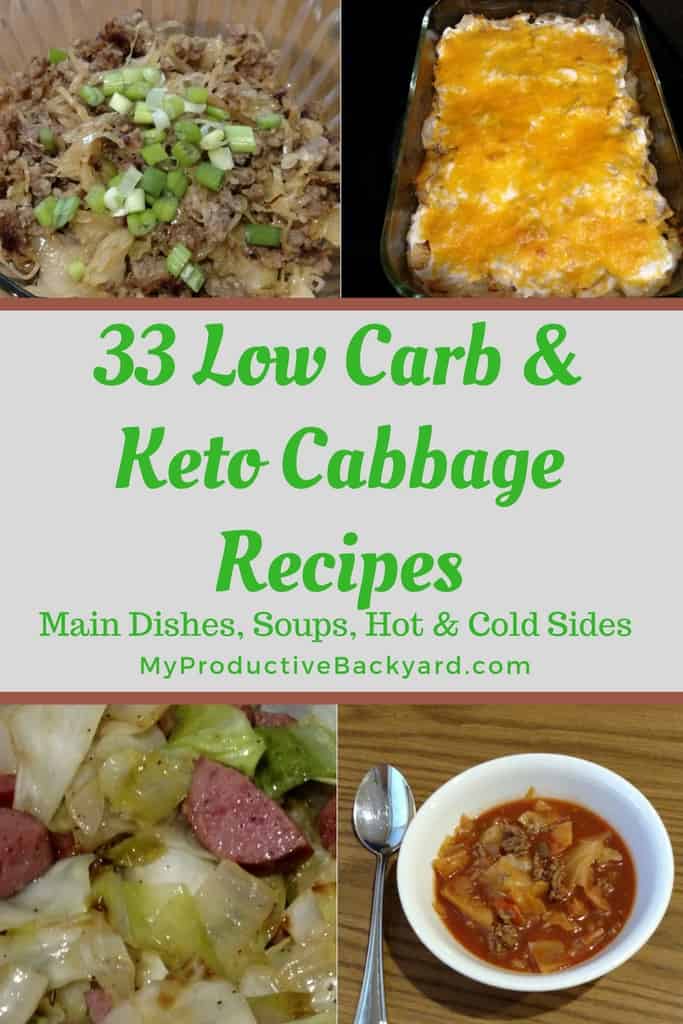 33 Low Carb Keto Cabbage Recipes; A Powerhouse of Vitamins, Minerals and Fiber, Filling and Delicious! It also supports the immune and digestive system!
Cabbage is one of my favorite vegetables. I was so happy to learn it was a good low carb one!
It is also an inexpensive vegetable and one that can last in the refrigerator for more than a few days without going bad.
It is just a great vegetable!
Per cup of chopped cabbage, there are only 22 calories, 5 g of carbs and 2.2 g of fiber for 2.8 net carbs.
Depending on what website you look at, whether you are measuring a cup of chopped, shredded or cooked and whether you are eating green, red/purple, white or another type like Nappa, the carb counts could vary some between 2-3 net carbs.
For all of the nutrition and flavor it gives, those are carbs well spent!
Here are 33 Low Carb Keto Cabbage Recipes to try!
Look at all of the vitamins and minerals in cabbage!
This is taken from The World's Healthiest Foods webpage. "Cabbage is an excellent source of vitamin K, vitamin C and vitamin B6. It is also a very good source of manganese, dietary fiber, potassium, vitamin B1, folate and copper. Additionally, cabbage is a good source of choline, phosphorus, vitamin B2, magnesium, calcium, selenium, iron, pantothenic acid, protein and niacin."
See also; 13 Amazing Benefits of Cabbage from Organic Facts.
See How to Cut a Cabbage.
Check out my collections!
Low Carb & Keto Products to Buy on Amazon
50 Low Carb & Keto Ground Beef Recipes
Dollar Tree Low Carb & Keto Items
24 Low Carb & Keto Condiments, Sauces, Mixes and Dressings
79 Low Carb & Keto Vegetable Side Dish Recipes
82 Freezer Meal Prep Low Carb & Keto Tips and Recipes
Hundreds of Low Carb & Keto Lunch Recipes and Ideas
25 Low Carb & Keto Salad Recipes
11 Low Carb & Keto Pizza Recipes
72 Low Carb & Keto Skillet Recipes
Walmart Grab and Go Low Carb & Keto Items
91 Low Carb & Keto Appetizer Recipes
10 Best Low Carb & Keto Bark Recipes
33 Low Carb & Keto Cookie Recipes
Hundreds of Keto & Low Carb Stocking Stuffer Ideas
69 Low Carb & Keto Breakfast Recipes
47 Low Carb Keto Soups and Chilis
Over 200 Low Carb & Keto Meal Ideas
78 Dairy Free Low Carb & Keto Recipes
Main Dish
Cabbage Lasagna by Low Carb Yum
Low Carb Crock Pot Cabbage Rolls by Low Carb Crock
Cabbage Beef Skillet by The Foodie Affair
Keto Asian Cabbage Stir Fry by Diet Doctor
Bacon Wrapped Roasted Cabbage Wedges by The Kitchen Magpie
Fish Taco Cabbage Bowl by Kalyn's Kitchen
Roasted Cabbage Carbonara by The Nourished Caveman
Bacon Burger Cabbage Stir Fry by Low Carb Yum
Cheesy Smoked Sausage and Cabbage Casserole by Peace Love and Low Carb
Spicy Low Carb Beef Lo Mein by Low Carb-ology
Amish One Pan Ground Beef and Cabbage Skillet by Smile Sandwich
Low Carb Reuben Cabbage Rolls by Sugar Free Mom
Low Carb Goulash by The Little Pine
Slow Cooker Paleo Cabbage Rolls by Fit Slow Cooker Queen
Soups
Goulash Soup with Red Peppers and Cabbage by Kalyn's Kitchen
Keto Cabbage Soup with Chicken Quenelles by Diet Doctor
Hot Sides
Old Fashioned Crock Pot Cabbage by Recipes That Crock
Roasted Cabbage Wedges with Onion Dijon Sauce by An Oregon Cottage
Grilled Cabbage Steaks with Blue Cheese and Bacon by Low Carb Yum
Roasted Cabbage with Lime Sriracha by Kalyn's Kitchen
Curried Cabbage with Cashews by Washington's Green Grocer
Low Carb Sautéed red Cabbage by Low Carb Yum
Thai Curry Cabbage by Diet Doctor
Spicy Chili Cabbage Stir Fry by Island Smile
Cold Sides
Red Cabbage and Dill Cole Slaw by The View From Great Island
Green Yogurt Coleslaw by Clean Eating Recipes
Easy Delicious Coleslaw by Ruled Me
This post contains affiliate links. That means if you click on the link and make a purchase, I'll get a very small percentage in commission. There's never any extra cost to you. I greatly appreciate your support.