150+ Clean Keto Walmart Shopping List: What to buy for your Clean Keto lifestyle; includes nutrition labels and free printable shopping list!
My Best 60 Low Carb & Keto Walmart Items and Walmart Grab & Go Low Carb & Keto Items posts are my most popular posts! Some have commented though, that they would like a Clean Keto Walmart Shopping List post. This is for you!
The items in this post are all totally clean. There are absolutely no sugars, grains, wheat, legumes, inflammatory oils, processed ingredients, chemicals or artificial anything. I have carefully sorted through every single ingredient label and included them for you too.
Some of these are pretty basic but I think you will find some nice surprises here! I did! Some sections I really did not think I would find anything but I looked very carefully and was happy to find some treasures! I hope you enjoy the list! 😊
The Aisles and Products
These are items I found in my Walmart. Not every Walmart will have exactly the same things but it will be a good start of what to look for, anyway.
I labeled where I found each item in my Walmart but it could be different in your store. I also got the price in most pictures to give you an idea but that could be different in your area too.
If your store doesn't yet carry all you see here, be patient. My store didn't have all of this even six months ago. I am finding more all of the time!
What does your Walmart have that you don't see here? Leave me a comment and let me know! I would love to hear from you!
Click HERE for your free printable Clean Keto Walmart Shopping List.
For more shopping lists, see:
Low Carb & Keto Trader Joe's Items
Best 60 Low Carb Keto Walmart Items
Walmart Grab and Go Low Carb Keto Items
The Biggest Best Low Carb Shopping List for Aldi
Best 40 Low Carb Keto Aldi Items
Dollar Tree Low Carb & Keto Items
Low Carb & Keto Products to Buy on Amazon
Keto Costco Shopping List with Recipes from Trina Krug
Beginner Keto Low Carb Shopping List with Tips
Are you following me on Pinterest? I have been working very hard making new boards I think you will love and am adding dozens of new pins daily from all of the popular low carb and Keto websites! Check them out HERE!
You can also follow me on my Facebook groups; my Low Carb and Keto group; Low Carb & Keto Recipes & Helpful Tips Group, my recipes for everyone group; Best Recipes You will Want to Make and my Homeschool group; Loving Homeschool. I am adding daily pictures, links and much more than I would on the blogs and it is a place for you to find support from others on the same journey as you are. Come and share with others, ask questions and learn!
Don't forget to pin for later! 🙂
The Clean Keto Walmart Shopping List, pictures and nutrition labels:
Fresh Produce; usually right as you walk in the door
Many of these did not have packages with nutrition labels so I just took a general shot of the area.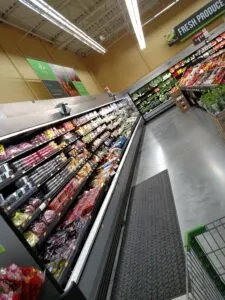 Fresh berries (small portions only!)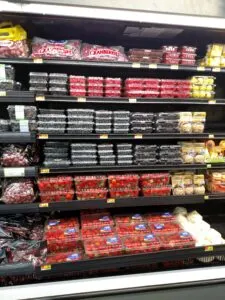 Wholly Guacamole minis; Classic or Spicy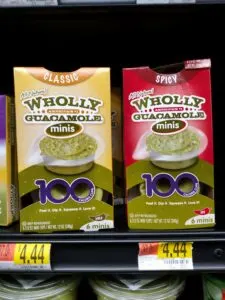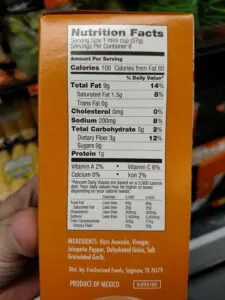 Precut Market side Cauliflower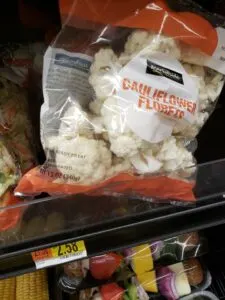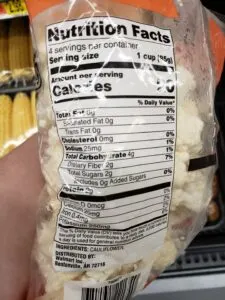 Broccoli Florets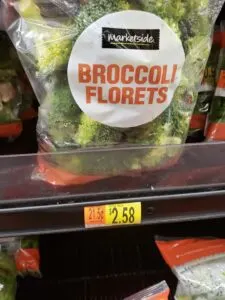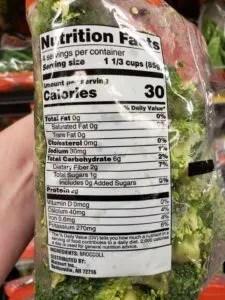 Asparagus Tips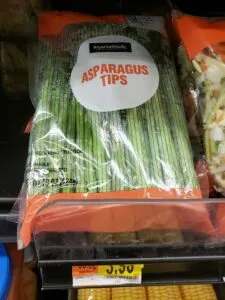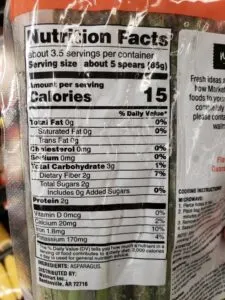 French Beans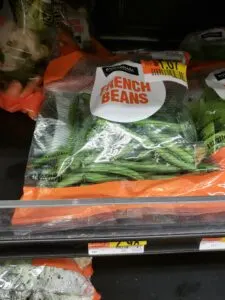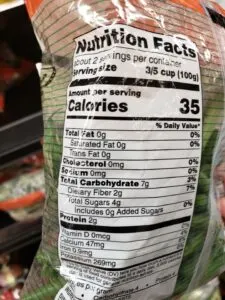 Mushrooms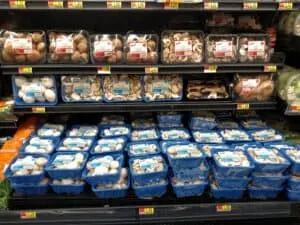 Baby Spinach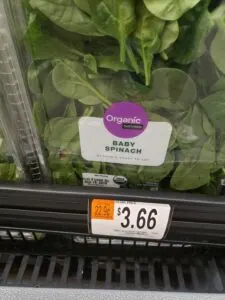 Spinach & Spring Mix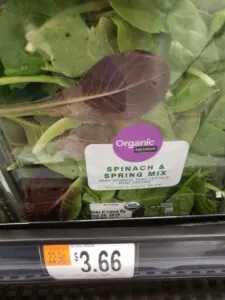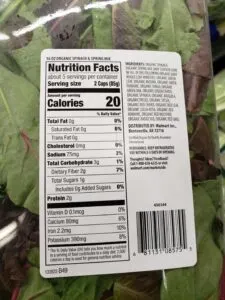 Half & Half Mix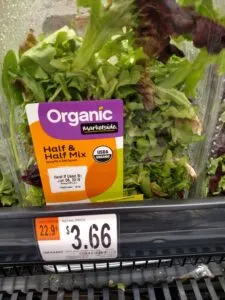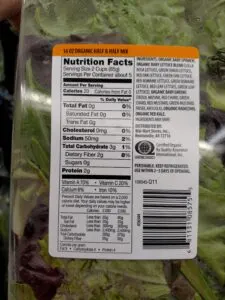 Spring Mix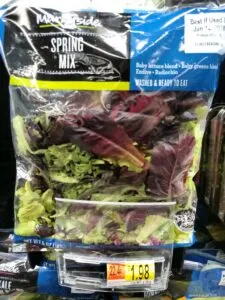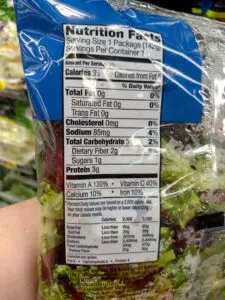 Ready to eat Celery Sticks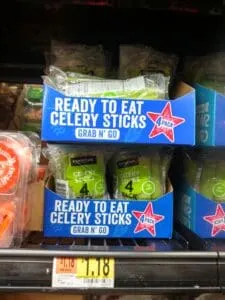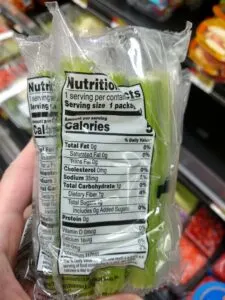 Zucchini Noodles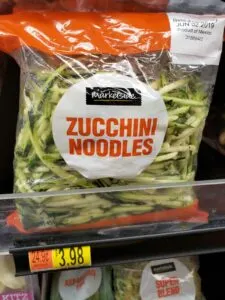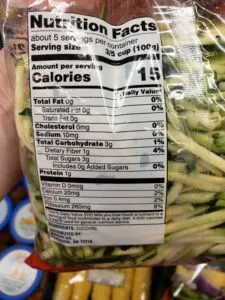 Chopped Cauliflower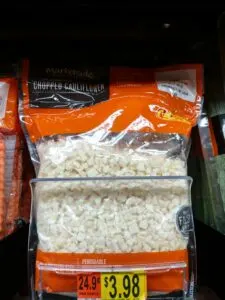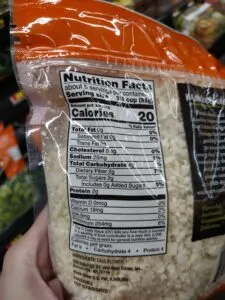 Lots of greens, broccoli, cauliflower, radishes, herbs, peppers, zucchini, eggplant, brussels sprouts, cucumbers, cabbage, etc.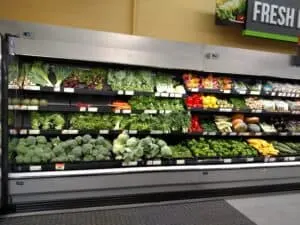 Deli Area Meats and Cheeses: usually found in the packaged lunchmeat, hot dogs and bacon section
Panino Prosciutto Wrapped Mozzarella Cheese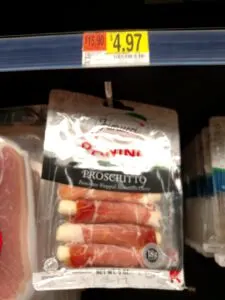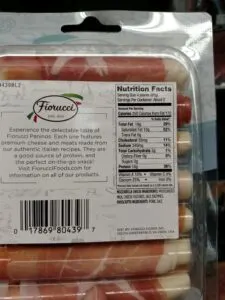 Del Duca Prosciutto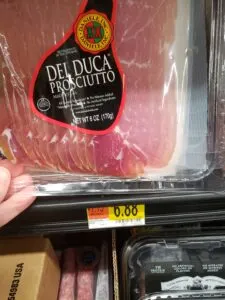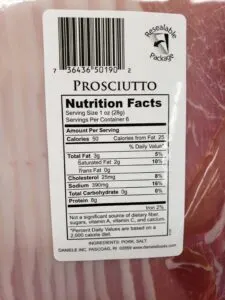 Babybel Cheese; White Cheddar, Original, Mozzarella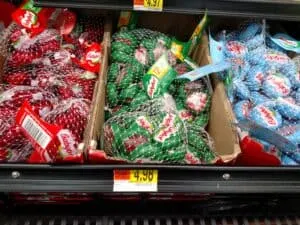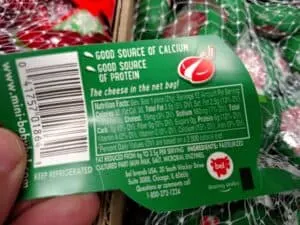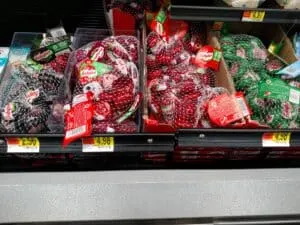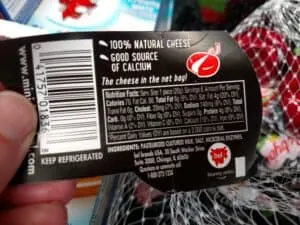 Great Value Deli Slice Cheese; Sharp Cheddar & Mozzarella (& more)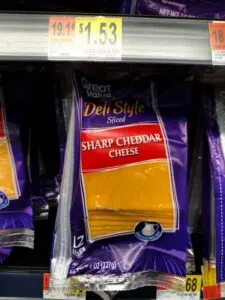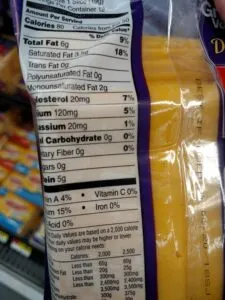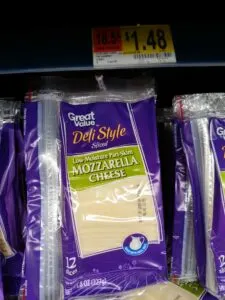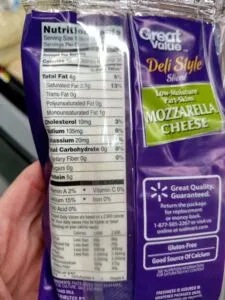 Cracker Barrel Cracker Cuts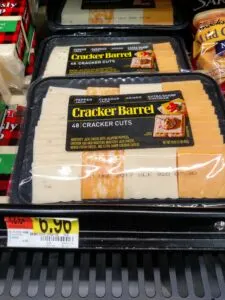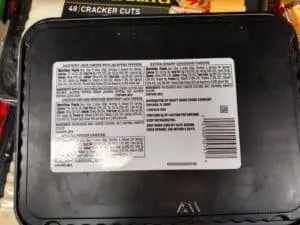 Kraft Cracker Cuts; Cheddar & Colby and Monterey Jack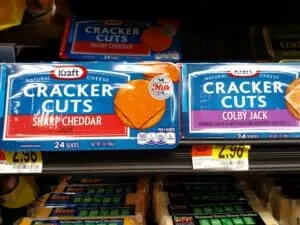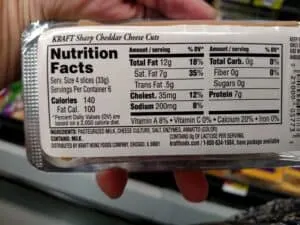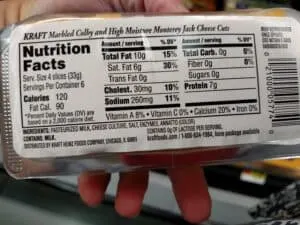 Land O Lakes Mild Cheddar and Colby Jack Cheese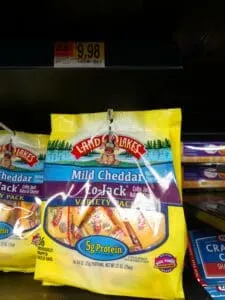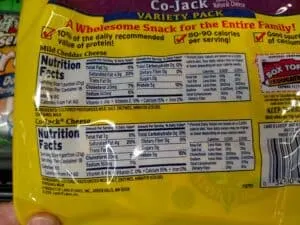 Sargento String Cheese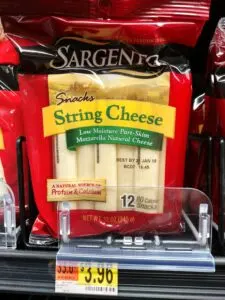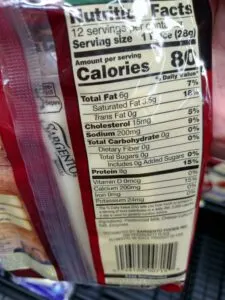 Sargento Sharp Cheddar Cheese Sticks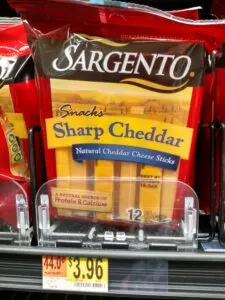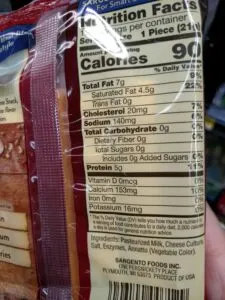 Cheese Heads String Cheese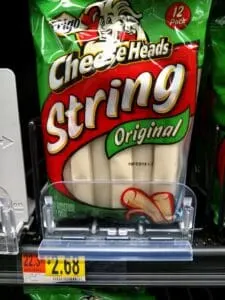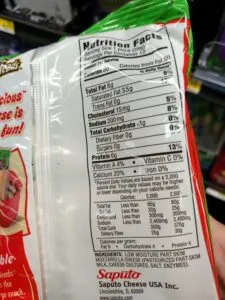 Hot Dogs
Applegate Natural Uncured Beef Hot dogs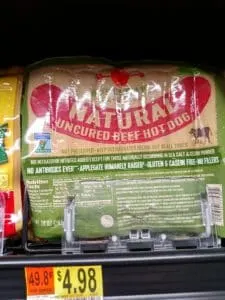 Specialty cheeses (may be in a different section than the regular cheese but usually nearby)
La Morenita Queso Fresco crumbling cheese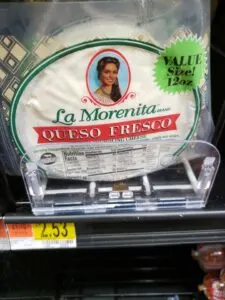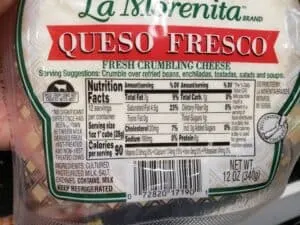 Bella Rosa Parmesan; shaved, shredded, grated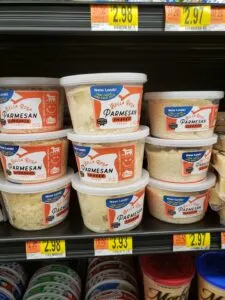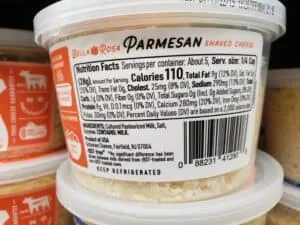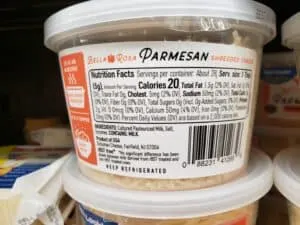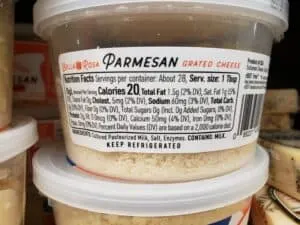 President Feta chunk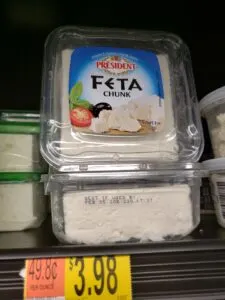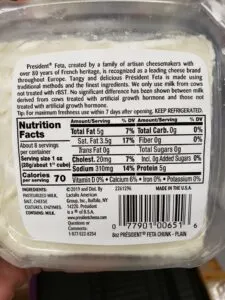 BelGioioso; Parmesan, Aged Asiago, Romano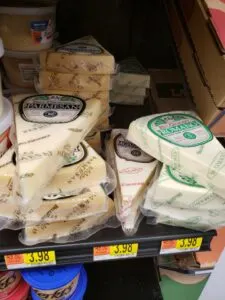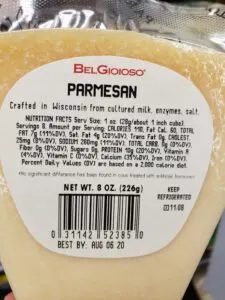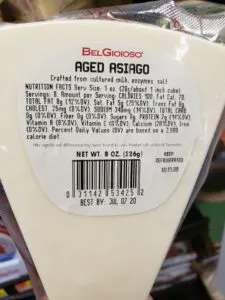 Red Apple Cheese; Smoked Cheddar & Smoked Gouda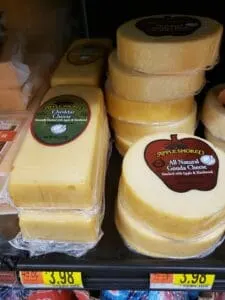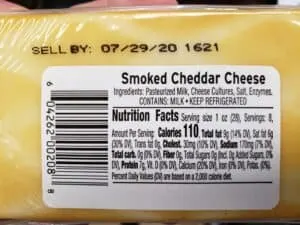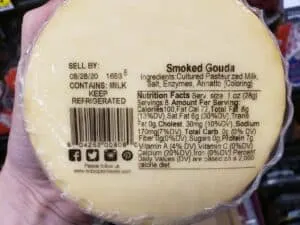 Mascarpone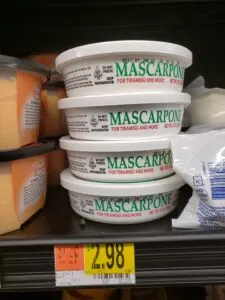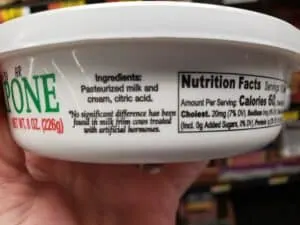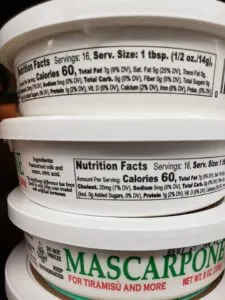 Jarlsberg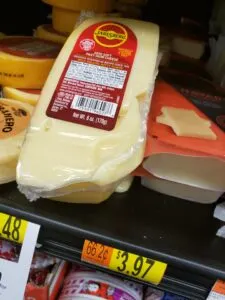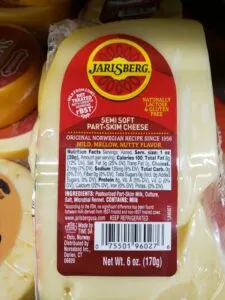 Kerrygold Dubliner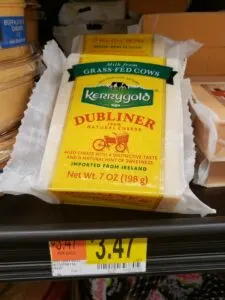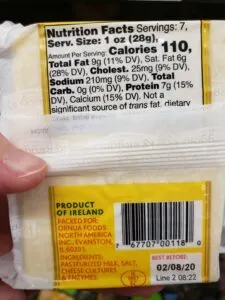 Black Creek Extra Sharp Cheddar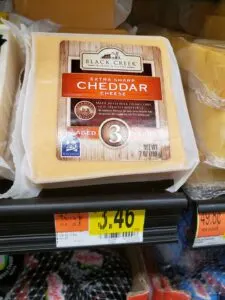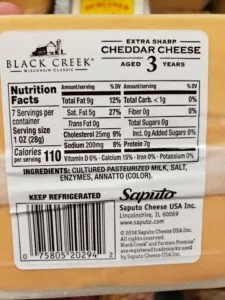 Zanetti Parmigiano Reggiano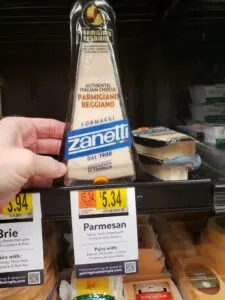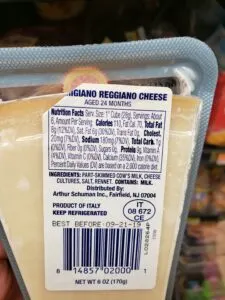 Chevre Goat Cheese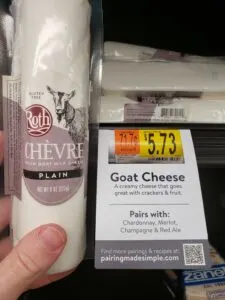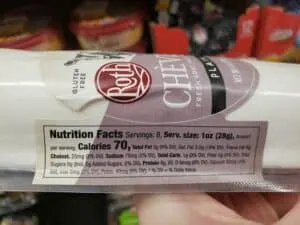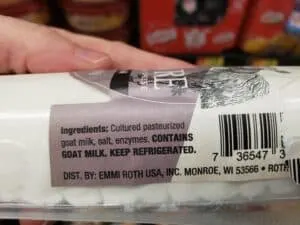 Condiments Aisle
Frank's Hot Sauce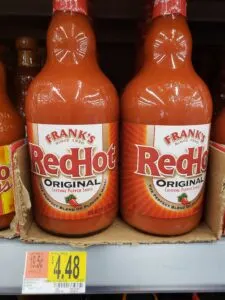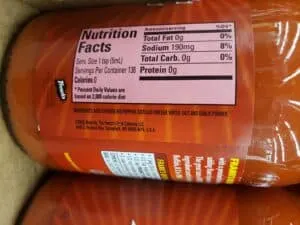 Louisiana Hot Sauce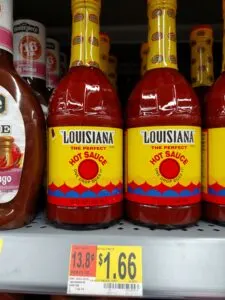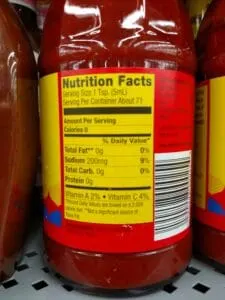 Mustard; Spicy Brown or Yellow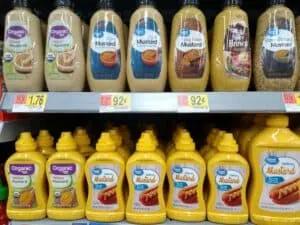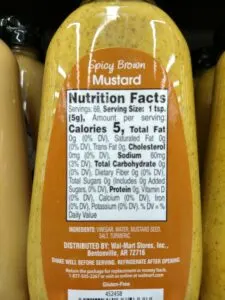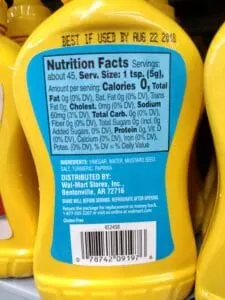 Pompeian Red or White Wine Vinegar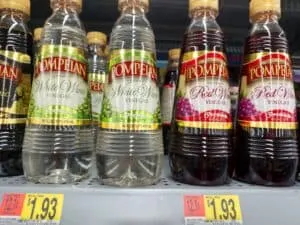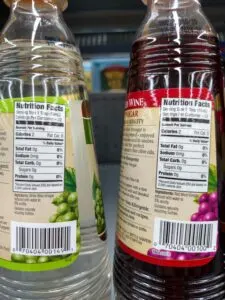 Harry & David Roasted Red Pepper Artichoke Spread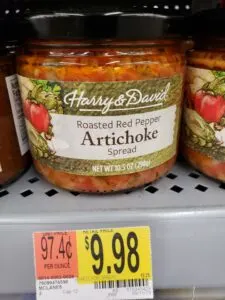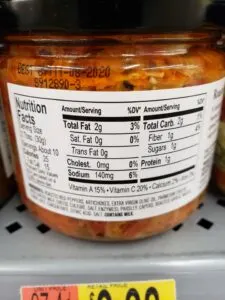 Thai Kitchen Coconut Milk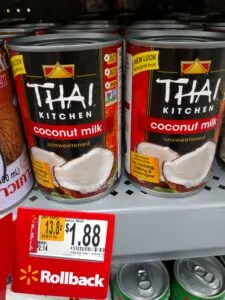 Bragg's Apple Cider Vinegar
Great Value Cantina Salsa Verde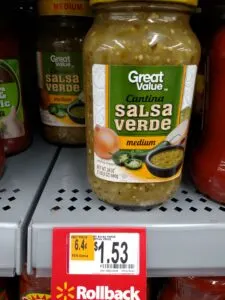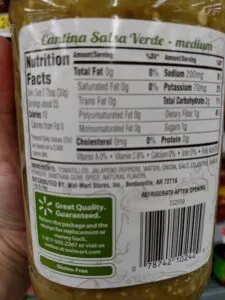 Ortega Salsa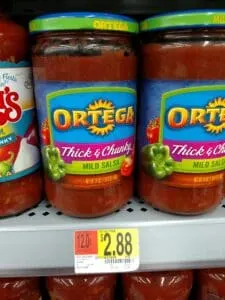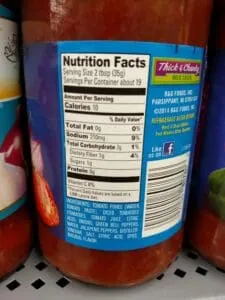 Herdez Salsa Casera or Verde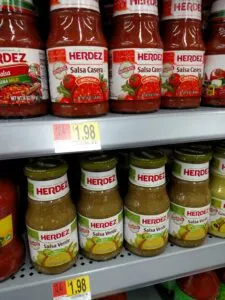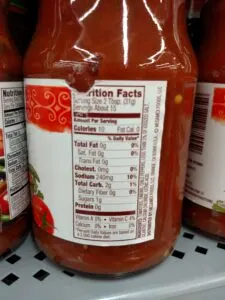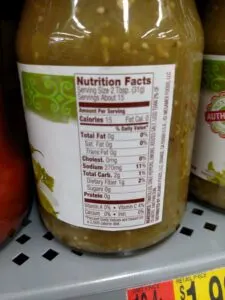 Great Value Large Pitted Black Olives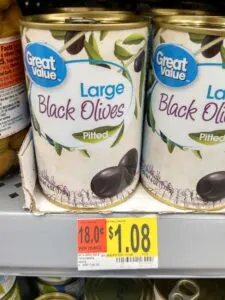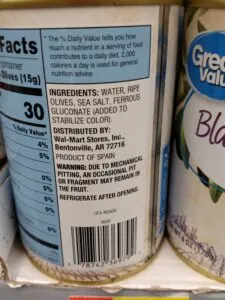 Great Value Greek Kalamata Olives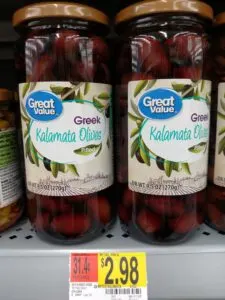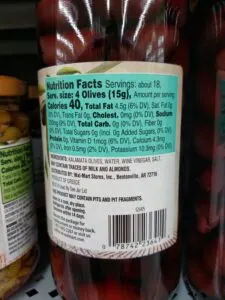 Gaea Carrot Snack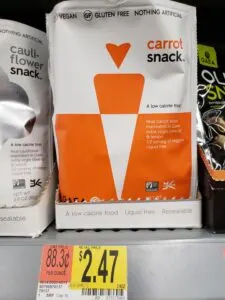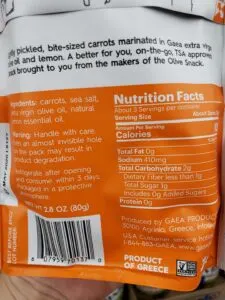 Gaea Cauliflower Snack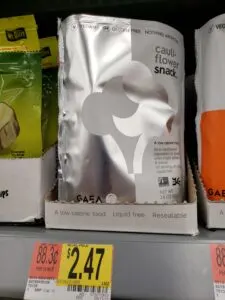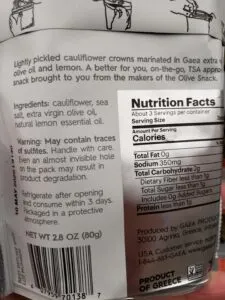 Pearls Olives to Go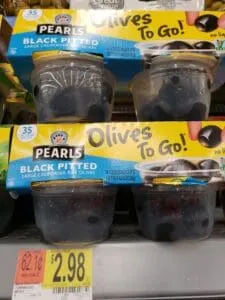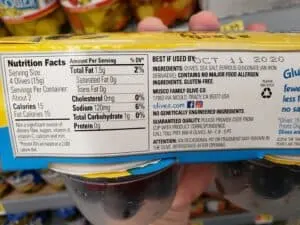 Gaea Gourmet Olives; Kalamata or Green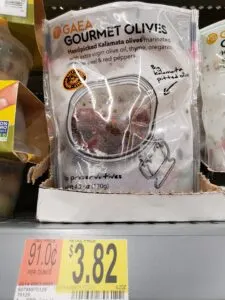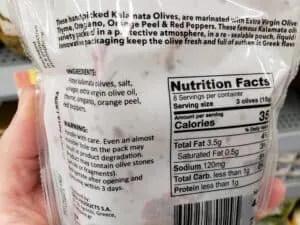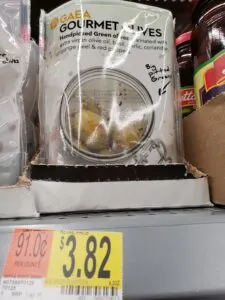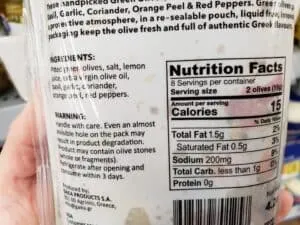 Gaea Olive Snack; Green, Kalamata & Marinated Green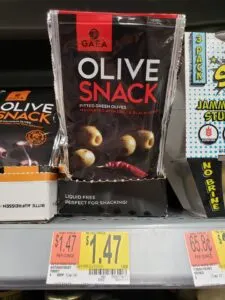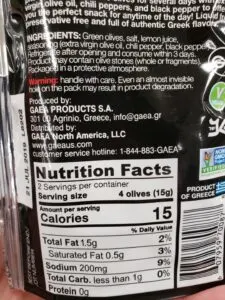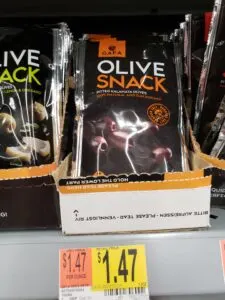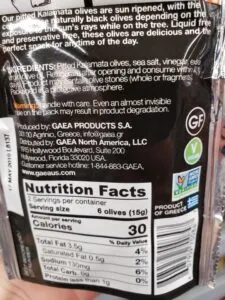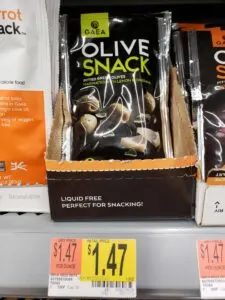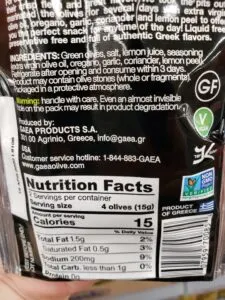 Gluten Free Aisle
Chomp's Grass Fed Beef Snack Sticks; Original & Hoppin' Jalapeno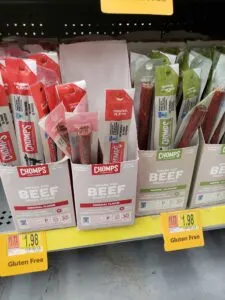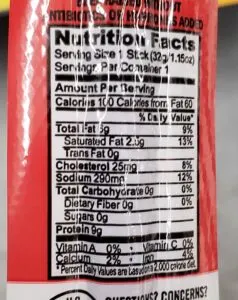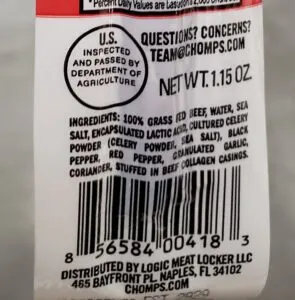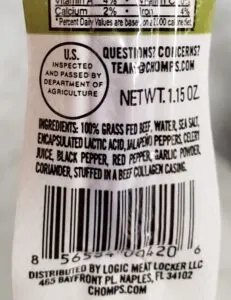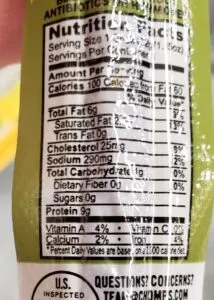 Chomp's Free Range Turkey Snack Sticks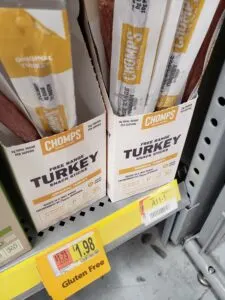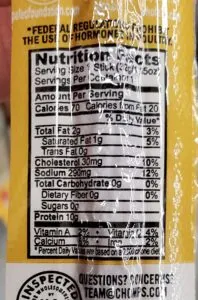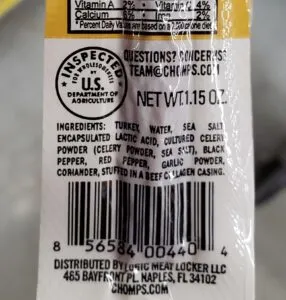 Hulled Hemp Seeds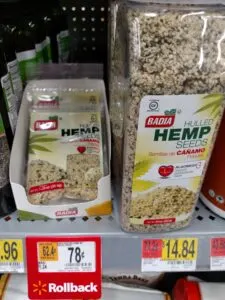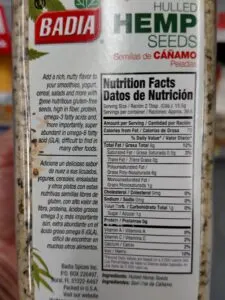 Chia Seeds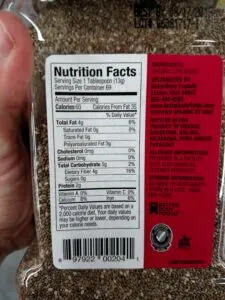 Earthly Choice Acai Powder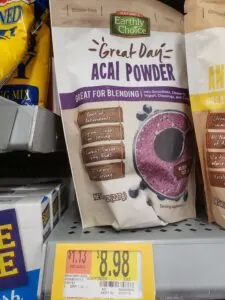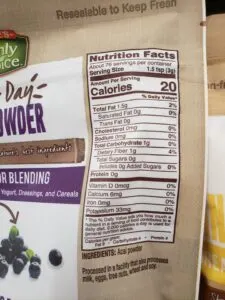 Miracle Noodle Angel Hair Konjac Shirataki Noodle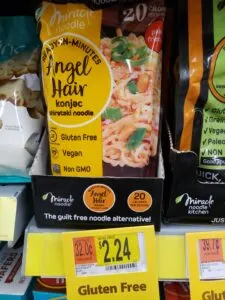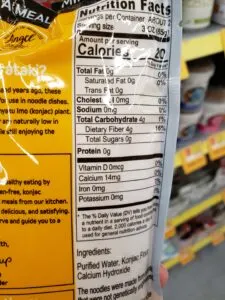 With Spaghetti
Rao's Homemade Marinara Sauce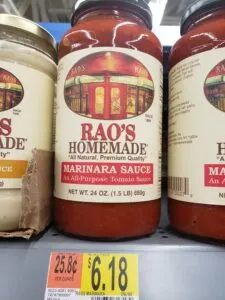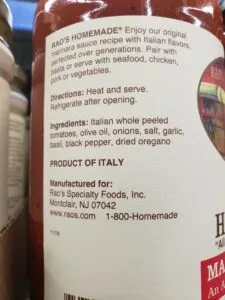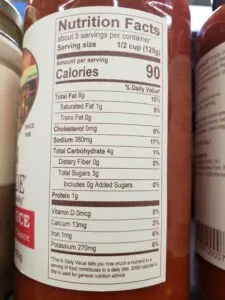 Canned Vegetables
Green Beans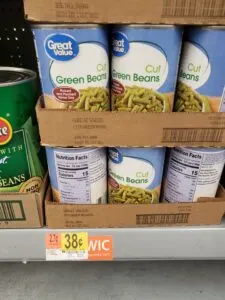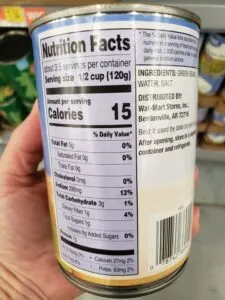 Asparagus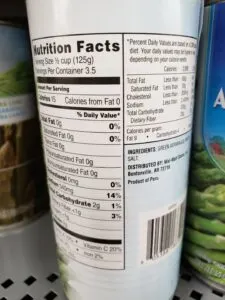 Capers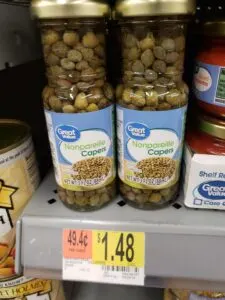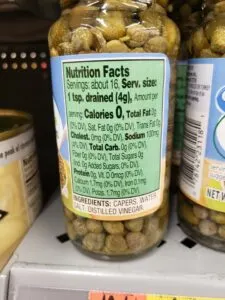 Sauerkraut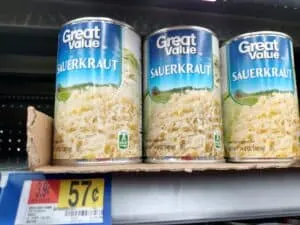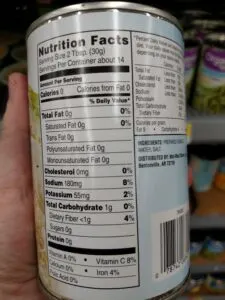 Baking Aisle (or could be in gluten free aisle)
Almond Flour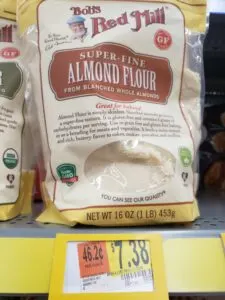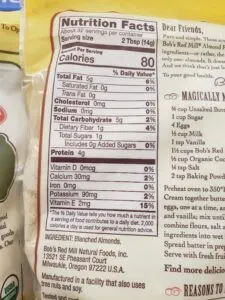 Coconut Flour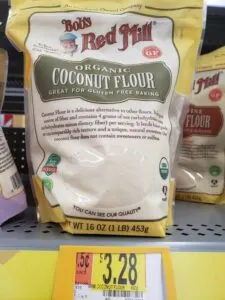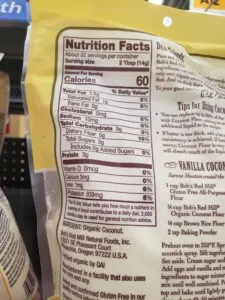 Xanthan Gum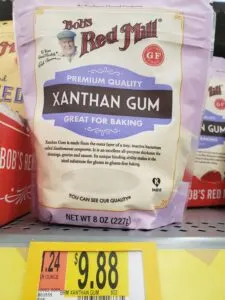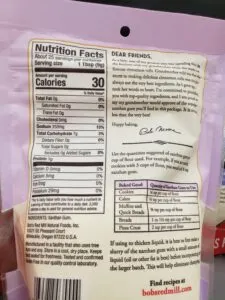 Flaxseed Meal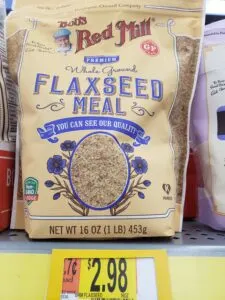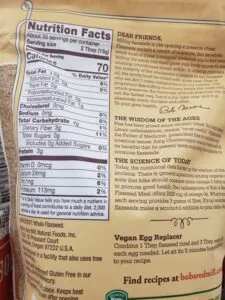 Unsweetened Coconut Flakes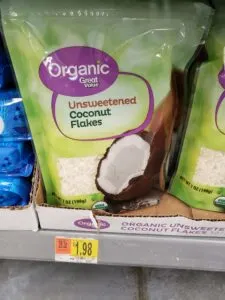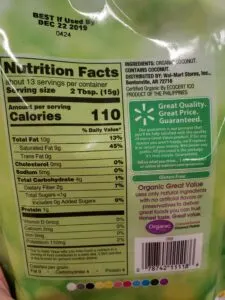 Pyure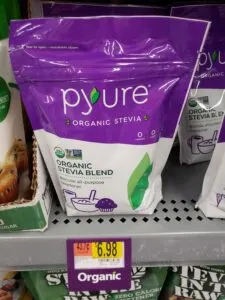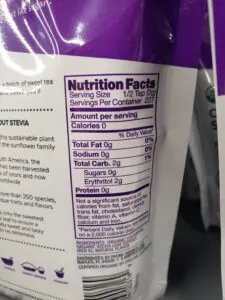 Truvia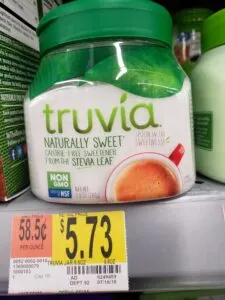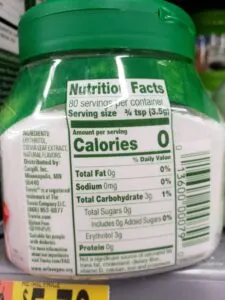 Stevia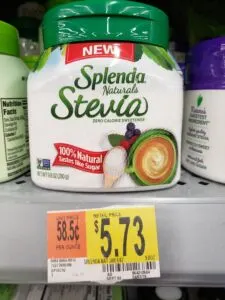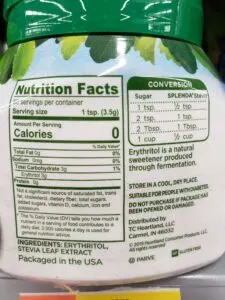 Monkfruit Sweetener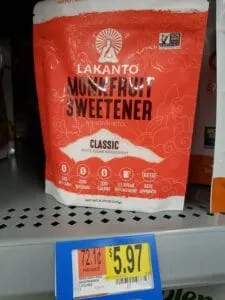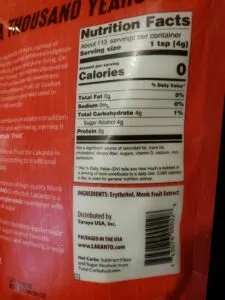 Swerve; Granular & Confectioners (I did see brown sugar in a different Walmart but didn't get a picture.)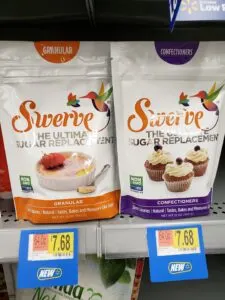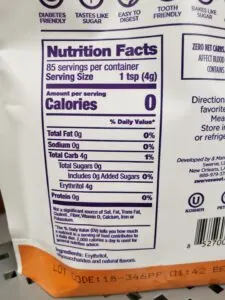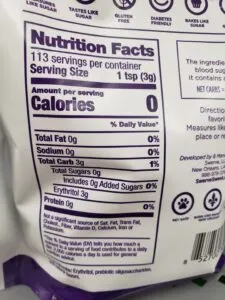 Baking Cocoa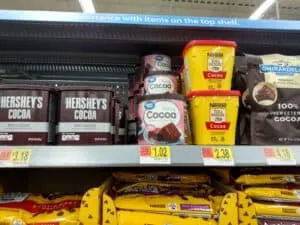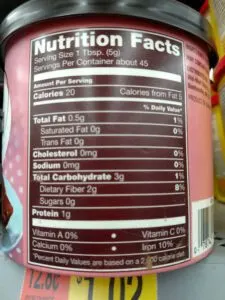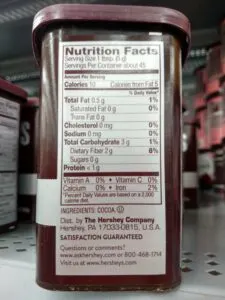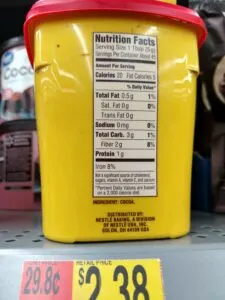 Chosen Foods Avocado Oil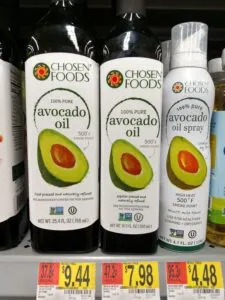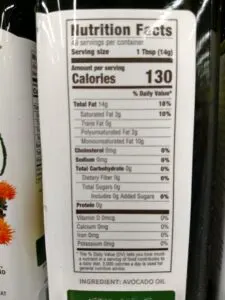 Chosen Foods Avocado Oil Spray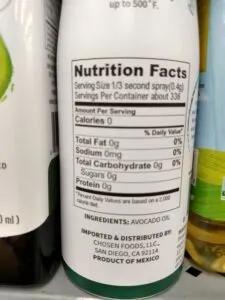 Carrington Farms Coconut Cooking Oil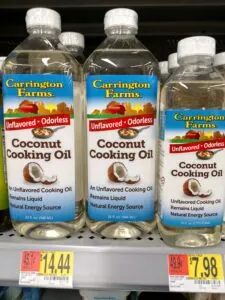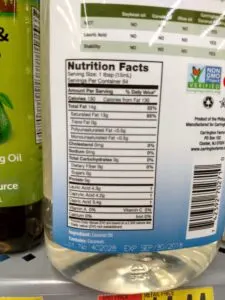 Carrington Farms Organic Ghee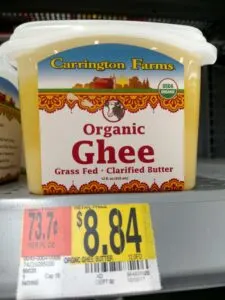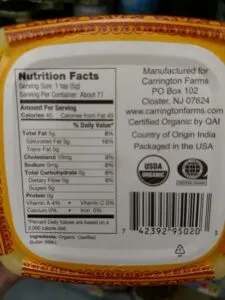 Great Value Organic Virgin Coconut Oil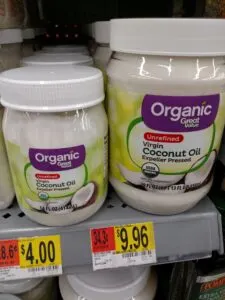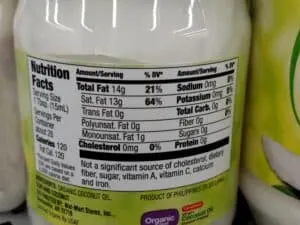 Great Value Extra Virgin Olive Oil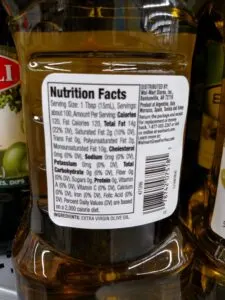 With Peanut Butter
Barney Butter Almond Butter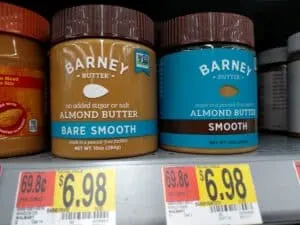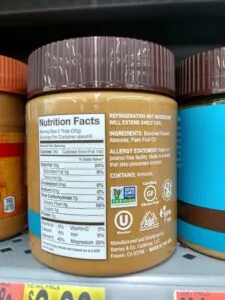 MaraNatha No Stir Almond Butter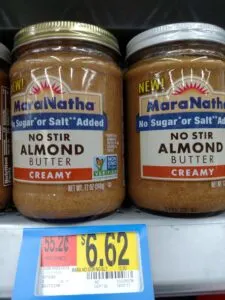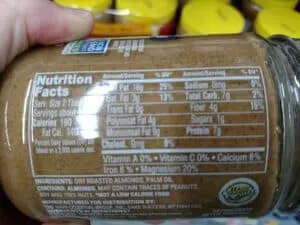 MaraNatha No Sugar or Salt Added Almond Butter packets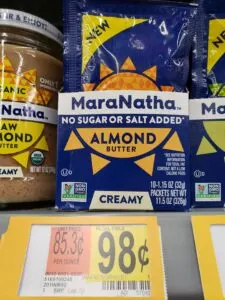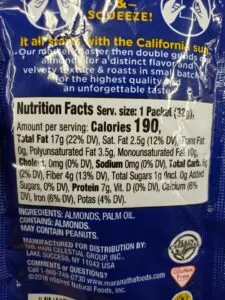 Cans and packets of meat; in the canned meat aisle.
Packets
Starkist Selects E.V.O.O. Yellowfin Tuna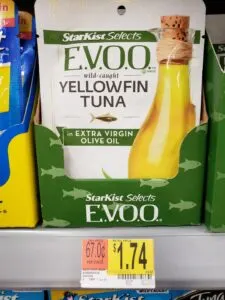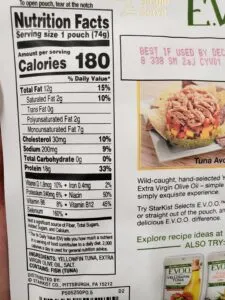 Cans
Roland Escargots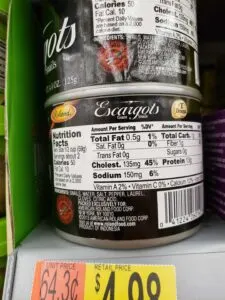 Chicken of the Sea Whole Oysters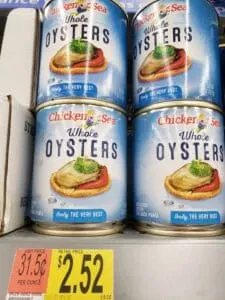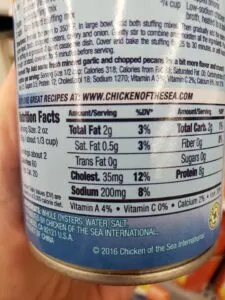 Crown Prince Sardines in olive oil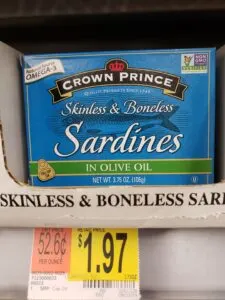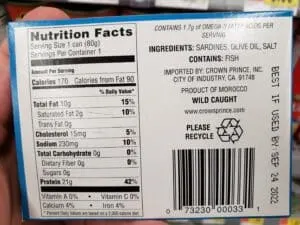 Crown Prince Brisling Sardines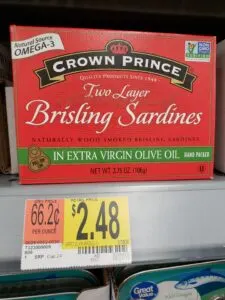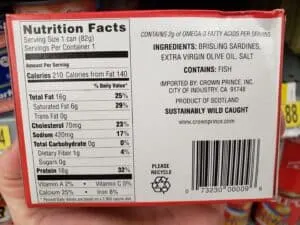 Royal Red Sockeye Red Salmon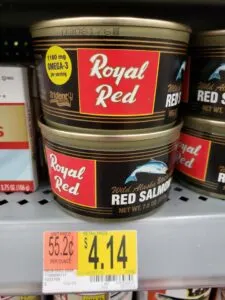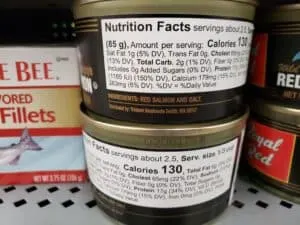 Bar Harbor Maine Lobster Meat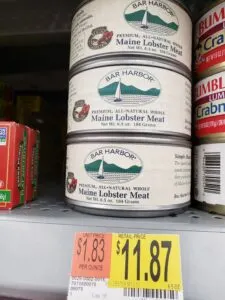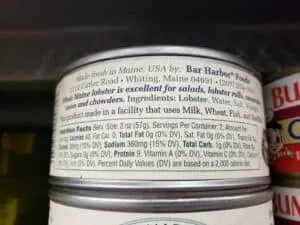 Chicken of the Sea Infusions; Lemon & Thyme and Thai Chili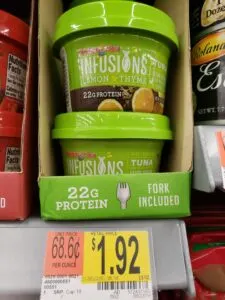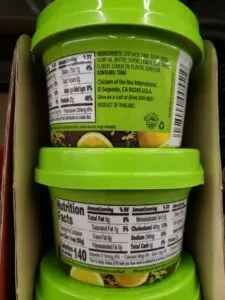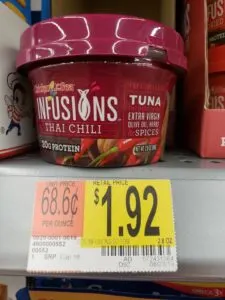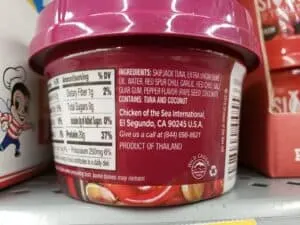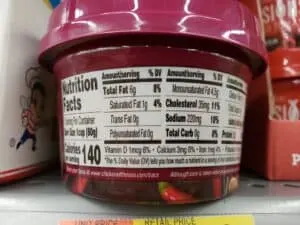 Chicken of the Sea Pink Salmon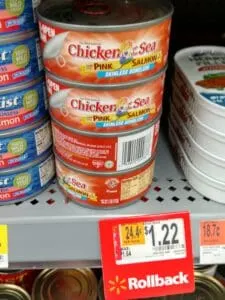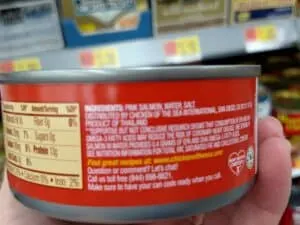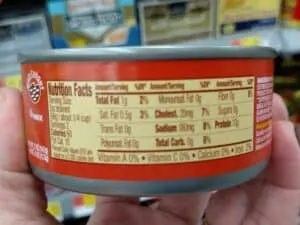 Season Brand Sardines; in olive oil or water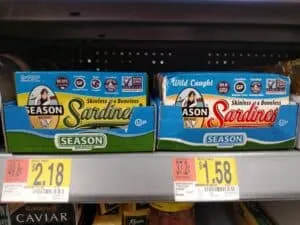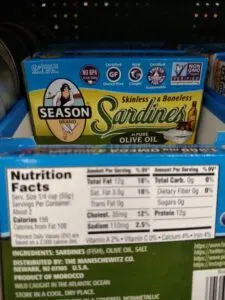 Cole's Trout Smoked Rainbow Trout in olive oil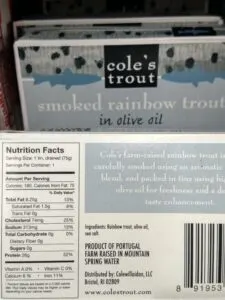 Chicken of the Sea Chub Mackerel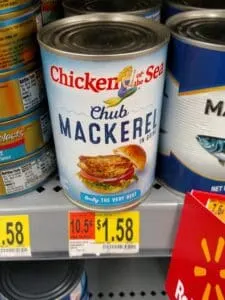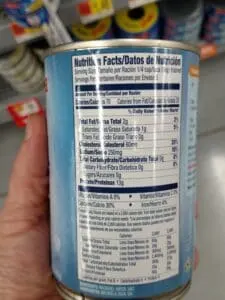 Great Value Premium Chunk Chicken Breast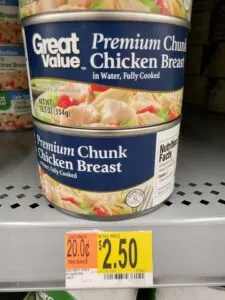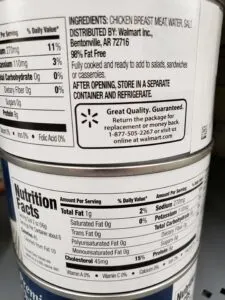 Butter, Milk and Eggs area
Kerrygold Butter; salted and unsalted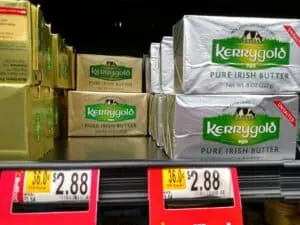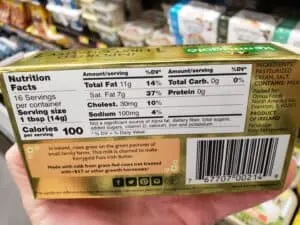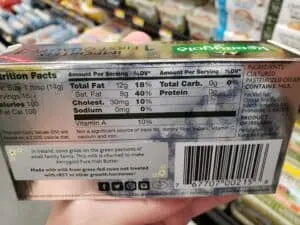 Great Value Butter; salted and unsalted
Almond Breeze Almond Milk Unsweetened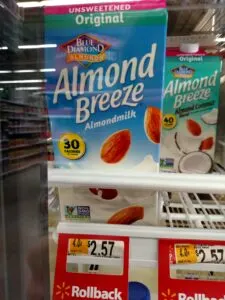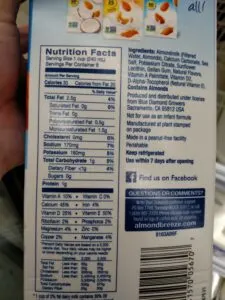 Great Value Almond Milk Unsweetened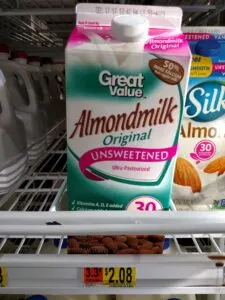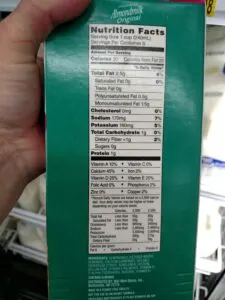 Silk Cashew Milk Unsweetened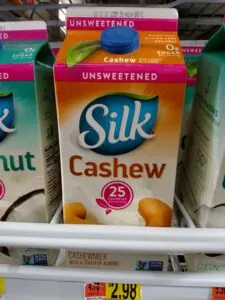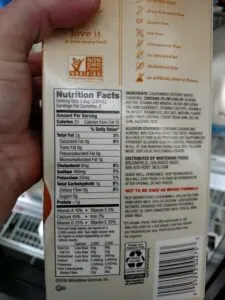 Silk Coconut Milk Unsweetened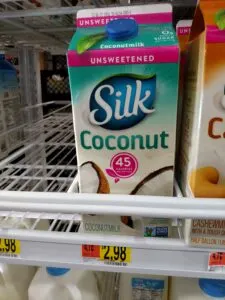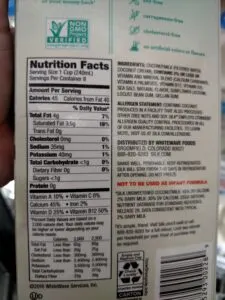 Great Value Half & Half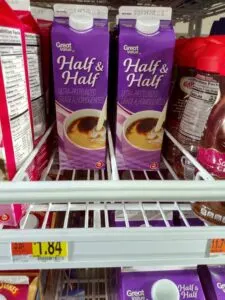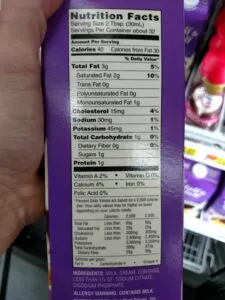 Philadelphia Cream Cheese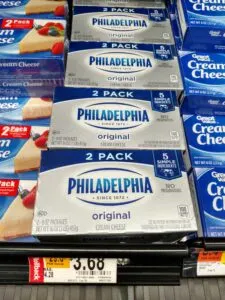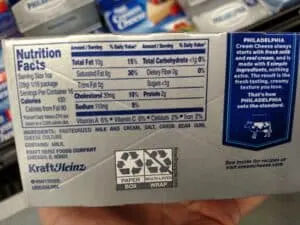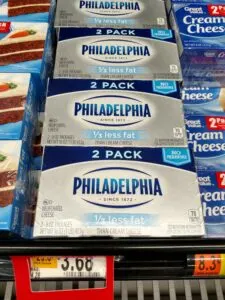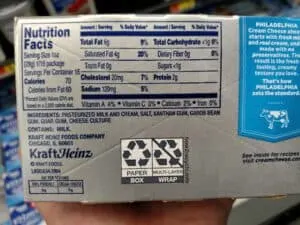 Hard Boiled Eggs; peeled and ready to go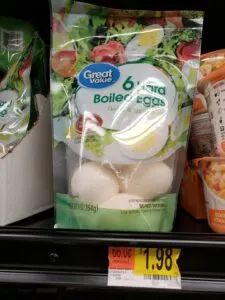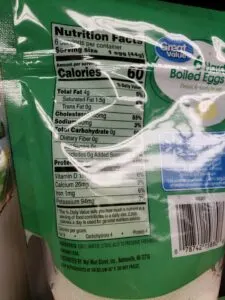 Eggs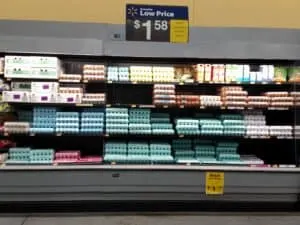 Drink Aisle
Zevia Soda; various flavors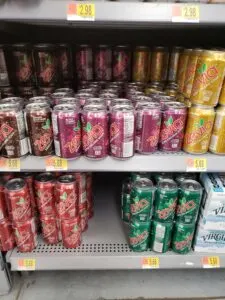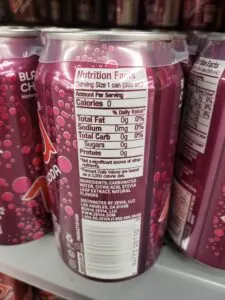 LaCroix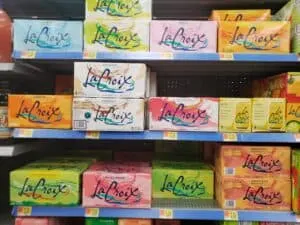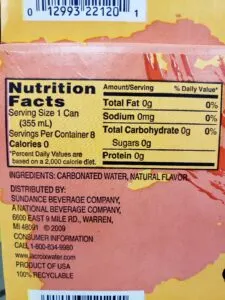 Virgil's Zero Sugar: Root Beer & Black Cherry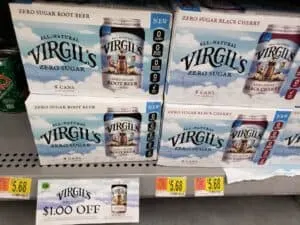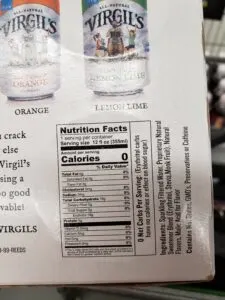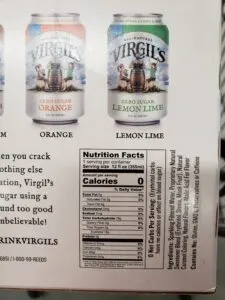 Deer Park Sparkling Lemon (& other flavors)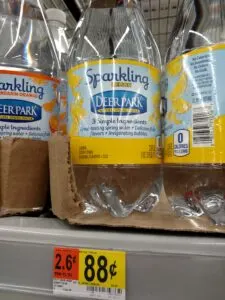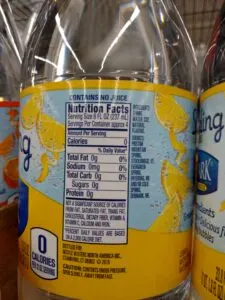 Great Value Club Soda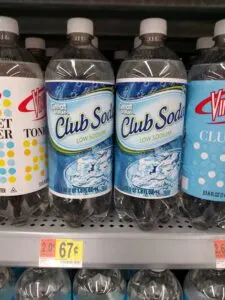 Traditional Medicinals teas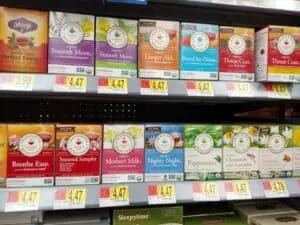 Great Value Green or Black Tea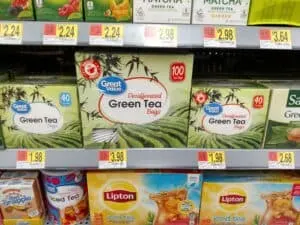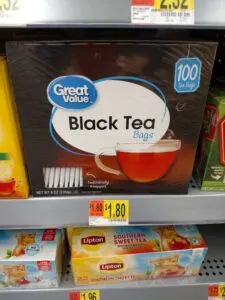 Coffee!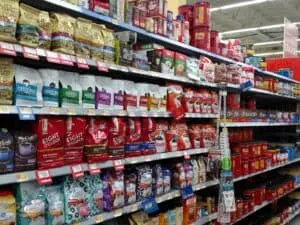 Fresh Meat
Most packages do not have nutrition labels to picture but fresh meats are 0 carbs and perfect for our Keto and low carb lifestyle! They even have an organic and grass-fed section.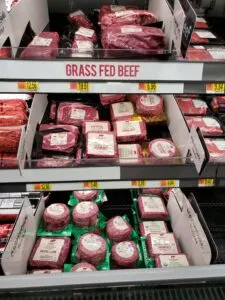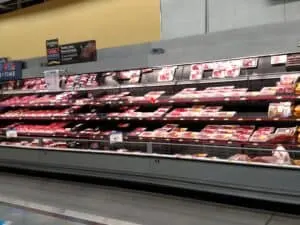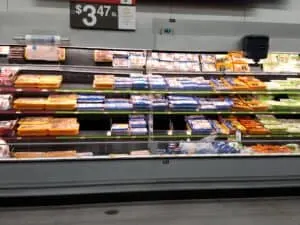 Frozen Section
Meat
Steak-Ums—100% real beef Try Philly Cheesesteak Casserole with them; our favorite!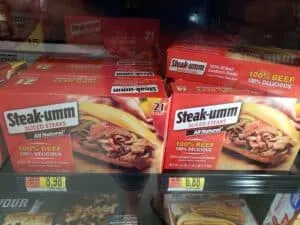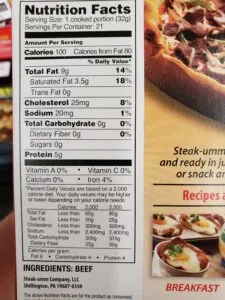 Great Value 100% pure Beef Burgers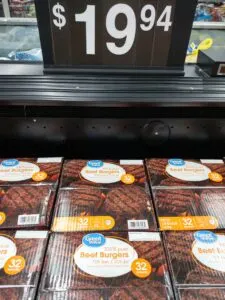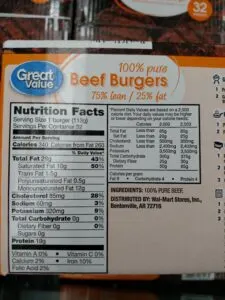 Vegetables
Cauliflower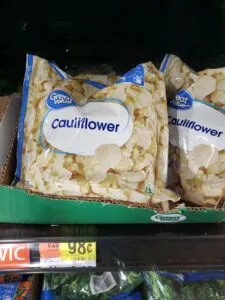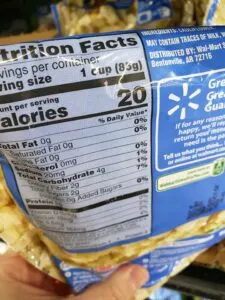 Broccoli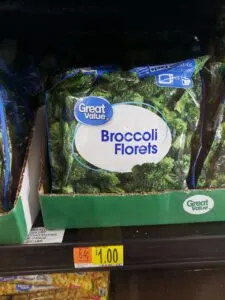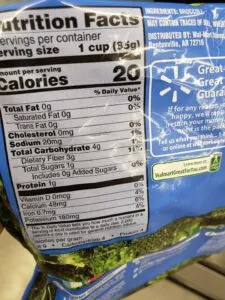 Spinach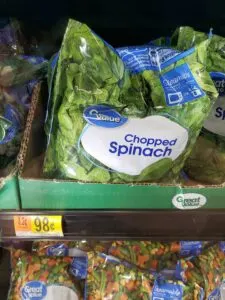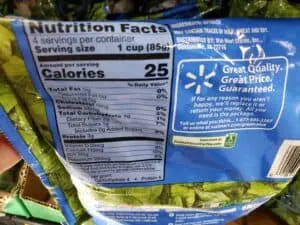 Green Beans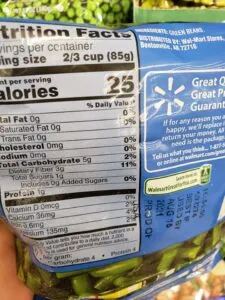 Okra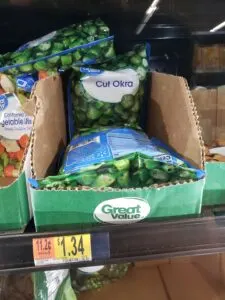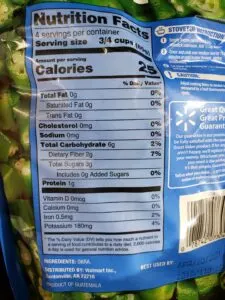 Brussels Sprouts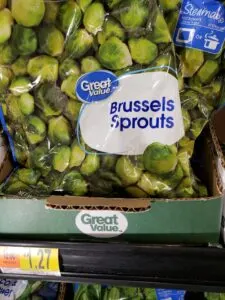 Green Giant Riced Veggies; Broccoli and Cauliflower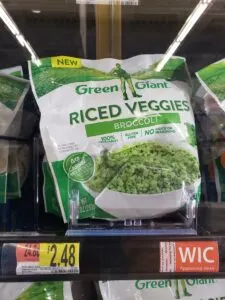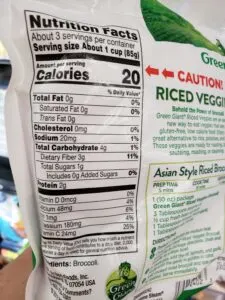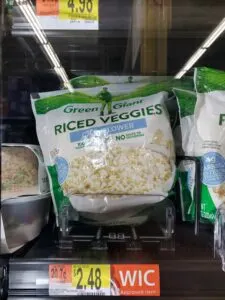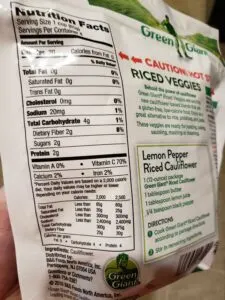 Green Giant Veggie Spirals; Zucchini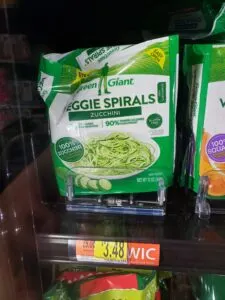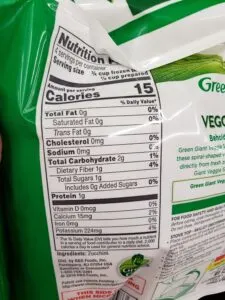 Berries
(Again; small amounts. Note that the nutrition labels calculate the carbs for 1 cup. We would eat a much smaller portion.)
Blueberries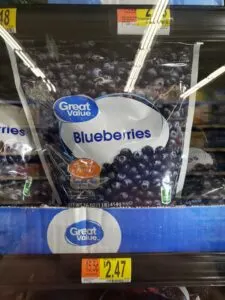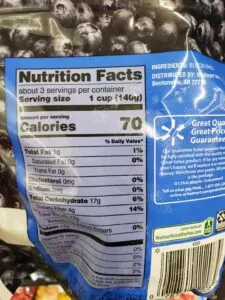 Strawberries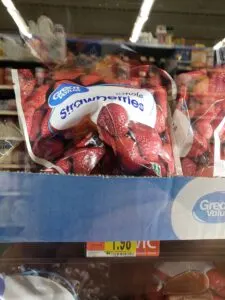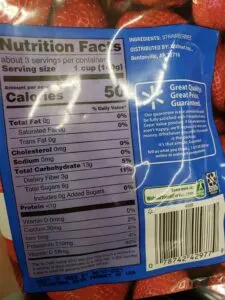 Blackberries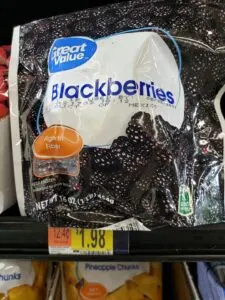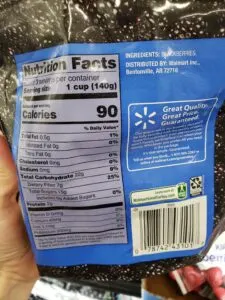 Raspberries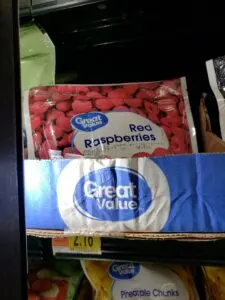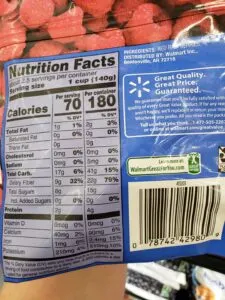 Nuts and Seeds; the bigger, cheaper by the ounce bags are usually with baking and the others would be in the nuts/snacks aisle.
(With Baking)
Diamond Shelled Walnuts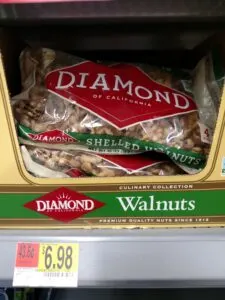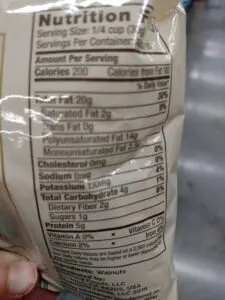 Fisher Pecan Halves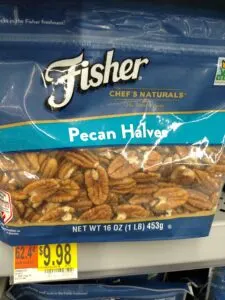 Fisher Whole Natural Almonds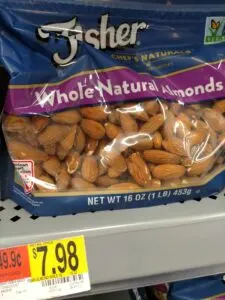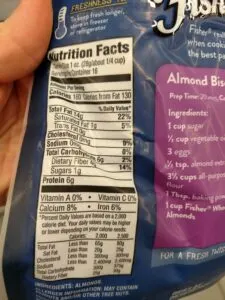 (With nuts)
Planters Macadamias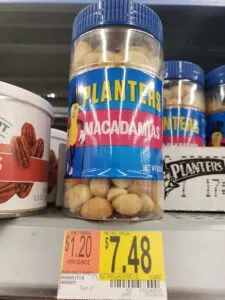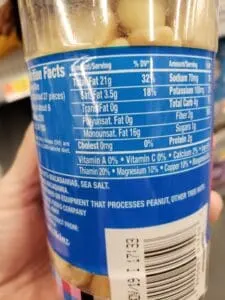 Mauna Loa Dry Roasted Macadamias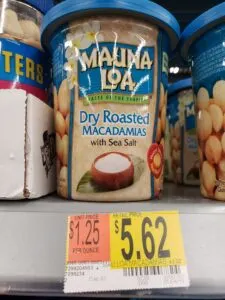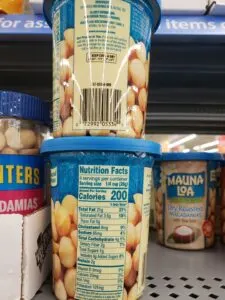 Blue Diamond Almonds on the go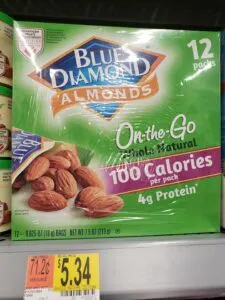 Great Value Whole Natural Almonds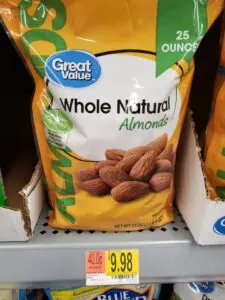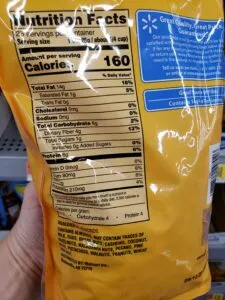 Great Value Dry Roasted & Lightly Salted Almonds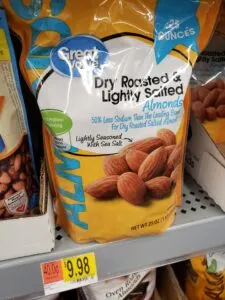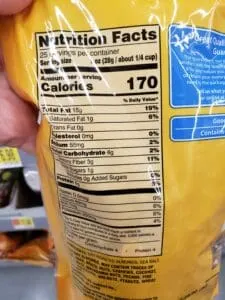 Bigs Simply Salted Pumpkin Seeds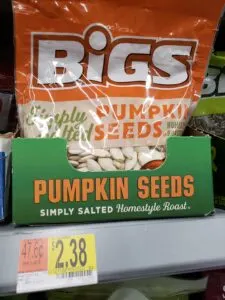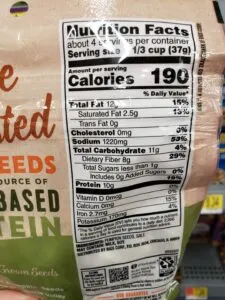 Great Value Lightly Salted Shelled Pistachios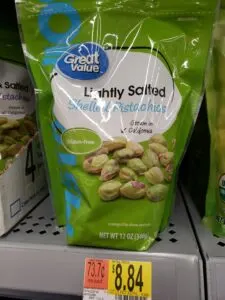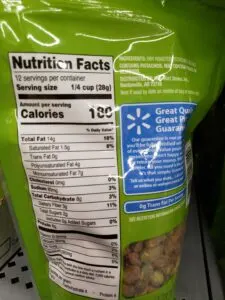 Great Value Natural Walnut Halves & Pieces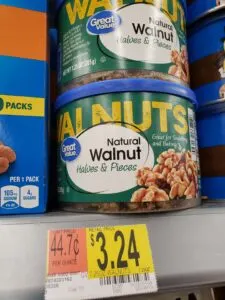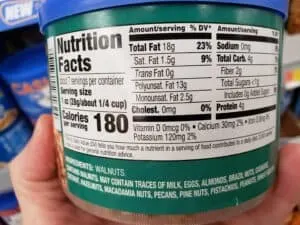 Emerald 100 Calorie Packs of Natural Almonds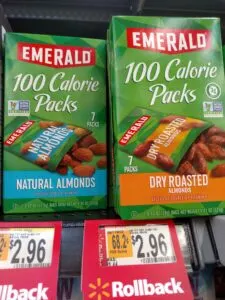 Emerald 100 Calorie Packs of Dry Roasted Almonds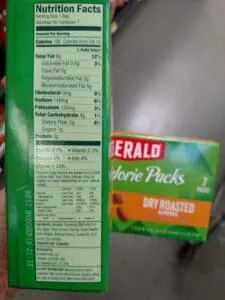 Other
Whisps, usually near the deli department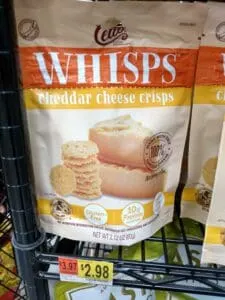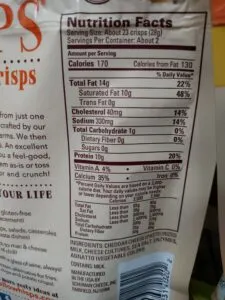 Great Value Fried Pork Skins, in chip aisle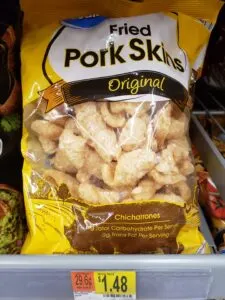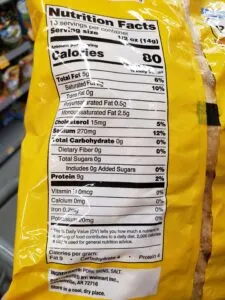 Sam's Choice Everything but the Bagel Seasoning Blend (with spices in the baking aisle)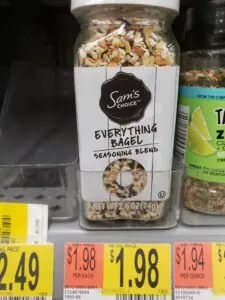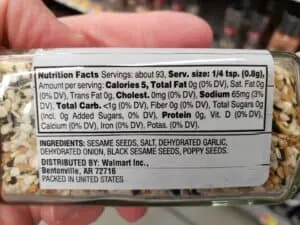 Rapid Fire MCT Oil (in coffee aisle)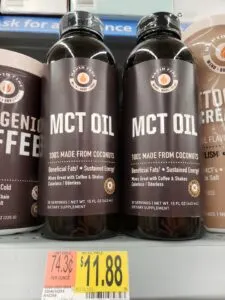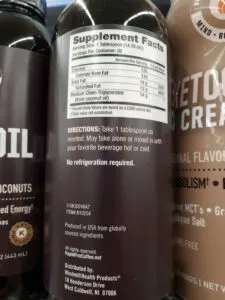 Epic Bars; Beef or Venison (with granola bars)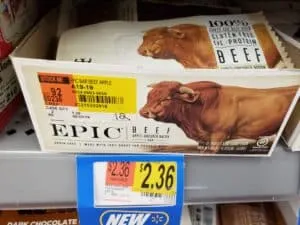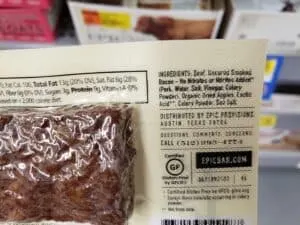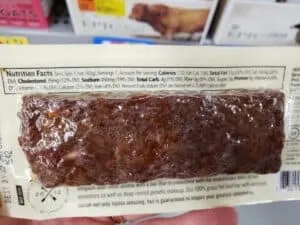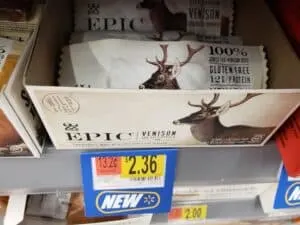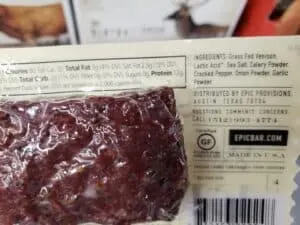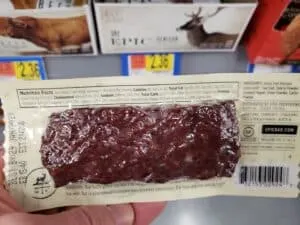 That is it! Don't forget to pin so you can easily find it later!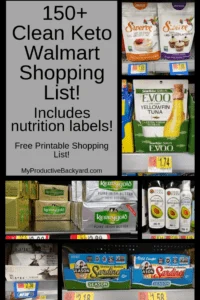 As an Amazon Associate, I earn from qualifying purchases at no extra cost to you.