Best 40 Low Carb Keto Aldi Items; No basics, just the best! What to buy to stock your pantry and do your regular shopping.
This post is highlighting the Best 40 Low Carb Keto Aldi Items. I also have The Biggest Best Low Carb Shopping List for Aldi. Go to that post for the entire list of items in the store! That post includes every single Keto and Low Carb item that Aldi carried when I did the post; there are over 600 pictures, over 200 nutrition labels, sections for strict Keto and dirty Keto/Low carb and pages of free printable shopping lists in that post. This post is a streamlined version of that one—just the best.
This post is just highlighting the best 40
I am not going to list the obvious in this post. We all know that every store sells meat, fresh and frozen vegetables, eggs, pickles, olives, cooking oils, butter, block cheeses and nuts.
Those are the very basics of the Keto and low carb diet and we aren't going there for this post. You can find them at Aldi and they are perfect choices. Do check the ingredient list for sneaky sugars that could be added in some things. (I'm looking at you, pickles and nuts especially in that above list.) And look at Beginner Keto & Low Carb Shopping List with Tips.
The Aisles and Products
These are items I found in my Aldi. Not every Aldi will have exactly the same things but it will be a good start of what to look for, anyway.
I labeled where I found each item in my Aldi but it could be different in your store.
The Nutrition Labels and Ingredients
I included the nutrition labels so you can see ahead of time whether it is something you want or not. We all have our personal standards of what ingredients we want to eat. Some of these items are strict Keto and some are dirty Keto or Low Carb. That is why the nutrition labels are included.
Aldi and Low Carb Keto Items
Aldi does a great job of supplying low carb and Keto items for us. They have a super supply of meat, fresh and frozen vegetables, eggs, pickles, olives, cooking oils, butter, nuts and cheeses; oh, the cheese! They have so much good cheese!
What does your Aldi have that you don't see here? Leave me a comment and let me know! I would love to hear from you!
See also:
Best 60 Low Carb Keto Walmart Items
150+ Clean Keto Walmart Shopping List
Walmart Grab & Go Low Carb & Keto Items
Low Carb Keto Trader Joe's Items
The Biggest Best Low Carb Shopping List for Aldi
Dollar Tree Low Carb & Keto Items
Beginner Keto & Low Carb Shopping List with Tips
Keto Costco Shopping List with Recipes from Trina Krug
***To print this shopping list, click HERE.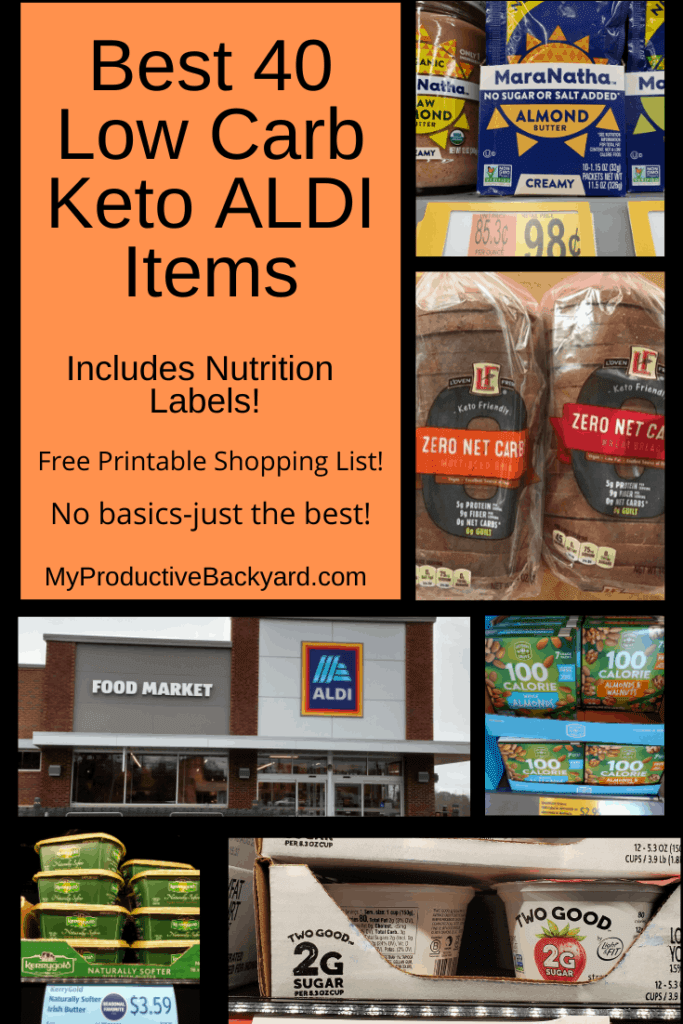 Fresh Produce
Zucchini noodles
Chicken Caesar Salad Bowl
Cold Brew Coffee (near premade salads)
Guacamole Singles, Classic, Spicy and Homestyle
Condiments
Simply Nature Apple Cider Vinegar
Specially Selected Specialty Salsa; Garlic or Cilantro Lime
Priano Genovese or Rosso Pesto Sauce
Duke's Mayonnaise
With Peanut Butter (on an end aisle in my Aldi)
Peanut Butter and Almond Butter:
Note: here peanut butter may be a better choice than almond butter. Yes, it is peanuts, which is a legume and could be inflammatory but the ingredients are peanuts and salt. The only almond butter contains cane sugar. HOWEVER: If you look at the Total Carb/Fiber/Sugars you will see the peanut butter says 7/3/1 and the almond butter says 7/3/2 for the same 2 Tbsp serving so I will include them both for your comparison. This totally depends on what is important to you.
With Spaghetti
Simply Nature Organic Bean Pasta
Specially Selected Premium Marinara Sauce
Pickles, Olives, Peppers; most are fine-some special ones
Kalamata Olives
Stuffed Queen Olives
Coffee Aisle
Premium Assorted Teas
Canned Meat Aisle
Real Bacon Bits
Fully Cooked Bacon
Northern Catch Pink Salmon
Baking Aisle
Flaxseed, Roasted and Milled
Stevia
Baking Cocoa
Ghee
Hemp Seeds
Chia Seeds
Breads (These are not wheat free but considered low carb and fine for some; personal choice)
L'Oven Fresh Zero Net Carbs Bread; Multiseed and Wheat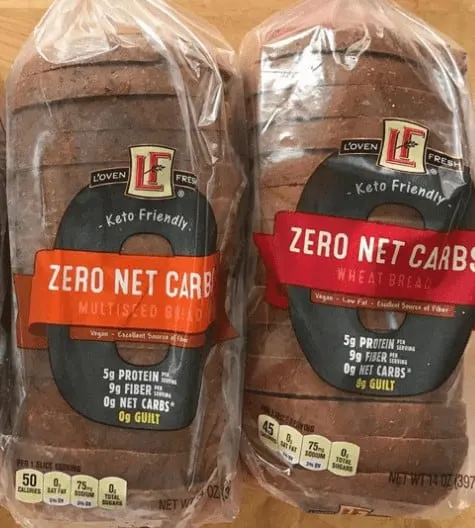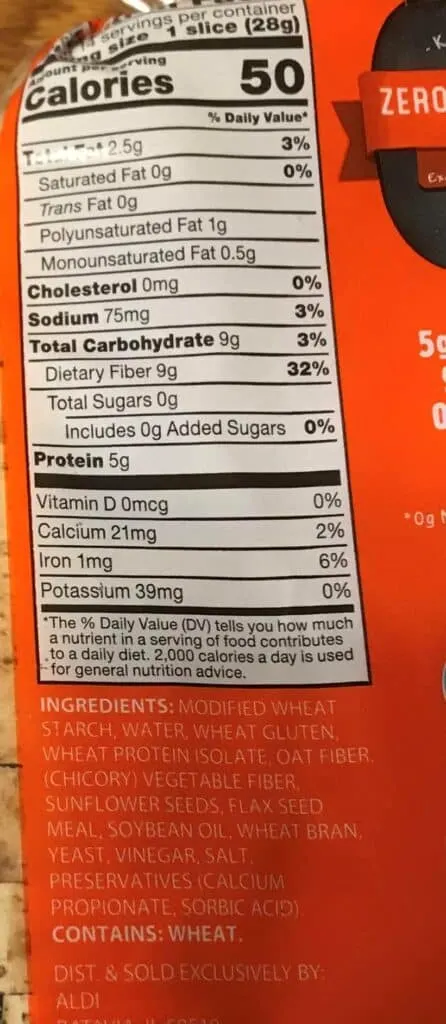 Dairy
Two Good Yogurt
Grassfed Cheese
Kerrygold Cheeses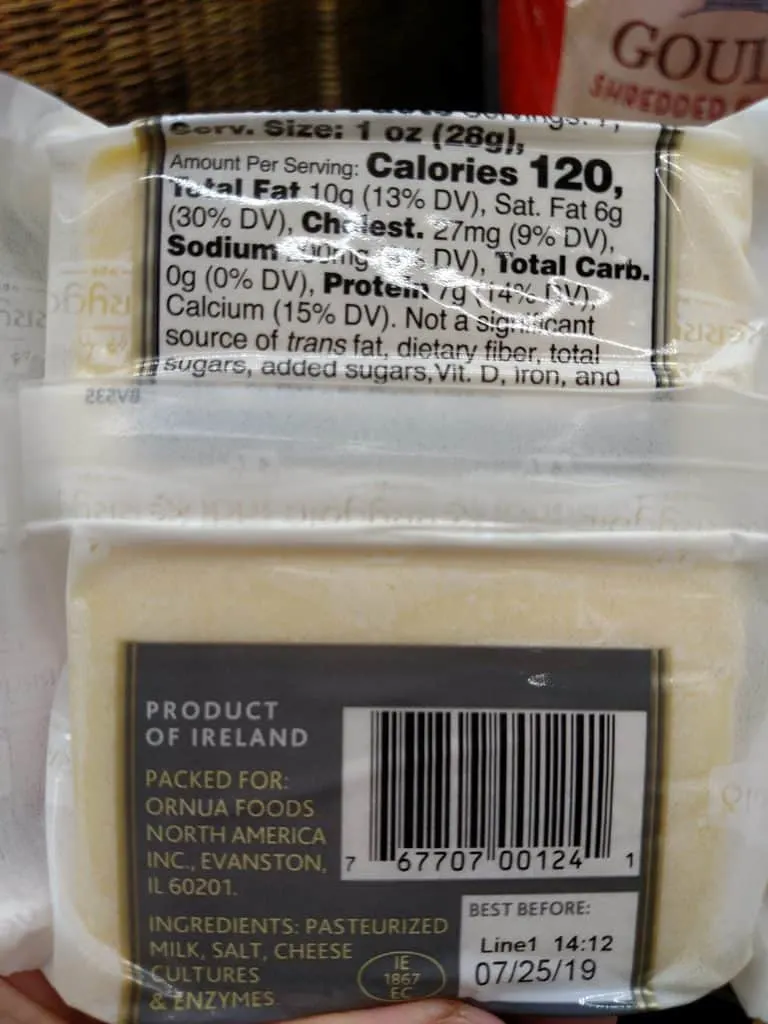 Refrigerated Meat
Cold Smoked Salmon
Nathan's Hot Dogs
Milk Case
Kerrygold Butter
Unsweetened Almond Milk
Snack Aisle
Original Pork Rinds
100 Calorie Nut Packs (usually on the end of the aisle)
Elevation Bars (there are many different kinds; be sure to get the ones that say "Carb Conscious" at the top) These are also at the end of an aisle in my store.
Drink Aisle
Fit & Active Liquid Water Enhancers
LaCroix
Frozen Section
Riced Cauliflower
14 Calorie Bars (these were a seasonal item; I loved them!)
Don't forget; there is a complete batch of items, pictures and nutrition labels in my The Biggest Best Low Carb Shopping List for Aldi post!