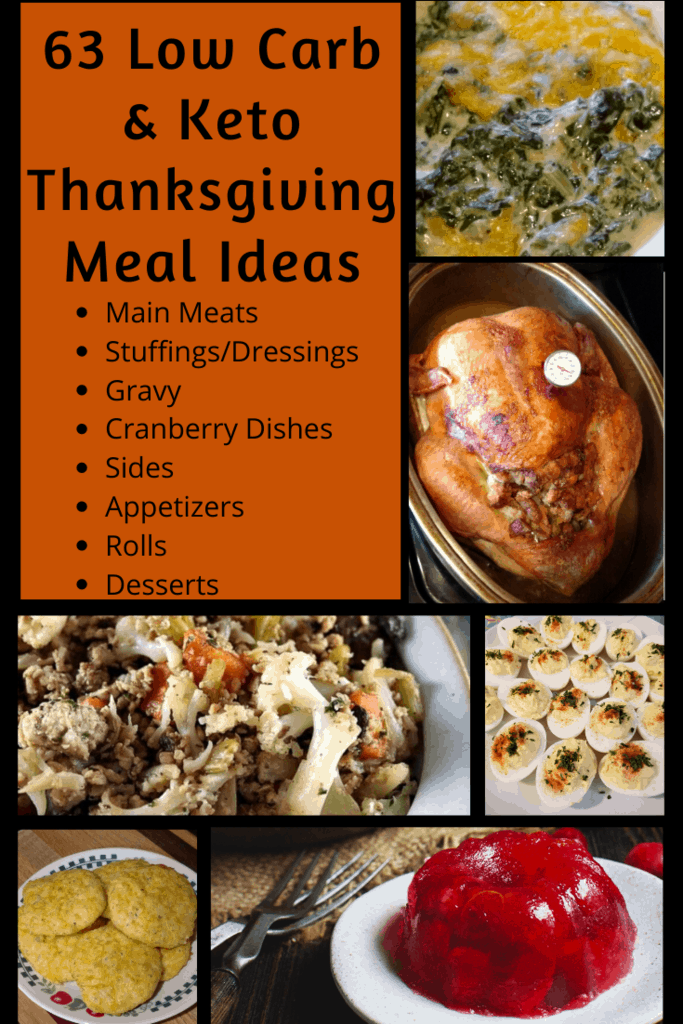 63+ Low Carb Keto Holiday Meal Ideas; Meats, Stuffing, Cranberry, Sides, Rolls, Appetizers & Desserts; All you Need to Make Your Holiday Meal Complete While Staying Low Carb or Keto
The holidays are coming! First Thanksgiving and then Christmas right behind it! How in the world do you stay low carb or Keto with all of those temptations, traditional favorites and family gatherings. Ug. Actually, it does not have to be bad! Here are 63+ Low Carb Keto Holiday Meal Ideas that will help!
Some ideas to help stay Keto/Low Carb:
If you are the cook, you've got this easily! Even if you are a guest, offer to bring a dish–or 2 or 3– and bring your favorites in all its low carb glory!
Usually the hostess will make the turkey or a main meat and we can have that. That is the biggest part and a given. Shew!
Add a few of these recipes to a little bit of willpower and you will have accomplished a low carb or Keto holiday successfully. And I promise—you will NOT be sorry if you do.
I can only tell you how good I felt last year after staying low carb for my Thanksgiving and Christmas meal. My body felt good but my whole being felt GREAT. I was so proud of myself!
Remember that when you cheat, you are only cheating yourself. It is often the case that cheating makes you feel very bad physically too. This is not the time for that. Well, I can't think of any good time for THAT!
Check out 124 Motivational Quotes for Eating Right if you need them.
A Challenge:
If you are on the ledge about wanting to cheat, let me give you a challenge. This is what I did last year.
Tell yourself that you CAN have a bite of your favorite things that you think you will miss but FIRST, load your plate with the good low carb and Keto stuff. Eat and enjoy that.
When you are finished, ask yourself if you still want those bites. If you do, have some. You very likely won't though and if you do, it won't be too much because you will already be full of yummy food. You may not even care at that point!
I was totally satisfied and even watched everyone else eat dessert still feeling totally satisfied. I didn't have this list of low carb desserts so had none at all. And I honestly didn't even care! (Who said that!?!)
YOU CAN DO THIS and these 63+ Low Carb Keto Holiday Meal Ideas will help!
Included below are main meats, stuffings/dressings, cranberry dishes, gravy, vegetable side dishes, rolls, appetizers and of course; desserts; all you need for a delicious holiday meal in low carb/Keto style.
I know there are a lot of delicious recipes but stick to the end because there are DESSERTS, FUDGE and even EGGNOG! Really, folks, we can have it all!! 🙂
Now keep this one handy: you may need it in a few days 🙂
13 Low Carb Keto Leftover Turkey Recipes
Check out my Christmas collections!
40+ Keto Low Carb Christmas Desserts
30+ Keto & Low Carb Christmas Cookie Recipes
15 Delicious Low Carb & Keto Ham Recipes
91 Low Carb & Keto Appetizer Recipes
10 Best Low Carb & Keto Bark Recipes
33 Low Carb & Keto Cookie Recipes
Hundreds of Keto & Low Carb Stocking Stuffer Ideas
Are you following me on Pinterest? I have been working very hard making new boards I think you will love and am adding dozens of new pins daily from all of the popular websites! Check them out HERE!
You can also follow me on my Facebook groups; my Low Carb and Keto group; Low Carb & Keto Recipes & Helpful Tips Group, my recipes for everyone group; Best Recipes You will Want to Make and my Homeschool group; Loving Homeschool. I am adding daily pictures, links and much more than I would on the blogs and it is a place for you to find support from others on the same journey as you are. Come and share with others, ask questions and learn!
63 Low Carb Keto Holiday Meal Ideas
63 Low Carb Keto Holiday Meal Ideas; Meats, Stuffing, Cranberry, Sides, Rolls, Appetizers & Desserts; All you Need to Make Your Holiday Meal Complete While Staying Low Carb or Keto
As an Amazon Associate, I earn from qualifying purchases at no extra cost to you.